Get a taste of wild Florida at Gatorland, Orlando's exciting wildlife reserve and theme park featuring a zipline adventure! Spend hours getting close to scaly critters at live reptilian shows, vibrant exhibits and a petting zoo. The truly adventurous visitors may even try their luck in a gator wrestling match. For aerial views, race through the sky on the 2-hour Screamin' Gator Zip Line tour. Fun for the whole family!
Highlights
Zipline adventure at Gatorland in Orlando, with admission included
Enjoy an exhilarating 2-hour zipline ride over an alligator breeding marsh!
Get the best views of Gatorland's crocs and gators as you soar through the air
Explore the 110-acre theme park and wildlife preserve at your own pace
Watch exciting, nail-biting reptilian shows and enjoy several family-friendly attractions
What You Can Expect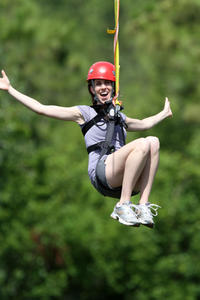 Indulge your curiosity with beasts of the Florida wild on this self-guided park visit. With your admission ticket, make your own way to Gatorland in Orlando. Upon arrival, plot you perfect itinerary through the 110-acre park. With dozens of lush habitats, diverse animals and action-packed shows, there's an attraction for every interest!
Stroll through the lush park, dotted with pools, tropical plants and flowers, to check out crocs, gators, panthers, bobcats and more.
Stop by the Very Merry Aviary to see some rare native birds,
catch an exciting live show like Gator Jumparoo or Gator Wrestlin', and give the kids a close-up encounter of the wild kind at the petting zoo.
At any point during your day, head to the Zipline Tower for your thrilling aerial tour. (Tours depart every 60 minutes.) Listen to a brief safety lesson, put on the provided protective gear and strap in for a 2-hour circuit. You'll soar along 1,200 feet (365 meters) of line, cruising above treetops and rowdy reptiles like breeding alligators and crocodiles in the marsh.
Finish your family-friendly adventure with a visit to Gator Gully Splash Park. Don your swimsuit for some lounging or water play to cap off a busy day.
Itinerary
Gatorland attractions include:

Birds of Florida
Thousands of herons, egrets and ibis call Gatorland home. Wild and free, they come and go as they please. With no nets to prevent their flight, they nest within arm's reach for you to see and photograph them right up close.

Leapin' Gators
Watch the feeding frenzy up close as some of the biggest alligators and crocodiles in the park explode out of the water and grab for their lunch. How high can a 13-foot-long (4-meter) alligator jump for a meal? Find out at the Gator Jumparoo Show!

Snakes of Florida
From the huge canebrake rattlesnake of northern Florida to the tiny but dangerous pygmy rattler of central and southern Florida, this tour will teach you some astonishing facts about these animals, and tell you how to stay 'snake safe' while you're traveling.

Animals, Animals Everywhere
Not even the toughest gator tracker can resist the adorable features of baby animals. These cuddly creatures love to be fed and pet! Visit the Barnyard to meet Dolly the Llama and the other friendly residents of the petting zoo.

Alligator Breeding Marsh
In the Florida swamp, the alligator is king. Hundreds of gators swirl among the lily pads, where you can observe natural behaviors in their season. At certain times of the year, you might hear a big bull gator's mating call, or see some baby alligators on their nest. Just a few feet from the sheltered walkway, thousands of native birds from nine different species nest their young.

Gators, Gators Everywhere
Everywhere you look at Gatorland, you're bound to see an alligator! Watch alligators bellow, bask, wrestle and leap for their lunch.

Famous Gator Wrestlin'
The alligator is the star of the show at this featured Gatorland attraction. Watch as one of the daredevil Florida Crackers drags a 6- to 8-foot (2- to 2.5-meter) alligator onto the sand and wrestles it with his bare hands, while a dozen more gators wait in the waters of the moat surrounding the wrestling arena. If you're brave enough, you might get a chance to wrestle a real live Florida gator, too, and get your picture taken on the alligator's back!

Jungle Crocs of the World
Follow Owen Godwin in his travels around the world, from the salt waters of Australia to the sandy banks of the Nile. Learn about Owen's adventures and see their living proof. During the Jungle Crocs show, watch and hold your breath as handlers enter the pens of these giant prehistoric beasts and feed them by hand!

Gator Gully
Gator Gully Splash Park is the perfect place to cool off. You'll find giant egrets spilling water from their beaks, dueling gators, a bucket tree and Grandma's Wet Shack, where kids of all ages can enjoy truckloads of cool H2O.
July 2014
The tour was great but I had issues with the reservation. I used your service to book an 11:30 tour. When I reached my destination that tour time didn't exsist. In small print on the bottom of my reservation ticket it said to call and confirm tour time. We had to wait for a 1:30 tour which complicated all of our plans for the day. If the receptionist wasn't so accomidating we would not have made a tour at all as it was very crowed on the day we booked.
Advertisement
Advertisement