Visit Gatorland, aka the 'Alligator capital of the world.' This independent day trip includes round-trip transport from Orlando plus your admission ticket to the theme park and nature reserve. Make the most of a day to explore at your leisure and see crocodiles, alligators, snakes, birds and more. Enjoy reptile encounter shows, explore nature trails and upgrade — if you dare — to include a zipline glide over the crocodile marshes. It's a fun family day out in Florida.
Highlights
Gatorland admission ticket with transport from Orlando
Explore the massive theme park and wildlife reserve at your own pace
Attend an exotic animal show to come face-to-face with crocodiles, alligators, snakes and more!
Petting zoo, aviary and educational programs are suitable for the whole family
What You Can Expect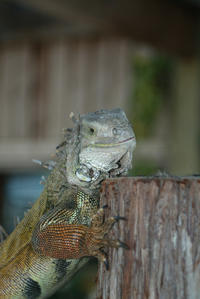 Leave your hotel in Kissimmee or Orlando, and enjoy the half-hour drive to Gatorland, Florida's large theme park and wildlife sanctuary.
Then, the day is yours to do as you like. Use your entrance ticket to step inside and explore at your leisure, seeing a vast array of reptiles, birds and more. If you're an outdoorsy type, make the most of the nature trails that wend their way through the park, crossing marshes and swampland as you go.
It's not all nature at the park, so if thrills are more your thing, check out attractions like the Gator Gully Splash Park and be prepared to get wet! Or, take a look at the Screamin' Gator Zip Line. If you're a daredevil, upgrade to include this with your entrance ticket, and take a zipline glide above the crocodile and alligator marsh.
Read the Itinerary for details of all the attractions, shows and encounters.
Itinerary
Reptile Shows:
The Gator Jumparoo Show: Thrills and chills abound during this one-of-a-kind show as some of the largest alligators in the world jump several feet out of the water to snatch food from the trainer's hand. You'll learn a ton about alligators and crocodiles and their awesome powers. This is a must-see for the entire family!
Alligator Wrestling Show: In a shaded 800-seater stadium, watch expert wranglers catch a 6- to 8-foot (2- to 3-meter) alligator by hand and climb onto the snapping animal's back to point out survival features to the audience. After doing stunts that only a few are brave (or foolish) enough to try, the alligator is rolled over and put to sleep...only to be awakened by a tickle!
Jungle Crocs of the World: At Gatorland's newest exhibit, witness a rare collection of crocodiles and be stunned by the lightning-fast predatory skills and social behavior of some of the most vicious animals on earth! This exhibit showcases jungle crocs from Asia, Australia, Cuba, Africa's Nile River and South America, giving you a chance to learn some interesting facts about these animals.
Gator Gully Splash Park: This unique splash zone features a row of giant egrets spilling water from their beaks, two giant gators dueling it out with water guns, a water fountain for kids and more.
Up-close Encounters: You never know what kind of animal you'll encounter at this show. Meet fascinating creatures from around the globe as well as Florida's native wildlife, including some of the most dangerous snakes alive!
Swamp Walk: Take a self-guided tour on a wooden walkway that snakes through an unspoiled cypress swamp. You'll get a rare look at what much of Central Florida looked like before people started draining the wetlands to build their farms and homesteads. Water from this swamp flows south through the Kissimmee waterways into Lake Okeechobee, and then, into the Florida Everglades.
Breeding Marsh and Bird Rockery: Created in 1991 as a natural breeding area for Gatorland's gators, this massive marsh contains 130 adult alligators living in a natural environment. Climb the 3-story Observation Tower and walk along the raised wooden walkways for unprecedented views of alligators and Florida's native birds.
Allies Barnyard: Drop by Allies Barnyard and say hello to some of the cute and cuddly barnyard critters that call Gatorland home. Here, you'll find friendly llamas, goats, chickens, macaws, ducks, deer, sheep and more, all playful and looking for attention.
Flamingo Lagoon: Just across from the Very Merry Aviary and Alley's Barnyard is Gatorland's Flamingo Lagoon, home to a small colony of American flamingos. Found in tropical and sub-tropical areas throughout the world, flamingos can reach a height of 5 feet (1.5 meters) and may live more than 40 years in captivity.
Jungle Crocs: Enter if you dare! Jungle Crocs is home to some of the largest and most dangerous crocodiles on the planet. Hear the tale of the intrepid adventurer Owen Godwin, who scoured the world for the baddest crocs in the land.
Snakes of Florida: With strike-proof glass providing a safe barrier, you can view the mighty Eastern Diamondback rattlesnake, the largest venomous snake found in Florida. Look closely at the brightly colored coral snake and learn how to distinguish it from its non-venomous cousin, the scarlet king snake. Many more snakes are on display.
Gatorland Express Railroad: The Gatorland Express carries passengers around the Jungle Crocs and Breeding Marsh/Bird Rookery areas. The train makes a stop at the very South end of the park near Pearl's Smokehouse and the Alligator Wrestling Stadium.
Pearl's Smokehouse: Experience some home cooking and enjoy gator delicacies such as smoked alligator ribs and fried gator nuggets at Pearl's Smokehouse.
April 2016
A zoo specialized in alligators, crocodiles and similars. The zipline passes over some alligators.
July 2014
Excellent price, driver was friendly, had more than enough time at Gatorland to do everything we wanted to do, would definitely recommend using this tour company
January 2014
This tour we found could be combined with the Boggy Creek airboat rides by the operator of this tour Dolphin Tours..for an additional cost of $20.00 per person..we did this and were very pleased…Viator should look into this….after all its the same bus and driver for the original booked Gatorland tour..
Charyn Australia
December 2013
A very interesting tour. Shuttle was on time. Driver was very nice. Certainly a tour to be seen.

May 2012
3 years in a row! This is our MOST Favourite place in Orlando - the zipwire!! A must to do! :)
Prasad B USA
December 2009
Well worth the money! After we booked it via Viator we were asked to confirm our booking immediately with the local touring company which we did, and then onwards it was a smooth sailing enjoyable trip. The local tour called us a day in advance at our hotel and told us our pick-up time. The vehicle arrived on the dot and dropped us at Gatorland park entrance. The diver gave us some orientation about the park and that's was it, there was no personal guide. We enjoyed the day thoroughly! It was a welcome break from the other crowded theme parks. The park staff is simply awesome. After the park closed at 5.00pm we went outside and found our pick-up vehicle already waiting for us, very prompt and efficient service. Highly recommended!
Shaun M USA
September 2009
I thought Gatorland was an awesome experience. Excellent reptile and bird viewing. I recommend the gator feeding pool, because, really where else can you do this! The shows were really entertaining and ran frequently enough. Their gift shop rocks. I highly recommend Gatorland as an original place to visit.
James B Ireland
August 2008
Well worth a visit. Amazing wildlife as well as gators. Highly educational. A welcome break from the Disney/Universal mayhem.
October 2014
Gatorland made a refreshing change from the other theme parks. Don't miss the opportunity to be up close to these fantastic animals. I would point out that the description says hotel pick up but in practice we had to meet at a pick up point.
April 2012
very interesting although 5 an a half hours was too much time to b there as everything is close together. The parrots were the best as you could feed them with a popsicle that cost $1. The parrots would go on your hand and eat the seeds on the popsicle for ages. Also enjoyed observing the crocodiles swimming in the huge lake. Would recommend this trip to any florida visitors.
Advertisement
Advertisement