Children can dine for free at more than 100 restaurants in the Orlando area with the Kids Eat Free Card. Simply present the card to the server or host at great restaurants like Ponderosa, Dominos Pizza, California Pizza Kitchen and many more within the designated Orlando region. Then enjoy breakfast, lunch or dinner. Children must be 11 years old and under. One free meal per full-priced adult entrée purchased. Upgrade your card to the Kids Eat Free PLUS for additional bonuses at some of central Florida's favorite family attractions such as Gatorland, Fun Spot America and more! The card is valid for 90 days from the first day of use.
Highlights
Kids Eat Free at more than 100 Orlando-area restaurants
Just present the card and save with the purchase of an adult meal
Outstanding value for the money
Fun for the entire family
What You Can Expect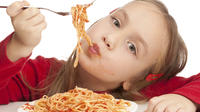 What better way to guarantee 3 square meals a day for your child than with the Orlando Kids Eat Free Card? With over 100 restaurants to choose from in the Orlando area, the possibilities are endless!
The pass includes great restaurants such as Hash House a Go Go, Ponderosa, Dominos Pizza, NBA City and many more within the Disney, Kissimmee, Lake Buena Vista, I-Drive area, Orlando Airport area and Universal Orlando® area.
Here's How the Card Works:
Present your card to the servers or hosts at each restaurant when ordering your meal. Your Orlando Kids Eat Free Card becomes active at your first dining experience. The Kids Eat Free Card entitles your child, who must be 11 years and under, to one free Kids Eat Free Card meal per adult meal purchased and is valid 90 days from date of first use.
Upgrade your pass to the Kids Eat Free PLUS for additional bonuses at some of central Florida's top family friendly attractions.
Boggy Creek Airboat Rides: free deck of Boggy Creek Airboat Rides playing cards
Fun Spot: Buy One Fun Spot Popcorn Souvernir Cup and get one FREE (includes a one time refill)
Gatorland: free Gatorland train ride when accompanied by a full paying passenger
Kissimmee Sports Arena Rodeo: free Stadium Drinking Cup with FREE refills all night
Revolution Off Road Experience: free Kids T-Shirt with every Mucky Duck ride
Itinerary
Restaurants Included:
Restaurants and kid's menu items subject to change without notice
4th Turn Grill
A&W
Amigos
Baskin Robbins
Beef O'Brady's
Big Italy
Blue Max Tavern
Boston Lobster Feast
Bruno's Restaurant
Cafe Miniero Brazilian Steakhouse
California Pizza Kitchen
Cedar's
China 3
CiCi's Pizza
Cricketers Pub and Eatery
Domino's
Dunkin' Donuts
Flame Kabob
Frank's Place
Fusion Bistro
Gator's Dockside
Greek Flame Taverna
Hash House A Go Go
Hawaiian Rumble Adventure Golf
Houlihan's
India Palace
Johnny Rockets
Kim Wu
Kool Katz Grill & Pub
L' Italiano's Italian Restaurant
La Finca Mexican Grill
Lolailo The Original
Mandarin Garden
Maria Bonita
McDonald's
McDonald's Bistro Gourmet
Miller's Orlando Ale House
Ming Court
NASCAR ® Sports Grille
Pacino's Italian Ristorante
Pasha Taverna
Passage to India
Ponderosa
Rebounderz Indoor Trampoline Arena
Rivership Romance
Santa Fe Cattle Co.
Sarah's Greek Cuisine
Senor Frogs
Shalimar
Sizzler
Smoothie King
STP- Sloppy Taco Palace
SUSHI House
Tabla Bar & Grill
Taste of China
Taste of Punjab
Texas Roadhouse
Tilted Kilt Pub & Eatery
Tony Romas
Uno Chicago Grill
Village Inn
WaWa Curry Taste of India
Wildside BBQ Bar & Grill
Wood Grill Buffet
May 2012
I recently stayed over a week in Orlando and the card more than paid for itself by the second day. There were several choices at Universal City Walk which is the entrance to the park and was very convenient. There were a variety of choices that we could use anytime of the day unlike most of the kids eat free programs which are on certain days and times. This card is a must have if you are planning a trip more than a few days in the area.
Judith F Australia
July 2010
My only problem was that we have to go to a tour place not exactly close to us to redeem it. Lucky we had a hire car but not til our 4th day so we missed out using it for the days we didn't have it. If we do not have to go redeem our booking at a tour operator for park tix we should not have to do this.
Advertisement
Advertisement