Indulge in a night of fantasy and story at the world-famous Cirque du Soleil. Head to Walt Disney World in Orlando and take a seat in the signature performance tent for La Nouba — a show that escorts you to the world of make-believe, dreams and magic. From your seat, enjoy great views of the stage and allow yourself to be swept away by aerial ballet, acrobatics, dance and music.
Highlights
La Nouba by Cirque du Soleil at Walt Disney World Resort

A boundless and festive journey of the imagination
Watch amazing aerial acrobatics, gymnastic feats and tests of strength
Performed at the Downtown Disney dining and entertainment complex
Perfect for the entire family

Price displayed is inclusive of all taxes and fees!

What You Can Expect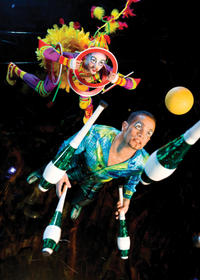 Add some spectacle and magic to your Orlando trip with a night at Cirque du Soleil's exclusive show
La Nouba
. Make your way to Downtown Disney and take a your reserved seat in the domed theater. (Click 'View Additional Info' below for the seating chart.) A
s you wait for the show to begin, t
ake in the fabulous venue — complete with a mechanical stage and first-class sound and lighting system.
Brought into the global spotlight more than 30 years ago, Cirque du Soleil performances have become synonymous with pushing the limits of possibility. With elaborate staging, expert choreography, vibrant lights and large troupes of performers adorned in stunning costumes, La Nouba offers a gateway to another world.
From your seat, watch the collision of the Cirques (circus people) and the Urbains (urbanites) unravel. Sit back and lose yourself in the magic of the tale and death-defying feats like high-wire walking, aerial ballet and the incredibly synced juggling and flipping of the yo-yo maestros.
After the show, purchase a La Nouba souvenir to commemorate your exceptional night out.
Please Note: Exact seats and how they're zoned per category are subject to change without notice.
February 2016
Amazing show! Once of the best Cirque shows if not the best I've ever seen - and this is my 9th!
January 2016
All around a great experience, from ease of parking, to available dinner before show, to getting to seats. Then it was a spell-binding, mind blowing, heart opening evening of great music, dancing, singing, humor, grace and strength in one incredible cast of characters.
December 2015
One of the most incredible performances I've ever seen. So much going on that it was hard to decide where to focus my attention. I would go back to see this again in a heartbeat.
July 2015
Perfect!!! Just in time!!!
July 2015
EXCELLENT!! MY 5 YEAR WAS FASCINATED. MY HUSBAND AND I TOO. EXCELLENT CHOICE AND GREAT CHOICE BOOKING IT THROUGH VIATOR, THEY HAD OUR TICKETS READY AT THE ENTRANCE.

March 2015
We were 800 miles from home. We were dismayed to find that I had bought tickets for a week after we would be in Orlando. The lady in the ticket booth was able to exchange for the day that we were actually there, for which I am truly grateful. We enjoyed La Nouba.
bluerob Spain
December 2014
Amazing.!! My first time to see Cirque live and it far exceeded my expectations. A must see show.
December 2014
the show was superb, it was a pain getting tickets confirmed cause I did it on line before we left spent time on phone trying to get them to confirm voucher, upsetting,, would recommend to all.
August 2014
It was an Awesome show. No problems with the paper vouchers. I would do it again in the future. Thank you.
July 2014
I have seen Cirque du Soleil's "O" and "Ka" in Las Vegas and loved both of them. "La Nouba" definitely lived up to the high expectations that I had. The costumes, the dancing, the acting, the singing, and the stunts were fantastic! My 7-year old son said that his favorites were the two clowns. They were so funny! My 9-year old daughter loved the tumbling and trampolines and my 10-year old daughter was most taken with the high-wire and trapeze acts. There is truly something for everyone in this show.
Advertisement
Advertisement