35 Reviews
Location:

Orlando, Florida

Duration:

90 minutes

(approx.)
A door opens and two worlds collide in 'La Nouba,' the Cirque du Soleil show at Walt Disney World Resort in Orlando. Enter the attic of make-believe, where the mundane meets the marvelous and dreams and nightmares intertwine. An unforgettable journey into a world at once threatening and exhilarating, frightening and familiar, 'La Nouba' challenges you to uncover passions you thought you had lost, to frolic in your childhood dreams and to enter a place where the extraordinary overcomes the ordinary.
Highlights
La Nouba by Cirque du Soleil at Walt Disney World Resort

A boundless and festive journey of the imagination
Watch amazing aerial acrobatics, gymnastic feats and tests of strength
Performed at the Downtown Disney dining and entertainment complex
Perfect for the entire family

Price displayed is inclusive of all taxes and fees!

What You Can Expect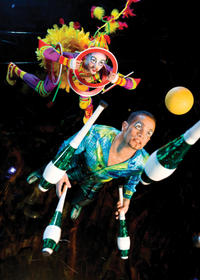 While you're in Orlando, wrap up a day at the theme parks with a Cirque du Soleil show at Downtown Disney. La Nouba is the meeting of two worlds that are poles apart – the fantastic world of the Cirques (circus people), who sport bright, fluorescent colors, and the lackluster world of the Urbains (urbanites), who wear dark, monochromatic outfits. When these two worlds first make contact, the magic and amazing feats of one set fire to the pale, mundane lives of the other.

The circus acts of La Nouba will astound you. Balls, hoops and clubs fly in unprecedented numbers at speeds that your eyes will barely process. The Funambule act takes place on a 90-foot (27-meters), half-inch-wide steel wire; with remarkable balance and precision, a high-wire walker ascends to a height of 34 feet (10 meters) above the stage as his partner descends from the top of the theater. The entrancing Chinese yo-yo act features four young Chinese performers; holding two sticks linked by a string, they slide, juggle and toss a musical wooden spool while performing flips in the air.

To view the seating chart, please click 'View Additional Info' Please Note: Exact seats and how they're zoned per category are subject to change without notice
July 2015
Perfect!!! Just in time!!!
July 2015
EXCELLENT!! MY 5 YEAR WAS FASCINATED. MY HUSBAND AND I TOO. EXCELLENT CHOICE AND GREAT CHOICE BOOKING IT THROUGH VIATOR, THEY HAD OUR TICKETS READY AT THE ENTRANCE.
March 2015
We were 800 miles from home. We were dismayed to find that I had bought tickets for a week after we would be in Orlando. The lady in the ticket booth was able to exchange for the day that we were actually there, for which I am truly grateful. We enjoyed La Nouba.
December 2014
Amazing.!! My first time to see Cirque live and it far exceeded my expectations. A must see show.
December 2014
the show was superb, it was a pain getting tickets confirmed cause I did it on line before we left spent time on phone trying to get them to confirm voucher, upsetting,, would recommend to all.
August 2014
It was an Awesome show. No problems with the paper vouchers. I would do it again in the future. Thank you.
July 2014
I have seen Cirque du Soleil's "O" and "Ka" in Las Vegas and loved both of them. "La Nouba" definitely lived up to the high expectations that I had. The costumes, the dancing, the acting, the singing, and the stunts were fantastic! My 7-year old son said that his favorites were the two clowns. They were so funny! My 9-year old daughter loved the tumbling and trampolines and my 10-year old daughter was most taken with the high-wire and trapeze acts. There is truly something for everyone in this show.
April 2014
No problem, everything ok. Great show.
April 2014
No problem, everything ok. Great show.
April 2014
This was a fantastic show. We've seen many Cirque de Soleil shows and this was one of our favorites. While we didn't have our kids with us this trip, it was a family friendly show with amazing acts. I'm so glad we were able to get tickets while we were in town. I highly recommend seeing.
Advertisement
Advertisement