Looking to save some money while visiting Orlando? Try this economical Eat and Play card for 10 to 50 percent savings and sweet deals at some of the area's most popular restaurants, attractions, stores and entertainment venues. This Orlando discount card is valid for up to four people and is redeemable at more than 140 great locations around town. Savings are based on the percentage of the sale, so the more that's spent, the more that's saved.
Highlights
Eat, play and shop at a discount in Orlando!
One card is valid for up to 4 people at over 140 locations in the Orlando area
The more you spend, the more you save
Card valid for 30 days from first use
Participating merchants are conveniently located around International Drive, Kissimmee, Lake Buena Vista and Universal
Bonus: 30 minutes of FREE long-distance calling included
What You Can Expect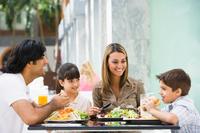 Having fun in Orlando can be costly. If the theme parks and hotels weren't expensive enough, there's also the plethora of additional attractions, the restaurants, the stores — in other words, it's easy to spend a lot in a hurry. Try this economical Eat and Play card on for size. It will provide substantial savings for up to four people at 10 to 50 percent off regular prices at many of Orlando's most popular places. There's no better or easier way to save money around International Drive, Kissimmee, Lake Buena Vista and other locations than with an Eat and Play Card.
Just show the card and save.
Some of the merchants include Denny's restaurant, T.G.I. Friday's, Jimmy Buffet's Margaritaville, Tony Roma's, Houlihan's, Ripley's Believe it or not!, Titanic The Experience, Hawaiian Rumble Mini Golf, Macy's, Neiman Marcus Last Call, Reebok Outlet Stores, Friendly's, Fuddruckers, NBA City, Pizza Hut, NASCAR Sports Grille, Ponderosa, Shoney's, Gatorland, McDonald's, Senor Frogs , CSI The Experience, Sawgrass Recreation Park, Dinosaur World, Golfsmith and many more.
Notice: Each card is valid for one to four people and is valid for a full 30 days from the first use.
December 2014
We have been delighted with the Eat and Play card. It has been very useful in restaurants. I have recommended it to other members of my family. I hope to buy another card when next we are in Orlando. My question what is the procedure for buying another Eat and Play card?
January 2014
Well worth buying good value for money. Woulx recommend
July 2013
great value for money great section of things to do and eating places already passed deal to two other friends
July 2013
Saved a lot of money! Certainly paid for itself.

March 2014
My vacation was wonderful but i forget I even had the eat and play card.
October 2013
Card was great but trying to collect card was a nightmare! 1 location on international drive "titanic" and they changed their opening hours with no notice and weren't open 3 times when we tried to collect card. When we did collect on 4th try they weren't going to give me card and were unhelpful!
Marie-louise C United Kingdom
August 2012
Youn only need one card for 4 people, we did not use this as much as we had expected which is a shame. Might be worth buying if you are staying for 2 weeks and intend to eat in Mc Donalds or TGI Fridays a lot!

June 2015
This card was a waste of my money. I was in the Disney/epcot area and there were NO places that took the card. My lesson was not to waste money
September 2014
Waste of time. We tried to collect it from the Titanic Exhibit who had closed early. We went back the next day and they didn't have any. The next day we went to the Kissimee collection point to find that they had shut down months ago. By then we had to return our hire car so gave up trying to get one in the end, the holiday was to short to spend it faffing around looking for one of these cards.
January 2014
This card is a total waste of money…
Advertisement
Advertisement