Special Offer
Book and save 5% compared to the local supplier's prices!
Splurge with a full day of upscale shopping at Orlando Premium Outlets on International Drive! This nine-hour excursion includes hassle-free return coach service from your Orlando hotel and independent shopping at your leisure. Spend the day browsing
Walmart Supercenter, the Florida Mall and
and
top-name shops with brands like Calvin Klein, Ralph Lauren, Saks Fifth Avenue, Nordstrom and more.
Highlights
Full-day shopping tour at Orlando's best retail stores
Spend time exploring three of Florida's best shopping centers
Save with discounted prices at Premium Outlets and the Wal-Mart Super Center
Enjoy retail therapy in designer stores at the Florida Mall
What You Can Expect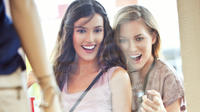 Your shopping extravaganza begins with morning coach pickup from your Orlando hotel. Make sure to fuel yourself with breakfast and coffee prior to departure! Enjoy a stress-free ride to your first stop, the WalMart Supercenter in Orlando. Here, you'll have 1.5 hours to browse amazing deals on your favorite everyday products as well as top brands and electronics.
Disembark at Premium Outlets on International Drive, where you'll have two hours to indulge in the world of upscale fashion. Stroll through the outdoor complex, popping into high-end boutiques featuring signature brands like Calvin Klein, J Crew, Kenneth Cole, Lacoste, Nike Factory Store, Neiman Marcus, Polo Ralph Lauren and Victoria's Secret. Browse and try on cutting-edge designs, many discounted up to 75 percent off recommended retail price!
The bargain shopping continues with a stop at the Florida Mall, where you'll have time to explore some of the 250 great shops like Saks Fifth Avenue and Nordstrom.
Your full-day shopping excursion ends with return coach service to your hotel, arriving by late afternoon.

April 2016
its was good and on time nice driver...

August 2015
Great tour! First stop Walmart then pondarosa for breakfast. Next stop the outlets! Could do with more time here. Driver Steven was fab! So funny, friendly and helpful. Mentioned we were going to Miami and by the end of the day he had a list of places to visit while there.
December 2014
Lovely vehicle and prompt service. Driver was excellent. Great value for money.
December 2014
Driver was a very polite gentleman who was fantastic and loved his jazz music. He was very informative.
We had breakfast at ponderosa which was balanced as one of our party was a child, an adult vegetarian and there was plenty to eat for every one
the shopping trip was good with a variety of shops and food courts.
July 2013
I loved this shopping tour the driver was excellent we went to walmart and the outlets and the mall i wish it went for longer it was a good day
March 2013
This was a great tour. There were only 3 people on the tour. Walmart was huge, basically a very large KMart. The DFO's and shopping centre were excellent and had plenty of bargains and sales. We would never have driven ourselves around Orlando to these centres so the tour was appreciated.
UKGirl United Kingdom
January 2009
This tour went to some great shopping places in Orlando - many bargains were to be had. But the main highlight was the tour guide!! He was absolutely hilarious and knew where was best for trainers, electronics, whatever your interest was.
February 2015
good tour, excellent tour guide, well worthy doing.
January 2012
The actual places you go are fine. Even Kmart was okay as we could compare it to the Kmarts at home. Viator should put the correct place as we did not go to Walmart but Kmart instead. The breakfast voucher should be scrapped and a coffee voucher given instead. The lunch voucher was what we expected. But the outlet themselves were great.
October 2010
Excelent option if you dont have car, I think The sports store and k-mart are useless.
Special Offer
$44.99 Save $2.20
Advertisement
Advertisement