Uncover the unbelievable mysteries of the world at Ripley's Believe it or Not Museum in Orlando. An admission ticket welcomes guests of all ages to see 16 themed galleries with over 600 extraordinary artifacts and exciting interactive exhibits at this unique attraction. For those who want to explore the unusual, there's the "Odditorium," the only place in Orlando with shrunken heads, an authentic vampire killing kit, a shooting gallery and a wild, spinning vortex tunnel. It's weird and it's wild. Admission includes free parking.
Highlights
Admission to Ripley's Believe It or Not! in Orlando
Browse hundreds of bizarre and uncanny artifacts on a self-guided tour
16 interactive exhibits offer entertainment for the whole family
Enjoy complimentary parking
What You Can Expect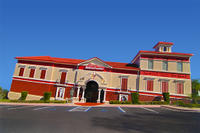 A trip inside Ripley's Believe it or Not Museum in Orlando is an experience unlike any other. This 10,000-square-foot location actually looks like it's falling into a sinkhole. And the "Odditorium" features 16 themed galleries with 600 exhibits and artifacts — shrunken heads, an authentic vampire killing kit, a shooting gallery and a wild spinning vortex tunnel.
For anyone who wants to surround themselves with the unusual, the unexpected and the unbelievable, this is the place. See a headless chicken, the original "chicken with its head cut off." This rooster from Fruita, Colorado survived decapitation and lived for 18 months afterward, traveling the country as curious onlookers paid 25 cents to see him. There's also the cruel iron maiden, a torture device consisting of an iron cabinet with a hinged front and spike-covered interior. It was used so people would bleed to death — slowly. And so much more.
Ripley's Orlando offers guests an unforgettable experience that can only be found here. Exploring the entire museum will take close to two hours.
On the way out, stop at the Cargo Hold Gift Shop — the perfect place to find something for everyone, like Believe It or Not t-shirts, strange collectibles, unusual jewelry, crazy candy, gadgets and toys that will ignite the imagination.
August 2015
So much fun! Great to go with teens, my nephews and my niece love it so do I.
March 2015
Great experience for me and my family
April 2016
Interesting way to spend an afternoon. Especially if you have never seen one before.
September 2015
non interactive--scary for younger children
December 2014
A decent place to visit for an hour if it's raining. There is quite a few exhibits to see.
November 2013
Interesting exhibits, especially for those familiar with the Ripley column. Nice place to pass an hour or so if tired of the large amusement park hustle..
Advertisement
Advertisement