Special Offer
Price displayed includes a 12% discount off the local admission price!
Make like a detective at Sleuth's Mystery Dinner Show in Orlando, and enjoy a 2-course dinner at the same time. The evening of mystery, sleuthing and comedy includes a 2-hour 'whodunnit' show — part scripted, part improvised — and an evening meal with unlimited drinks.
Highlights
"Whodunit" Show with Dinner
Interrogate the suspects and solve the mystery or be chosen to play a cameo role in the show
Eleven different original "whodunit" comedies
Unlimited beer, wine and soft drinks
What You Can Expect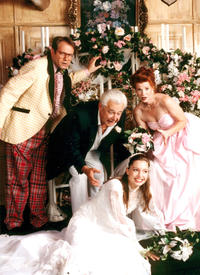 Head to Gooding's Plaza in Orlando for Sleuth's Mystery Dinner Show. Show your entrance ticket, and then head inside the venue for your evening of sleuthing and comedy.
Take a seat, and feast on your evening meal with unlimited wine, soda and beer. Read the Important Info tab for a sample menu. The show starts as you eat, so sit back to enjoy 2.5 hours of comedy mystery with scripted stories and improvisation.
Feel like taking part? Audience participation is encouraged, so get involved and watch out for suspicious goings-on, or even question the prime suspects to help solve the mystery.
Different show themes take place through the week; read the Itinerary for the descriptions.
Itinerary
Show Descriptions:
Lord Mansfield's Foxhunt Banquet - The nobility has been invited to Lord Mansfield's Fox Hunt Banquet. They enter Mansfield Mansion and are greeted by Jeffries the butler. He ushers them into an elaborate dining room where the maid is serving up hors d'oeuvres. Lord Mansfield is preparing a potent home brew in the kitchen. His sister arrives unexpectedly from New York. Others enter: Gypsies to prepare the meal, an irate attorney, and the zany Rileys who serve the dinner. Thievery, debauchery, even magic occur as one of the characters meets an inevitable fate!
Kim and Scott Tie the Knot - Kim and Scott are getting married but serious questions arise. Did Kim murder her first husband? Has Scott been trading Lockheed Martin secrets for gems? Is he just an opportunist? Relatives try to protect Kim and Scott from each other. This fun-filled spoof of a wedding celebration will have you guessing all night long.
Squires Inn - You have been touring northwest England. Your bus has broken down and you find yourself in Clifton, a quaint country village. You are welcomed by the overly solicitous proprietor, Nigel, with offers of food and lodging. Be prepared for the unexpected. Your tour guide, Grace, discovers a close relative at the inn. An old pensioner, Simon, has been hiding a treasure that once belonged to Mary Queen of Scots, who resided at the inn in 1569 after fleeing Scotland. You will become engrossed with the offbeat English humor type antics that will keep you laughing and sleuthing all night long.
G.K.'s 80th Birthday - Gerald Keenan has invited family and friends to his 80th Birthday Party. He tells them he intends to change his will. Someone has other ideas. The characters which include Nurse Faber, Mr. Chen, and Mr. Keenan's relatives mingle with guests. After birthday festivities G.K. goes into convulsions and is taken to his room. Soon the nurse enters crying out, 'He's dead, Mr. Keenan is dead'. Later a detective conducts an interrogation with the help of the guests. Finally the Killer is revealed in a wonderful twist.
Roast 'Em and Toast 'Em - Meet Arty, a witty, fun-loving entrepreneur, who secures famous celebrities for speaking engagements around the world. Join him and his zany crew as they prepare a roast for Margaret Pertovich, Arty's stepmother and infamous wife of Slovaria's Premier. What must Arty and his cohorts do to accommodate her? What is Margaret's true agenda? Help Police Captain Pruitt solve a crime that may be one of passion or perhaps international intrigue.
The Premiere - You are invited to the opening night celebration of a fantastic new cinematic production. Well, at least Jeremy, the director of this B-movie, believes it is magnificent. There is a lot of pressure on Jeremy for this film to be successful. Oil tycoon, Henry Beaumont, has invested millions into the film in hopes that his niece, Nicki, will become a famous actress. Watch for celebrities at this movie extravaganza, but also watch for clues, because someone will commit a horrible crime. Who could be the criminal? Jeremy? Henry? Nicki? What about Bert, Nicki's jealous boyfriend, or could it be Madame Gilda, "Psychic to the Stars?"
The Show Must Go On - Auditions are being held for an international touring company. Their production of Broadway show tunes attracts both veterans and young hopefuls. The company's outrageous director must decide who will be part of this colorful review. To complicate matters the producer and the owner both want to flex their muscles. This show within a show climaxes with a surprising development: a murder, a confession and the director's decision to cover it up. The auditioners happily agree and join together in a chorus confirming, 'The Show Must Go On'.
The Reunion - All graduates have been invited to this gala affair in order to renew past relationships and to save Luray Academy. However, the reunion brings together alumni with more than saving the Academy on their minds. Some have designs on Lilah Beauregard's champion thoroughbred horses. The Academy's president is trying to stop Lilah's plan to bulldoze the school and replace it with condos. Fireworks fly when this bastion of southern genteel society goes amuck and culminates in a murder.
Joshua's Demise - You have been invited to a memorial service for Joshua Langden who mysteriously 'passed over' last year. In attendance are his widow, brother, cousin, and mother Liza, who is convinced that Joshua's death was not an accident. She arranges a seance to speak with Joshua from beyond.
Holidaze - Mayor Rockwell and the citizens of Hillendale invite you to their quaint Americana town to celebrate their Annual Holiday Pageant and compete for fame and fortune on TV's #1 reality show. The contestants will do anything to win even if it means taking out the competition!

WKZY - Bid farewell to WKZY's on-air shock-jock Tipton Ramsdale as he heads off to the universe of Satellite Radio, where there are no boundaries. Helen Parker, the station manager has her hands full as she prepares to introduce her new star, the infamous Dolly, to her listening audience. Meanwhile, Helen's sister Ginger is looking for love in all the wrong places, and Tipton's faithful sidekick Bill Borden is about to be launched into the stratosphere. Come join the lunacy and misadventures of the WKZY's final "Tipton & Bill Show."

The Echo Project - Marketing director Vivian Schroeder has invited you and the rest of the company's top sales team to the launch of Purr4me's newest power product, the Echo Collar. Success or failure, it's sure to make a killing!

You must call Sleuths Mystery Dinner Show at least 24 hours prior to showtime to reserve your seats and advise your dinner selection.

May 2016
I've never attended a mystery dinner before and I was a little intimidated by the idea, but this was an absolutely wonderful find to make on our trip to Orlando. The staff is extremely attentive and the food is great. They'll keep the wine coming, but I recommend pacing yourself so you can really enjoy the show. The cast is ON from the second you walk in the door and they don't stop entertaining the whole time you're there. If you get the chance, do yourself a favor and go see this show!
April 2016
INTERESTING AND ENTERTAINING!
February 2016
A really fun evening. Be sure to go to the magic show before the dinner theater. Food was good enought except the steak was probably not wort paying extra. Service is excellant but it stops during the performance so stock up on drinks before the lights go down.
September 2015
This was a GREAT experience. The food was good and plentiful. Meal, drinks and dessert included in the price, even liquor!! We had a great time. The people were sooo nice and accommodating. The show was super funny. The best part is the audience participates and that makes for great fun. Loved the actors! So funny and smart. Absolutely recommend it!!
Anonymous
November 2014
I love the show, the drinks were awesome. Our group had so much fun. Fun night for the whole family or group of friends. Candace Anderson

charley USA
November 2014
This show is so much fun, see and be apart off. The food was good and drink special super. Must do in Orlando.
August 2014
We had a great time . Enjoyed the play and food . Great entertainment for adult and teens alike.
May 2014
So much fun! Great food and unlimited beer (no joke). My husband and I loved it!
April 2013
I wanted to go to this and was VERY surprised when my 14 yr old granddaughter wanted to go also. Well, we had a great time! The play was funny and the food was very good. The place isn't fancy, but you have a great time and met alot of great people. Would go again.
March 2013
We all enjoyed the show. Glad I booked it!! Thanks to our server who kept our wine refreshed..
Special Offer
$65.98 Save $7.99
Advertisement
Advertisement