While in Orlando, experience the best of Universal theme parks with the Universal Orlando 3-Park Unlimited Ticket! Enjoy the ease of park-to-park access and the flexibility of choosing your own itinerary anytime during a fourteen (14) consecutive-day period. With your ticket, fill your days with thrilling rides, shows and water play at Universal Studios Florida®, Universal's Islands of Adventure® and Wet 'n Wild®, including a bonus 7-day pass to Universal CityWalk.

This product is available for USA / Canada residents only
Highlights
Enjoy unlimited admission to Universal Studios Florida®, Universal's Islands of Adventure® and Wet 'n Wild® over fourteen consecutive days
Open access to all rides and activities
Includes Universal CityWalk Party Pass, good for seven consecutive days from first use
No additional taxes or fees
What You Can Expect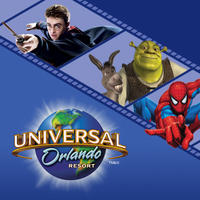 Universal's Islands of Adventure
Take an unforgettable journey through uniquely themed islands where your favorite adventures come to life. Step into the magic and excitement of The Wizarding World of Harry Potter - Hogsmeade™; help save the city on The Amazing Adventures of Spider-Man and escape the jaws of a T.Rex on the Jurassic Park River Adventure. Plus, with Park-to-Park admission, take a ride on the Hogwarts™ Express* from Hogsmeade™ Station to King's Cross Station at Universal Studios Florida.

Universal Studios Florida
At the world`s premier movie and TV based theme park you'll be transformed into Minions on the 3-D ride Despicable Me Minion Mayhem. Help save the princess on Shrek 4-D and join the battle on the TRANSFORMERS: The Ride-3D. Plus, experience The Wizarding World of Harry Potter – Diagon Alley™ at Universal Studios Florida! Ride the Hogwarts™ Express* between
King's Cross Station to Hogsmeade Station at Universal's Islands of Adventure.

The Wizarding World of Harry Potter
Experience the magic and excitement of The Wizarding World of Harry Potter - Hogsmeade in Universal's Islands of Adventure® and Diagon Alley™ in Universal Studios Florida. Dine at the Leaky Cauldron™, shop at Weasleys' Wizard Wheezes and the multi-dimensional thrill ride, Harry Potter and the Escape from Gringotts™. Plus, with your Park-to-Park admission, you can ride the Hogwarts Express* between Hogsmeade Station and King's Cross Station. It's two unique theme park experiences and it's all at Universal Orlando Resort!

Wet 'n Wild
Thrills are for sharing! Only Wet 'n Wild® Orlando gives you more themed, multi-person thrill rides than any other waterpark around. Signature hits like Disco H20™, Brain Wash™, Bubba Tub, The Flyer and more. Now open, the all new Blastaway Beach™, the largest family water play area in Florida. Please note Wet 'n Wild tickets valid to December 31, 2016 only

Universal CityWalk
Dance, drink, shop, and see it all in one place-Universal CityWalk. Only here can you walk from some of Orlando's most popular restaurants into some of its hottest clubs, trendiest shops and state-of-the-art theatres. It's anything and everything you want to make your night come alive-Universal CityWalk, the Entertainment Capital of Orlando℠.

Please note: Tickets are only valid on selected date of travel.
Itinerary

Some of the Rides and Attractions at Universal's Islands of Adventure in Orlando include:

Harry Potter and the Forbidden Journey™
Make your way through the familiar classrooms and corridors of Hogwarts™ School of Witchcraft and Wizardry. Then soar above the castle grounds as you join Harry Potter™ and his friends on an unforgettably thrilling adventure, coming face-to-face with magical creatures! This amazing new attraction uses groundbreaking technology (and a little magic) to create a one-of-a-kind ride experience.

Dragon Challenge™
You'll need the courage of a Triwizard Tournament™ champion as you mount one of two dragons – an aggressive Chinese Fireball or a ferocious Hungarian Horntail – that twist and loop in an intertwining roller coaster ride across the sky. Dragon Challenge™ is actually two high-speed roller coasters – each "dragon" is a completely different ride

Flight of the Hippogriff™
Follow Hagrid's instructions as you learn the proper way to approach a Hippogriff, which has the head of a giant eagle and the body of a horse. Then you'll take off on a family-friendly coaster that spirals and dives around the pumpkin patch, and swoops past Hagrid's hut.

The Amazing Adventures of Spider-Man® - RIDE IT AGAIN, NOW IN HIGH-DEF 3-D!
Spidey is back and better than ever! In March 2012, one of the most highly acclaimed theme park rides in history re-opened with mind-blowing new effects, making it feel like a brand-new experience. Marvel at the new high-definition animation, high-tech 3-D glasses, upgrades to the audio, lighting and more. The crystal clear graphics are so vivid you might catch yourself counting the stitches on Spider-Man's glove. And for comic connoisseurs, there's a cameo by legendary icon and Spider-Man™ co-creator, Stan Lee. Get set to soar with your friendly neighborhood Spider-Man™ like never before! This groundbreaking attraction just raised the bar—again.

Doctor Doom's Fearfall®All hail Doctor Doom®!
The Fantastic Four's arch-nemesis has taken fear to new heights! As a subject of Doctor Doom's monarchy of Latveria you have no choice but to submit to his latest evil experiment – a diabolical device created to extract every ounce of fear from your body so that he can use it against the Fantastic Four™.

Jurassic Park River Adventure®
It's lunchtime... and you're on the menu! Take an unforgettable river raft ride through the jungles of Jurassic Park® and see dinosaurs in their natural habitats.

Popeye and Bluto's Bilge-Rat Barges®
Set sail for uncharted hilarity as you help Popeye the Sailor Man rescue Olive from the clutches of that big blowhard Bluto. Brave white-water rapids as this twisting, turning raft ride makes you wish you'd have brought your spinach... and a towel.

The Cat in the Hat™
Go for a spin with The Cat in the Hat™ as you ride your couch through the pages of Dr. Seuss's, best-loved children's book. This delightful ride takes the story of The Cat in the Hat and re-creates it scene for scene.

Despicable Me Minion Mayhem
Join Gru, his daughters, and the mischievous minions on an all-new 3-D ride, Despicable Me Minion Mayhem. Start your adventure in Gru's home, where you're recruited for his latest scheme – one where you'll become an actual minion.

Some of the Rides and Attractions at Universal Studios in Orlando include:
Hollywood Rip Ride Rockit®
Adrenaline pumping and music thumping, you start climbing straight up. A moment later, you're screaming at 65 mph, 17 stories over Universal Studios.

The Simpsons Ride™
Ride along with The Simpsons™ as they visit Krustyland, the low-budget theme park created by famed TV personality and shameless product huckster Krusty the Clown. Is somebody out to sabotage the park? You'll find out as you join Homer, Marge, Bart, Lisa and Maggie and enter through the carnival-like midway.

Shrek 4-D
Shrek and Donkey are back! Join our heroes on an all new adventure that puts you in the story between the Oscar-winning film "Shrek" and "Shrek 2".

Revenge of the Mummy
The curse is real! The Mummy has arisen...wakened from his centuries-long slumber, the evil Imhotep is once again freed from his wraps, unleashing his wrath on all who dare enter the sacred temple.

MEN IN BLACK™Alien Attack™
All right rookies… this is no drill! It's up to YOU to protect the Earth from aliens in MEN IN BLACK Alien Attack. As an agent trainee, you'll zap aliens as you chase them through the streets of New York in this high-tech, interactive ride based on the hit movies. But be warned... these aliens zap back, spinning your vehicle out of control.

Terminator 2®: 3-D
The future is coming...after YOU! Join forces with the Terminator® in a battle to prevent mankind's extinction at the cold, steel hands of menacing cyborgs. You'll dodge plasma blasts. Feel objects whooshing past you. And become completely immersed in the 360-degree action of this thrilling adventure set in an apocalyptic wasteland.

Woody Woodpecker's Nuthouse Coaster®
It's the nuttiest ride you've ever seen! Woody definitely proved he's got a few screws loose when he designed Woody Woodpecker's Nuthouse Coaster®, a kid-sized roller coaster that's still fun for all ages!

HARRY POTTER characters, names and related indicia are © & ™ Warner Bros. Entertainment Inc. Harry Potter Publishing Rights © JKR. (s16)

© MARVEL. Jurassic Park River Adventure ® Universal Studios/Amblin. All Popeye characters TM & © 2016 KFS, Inc. TM Hearst Holdings, Inc. Dr. Seuss properties TM & © 2016 Dr. Seuss Enterprises, L.P. All rights reserved. THE SIMPSONS RIDE TM Twentieth Century Fox Film Corporation. The Simpsons TM & © 2016 Twentieth Century Fox Film Corporation. All rights reserved. Shrek 4-D © 2016 DreamWorks Animation L.L.C. Men In Black & Alien Attack: TM & © 2016 Columbia Pictures Industries, Inc. All rights reserved. TRANSFORMERS and its logo and all related characters are trademarks of Hasbro and are used with permission. © 2016 Hasbro. All Rights Reserved. © 2016 DreamWorks L.L.C. and Paramount Pictures Corporation. All Rights Reserved. T2, TERMINATOR, and the depiction of the Endoskeleton ® StudioCanal S.A. ALL RIGHTS RESERVED. Woody Woodpecker, Winnie Woodpecker, Woody Woodpecker's Nuthouse Coaster, Woody Woodpecker's KidZone ® Walter Lantz. © 2016 Wet 'n Wild – Orlando. Universal elements and all related indicia TM & © 2016 Universal Studios. © 2016 Universal Orlando. All rights reserved.
June 2016
It was a fun show very entertaining for active folks! Does require audience participating to keep shows energy up. The foods was better than I thought it would be...the only draw back was offered only caffeine soda. So if you younger folks are caffeine sensitive then only water to drink.
May 2016
This is great value for money. In Orlando you can only get a 5 park ticket so being able to get this at a great price is invaluable. Highly recommended.
Kit Canada
January 2016
excellent tour we loved seeing the new Harry Potter section in Universal studios. Our prepaid Viator voucher was easy to exchange for tickets into the park using automated kiosk at the front gate of Universal.
October 2015
Ticket agent took some time, which made me somewhat nervous, but in the end everything was fine. Ticket got me into the the three parks with park to park access. Definitely at a better price than Universal was offering at the gate, or online, considering the only 14 day pass they offer includes sea world, which we were not interested in.
August 2015
It was amazing the best vacation in long time.
August 2015
Universal Orlando was fantastic! The 3 Park Unlimited ticket made entrance to the parks easy. Just wish I had more days to spend there!
May 2015
If you arrive early enough at the park, three day is a little too long. The rides are amazing at Islands of Adventure and Harry Potter park. Must try butter beer.
March 2015
August 2014
I highly recommend. It saved me tons of money. We went to atleats one of the parks listed everyday. It's easy to use. We had no problems. Viator rocks and saves you money!!

July 2014
Fantastic experience with my trip.
Booked tickets through viator.com and got best deal in town.
Very good website for frequent travellers and family person.
Advertisement
Advertisement