Experience the top cultural highlights in the ancient city of Kyoto during this 6-hour tour departing by train from Osaka. Head out with a local guide to explore two UNESCO World Heritage-listed sites, including Nijo Castle and Kinkaku-Ji (also known as the Golden Pavilion). Then spend additional time visiting Kyoto's regal Imperial Palace before browsing for authentic souvenirs at the Kyoto Handicraft Center. This guided excursion of Kyoto also includes pickup from select hotels in Osaka, round-trip JR rail ticket from Osaka to Kyoto and all admission fees.
Highlights
6-hour tour of Kyoto highlights
Ride the JR rapid transit rail round-trip from Osaka
Explore one of Japan's most well-preserved cities by coach with a knowledgeable local guide
Visit two UNESCO World Heritage sites: Nijo Castle and the Golden Pavilion
Photograph the maple leaves of autumn or the cherry blossoms of spring
Tour Kyoto Imperial Palace and shop at the Kyoto Handicraft Center
Hotel pickup from selected Osaka hotels included
Recent Photos of This Tour
Kyoto Morning Tour of Kinkakuji Temple, Nijo Castle and Kyoto Imperial Palace from Osaka
What You Can Expect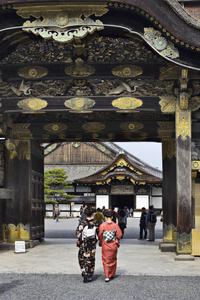 Discover the sublime scenery and fascinating history of ancient Kyoto during this 6-hour exploration of the city's top sights departing from Osaka. Enjoy several of Kyoto's UNESCO World Heritage-listed temples and its beautiful palaces, all set against the city's ever-changing natural backdrop of forests that change colors with the seasons.
Start your excursion to Kyoto with a pickup from select hotels in the early morning, proceeding to a central meeting point where you'll head to Osaka station for the short 30-minute ride to Kyoto by train. Soon you arrive in this historic Japanese town, an urban center that once served as the country's capital and home to its emperors between 794 and 1868.
Hop aboard your coach for the ride to your first attraction, the massive Nijo Castle. This UNESCO World Heritage site was home to the Tokugawa shoguns for close to 200 years after its construction was completed in 1603. Admire the castle's imposing stone walls and large defensive moat, before heading inside to view its beautiful murals of gold leaf. A number of fantastic photo opportunities will be available at the castle, thanks to the complex's photogenic groves of plum and cherry trees. Please note: when Nijo Castle is closed, the tour will visit Ryoan-Ji Temple instead.
Head next to the elaborate gardens and beautiful buildings at Kinkaku-Ji Temple, another UNESCO World Heritage site. After checking out this amazing structure, also known as the Golden Pavilion, you'll move on to the Kyoto Imperial Palace for more sightseeing. This elegant palace, once home to Japan's Imperial Family until the capital was moved in 1868, emphasizes the Japanese interior design philosophies of simplicity, tranquility and purity. You'll also have a chance to see Shishinden imperial state chamber, where the country's enthronement ceremonies once took place.
Note: When the Kyoto Imperial Palace is closed, the tour will visit Kitano Shrine (Kitano Tenman-gu) instead.
This famous religious monument, dedicated to the god of study, is a frequent site of patronage for many Japanese students, who pray for luck in passing exams by touching the site's statue of 'Ushi-san' (Mr. Cow) representing the virtues of scholarship.
Finish your Kyoto excursion with time for a buffet lunch (at your own expense) as well as some time at the Kyoto Handicraft Center, affording you an opportunity to purchase some traditional souvenirs. The tour ends with a 30-minute return ride to Osaka by train, at which point you will make your own way back to your hotel.
June 2016
June 2015
We enjoyed this tour from beginning to end!
The tour employees were with us every step of the way.
Their English was great. We understood everything they said.
In hindsight we should have booked with Viator in Toyko
instead of the Holland America Cruise Line tour.
It was very disappointing.
Next time we will certainly look into the Viator tours first.
June 2015
Comprehensive and complete trip. We were well taken care of.
donaldducks Hong Kong
February 2015
Lots to see in the morning. Staff were friendly and informative. Very professional. Only problem was too little time at the 3 shrines.
December 2014
Great tour. The tour guide is very knowledgable and has a good sense of humor.
May 2014
Excellent itinerary and guide.
January 2014
Very nice tour, the tour guide is very good.
December 2013
Excellent tour guide, fantastic locations!!!
June 2013
My family and I is fully satisfied with this tour. Our guide is so helpful and always smiling. Our children learned a lot from this tour that they can share beautiful and memorable stories to their friends.
December 2012
The tour was as described and was well planned. I enjoyed the tour guide and the other guests. The sites were beautiful and interesting.
Advertisement
Advertisement