Visit three diverse nature preserves — from the Colorado Desert to the Mojave Desert and back — on this guided, 4-hour walking/riding tour. Explore the unique landscapes of the Wildlands Conservancy, a preserve system featuring mountains, valleys, deserts, rivers and coasts. Enjoy the towering majesty of Mount San Jacinto, learn about the huge aqueduct system in Southern California and see visual evidence of the mighty San Andreas Fault that makes these unique habitats possible. Water, snacks and a hotel pickup and drop-off from select locations in the Palm Springs area are included.
Highlights
Wildlands Conservancy nature tour from Palm Desert
Visit three astounding nature preserves around Palm Springs
Admire Southern California's diverse landscapes including mountains, valleys, deserts and rivers
Travel from the Colorado Desert to the Mojave Desert and witness the famous San Andreas fault
Follow your expert guide on several nature walks to appreciate the rich scenery
Transport by comfortable air-conditioned coach
What You Can Expect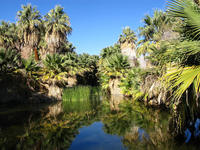 This unique nature tour begins with a hotel pickup at select locations in the Palm Springs area. Hop on board a comfortable, air-conditioned coach and enjoy the drive to three of the 12 distinct nature preserves of the Wildlands Conservancy.
This 4-hour tour travels from the Colorado Desert to the Mojave Desert and back. Follow along with the naturalist guide to see Mount San Jacinto, the second highest mountain range in Southern California. Learn about the huge aqueduct system in Southern California and see visual evidence of the mighty San Andreas Fault.
See the rivers, marshes and trout ponds as well as the shady, tree-lined paths — all, amazingly, in the desert. Marvel at the incredible scenery from the coach, stopping occasionally to hike some of these treasured natural environments.
Snacks and bottled water will be provided along the way. Wear comfortable walking shoes as short, flat hikes are included at each stop.
The tour ends with a return trip and hotel drop-off in Palm Springs.
June 2016
Our tour guide was very knowledgeable . We learned a great deal about the desert, the vegetation and animal life. Yvonne Brand
May 2016
George gave us an incredible tour and wonderful afternoon. His in-depth description of everything we saw was so informative. He answered all our questions and added so many interesting local stories. It was a great tour, and one we have already recommended to others. Thank You, George, for a great experience. We learned so much about this unusual area of our country.
March 2016
February 2016
Had a very interesting time.
February 2016
Coachella Valley Preserve is unbelievable. A COOL (figurative and literally) Palm Oasis with ponds and a wonderful tranquility. Swift water Preserve similar to E. WA State. River was dried (poor Cali) but the setting water and TROUT was beautiful. Ron is a great guide. His passion 4 PS area showed!
March 2015
Congratulations to our excellent tour guide, Jane, whose friendliness, expertise, local and general knowledge and professional demeanour really gave an added dimension to our Palm Springs stay. By the end of the four hours, my daughter and I had learned a lot about the geology and geography of the incredible Coachella Valley and surrounds. What a fascinating environment. Our van was warm and comfortable and the stops to various flora and fauna reserves were excellent. A great day - thanks Jane!
December 2014
Our guide Craig was the best. Knowledgeable,friendly, easy tp talk to

October 2014
I could not take the regular tour because I am in a wheelchair. Instead Viator sent a big wheels vehicle that took us to one of the preserves where I was pushed along a boardwalk to see nature and identify trees. We saw a deer, which is quite common at home, and a bluebird. My husband was able to go on a short hike to see the area of the San Andreas fault (water in the desert) and we saw other moist areas where other faults were. Our guide was quite agreeable and drove slowly because of my sensitivity to the bumps. All in all, it was a pleasant afternoon and we appreciated having our needs accommodated.
Advertisement
Advertisement