Enjoy an evening of Panamanian cuisine and culture with a folkloric show and dinner. Marvel at the handwoven costumes in this allegorical dance performance, and be entertained by acoustic music reflecting the diversity of Panama's cultural traditions — including Spanish and Caribbean influences. Your 3-hour experience includes a set menu with one nonalcoholic beverage plus pickup and drop-off from Panama City hotels.
Highlights
Panama City folkloric show and dinner

Learn about the history and culture of Panama through music and dance

Enjoy local Panamanian cuisine

Hotel pickup and drop-off included

What You Can Expect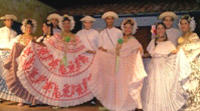 Discover the wonderful musical traditions of Panama during a dinner show, starting with hotel pickup and transport to the evening's venue in Panama City.
This allegorical performance includes traditional folkloric dances accompanied by live musicians whose cultural influences draw from Panama's mix of indigenous, Caribbean and Spanish colonial heritage. Hear instruments made from plants and shells, and note the dancers' attire — handmade by excellent artisans who spend weeks creating each piece.
See women display white-ruffled cotton dresses called pollera, used in traditional festivities throughout Latin America and decorated with embroidered flowers and designs. Marvel at the ornamental headdresses and admire the men's simpler costumes including cotton shirts adorned with gold or pearl buttons.
Relax during a breathtaking journey into Panamanian history and get a taste for local Panamanian cuisine with a set dinner accompanied by one nonalcoholic beverage. After the dinner show, you're transferred back to your hotel.
Please note: A minimum of two people per booking is required.
July 2015
April 2015
Absolutely a must if you are in Panama City. The dancing was wonderful! The costumes gorgeous!. We all loved it!
June 2013
We loved the food and the show was great!!! We definitely recommend this tour!!!
September 2012
February 2016
Wonderful group of dancers...happy entertainment. Nice variety of food, generous portions and good food. Nice beginning to our Panama city visit.
Grammy Sharon
September 2014
Overall it was a good tour, the guide picked us up not much conversation about the event and he told us he would pick us up in 3 hours
Jonathan E USA
August 2012
Pick up was thirty minutes late but everything else was great. The show was real fun food plentiful and tasty, lots of choices
April 2012
Had problems with reservations. Was in my traveling partners name (David Roy) instead of mine, Santos Pajntoja. Made it OK after some trouble. Almost missed the show and dinner.
Judy H United States of ...
January 2012
We had a bit of a problem with the hotel pick-up. First, when we called from the USA to confirm, we were given one time. We called again from Panama and were given another time. Second, the driver did not speak English. Though he had our names on his sheet, he didn't seem to recognize the Viator cofirmation sheets.. Fortunately, the representative at the hotel helped resolve the problem. The dinner was very nice and the server, very friendly and helpful. We were seated in the back center of the room. The show was entertaining and lived up to the description. It would have been nice to have had more singing in the show.
July 2010
Show was worth seeing and I enjoyed the typical Panamain dinner.
Advertisement
Advertisement