See the incredible châteaux (aka 'castles') of the Loire Valley, a UNESCO World Heritage–listed region of France, on this overnight tour from Paris. With a guide, you'll drive by coach into the French countryside to visit Château de Blois, Château de Cheverny, Château de Chenonceau and Château de Chambord. See the château where Leonardo da Vinci lived at the end of his life, and learn about the histories of these palatial homes.
Highlights
2-day Loire Valley Castles tour from Paris

Visit the famous Château du Clos Lucé, Leonado da Vinci's final place of residence
Enjoy guided tours of the Château de Blois, Château de Chenonceau, Château de Cheverny and Château de Chambord
Explore the beautiful Gardens of Villandry
Visit the historic city of Tours and discover picturesque towns and villages in the Loire Valley
Accommodation and some meals included
Recent Photos of This Tour
What You Can Expect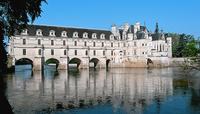 Your 2-day tour to France's châteaux country departs from a central location in Paris. You'll enjoy two full days of exploring several Loire Valley castles with your informative guide, such as the Royal Château de Blois, once home to French kings, and Château de Chenonceau, which was built across a river. Plus, visit picturesque towns and learn about the history of this dreamy region of France.

Entrance fees and coach transportation are included, as well as dinner on Day 1 and breakfast and lunch on Day 2; enjoy free time to get lunch on your own in the town of Amboise on Day 1. You'll spend the night at a 3-star hotel in the town of Tours.

Other castles include Château du Clos Lucé and the Gardens of Villandry, Château de Cheverny and Château de Chambord.
Itinerary
Day One: Paris – Château de Blois – Amboise – Château du Clos Lucé – Gardens of Villandry – Tours (D)
Hop aboard your air-conditioned coach in the morning in central Paris, and head south out of the city to begin your castle country tour.

Travel through the Aquitaine countryside to the town of Blois for your first visit — the Royal Château de Blois in the famous Loire Valley. Constructed between the 13th and the 17th centuries, the Château de Blois has served as residence to French kings including Louis XII and Francis I. In the year 1429, Joan of Arc travelled here to be blessed by the Archbishop of Reims before taking her army into battle to drive the English out of Orléans. Learn of the castle fascinating history from your guide during your tour and feel free to ask any questions you may have.

Continue onward to Amboise and enjoy a little free time in this attractive town for lunch (own expense). Afterward, take a guided tour of the nearby Château du Clos Lucé and the Gardens of Villandry, made famous as Leonardo da Vinci's final place of residence in the early 16th century.

Head on to the historic town of Tours with your guide, for your evening meal and first night's accommodation.

Overnight: 3-star hotel in Tours

Day Two: Tours – Château de Chenonceau – Château de Cheverny – Château de Chambord – Paris (B, L)

After a buffet breakfast at your hotel, depart from Tours and head on to the spectacular Château de Chenonceau, widely considered to be among the very finest of all France's castles. An intriguing blend of late Gothic and early Renaissance architectural styles, the castle dates back to the 16th century and its four archways span the length of the Cher River. During your guided tour, hear of Chenonceau's interesting heritage from your guide and take in beautiful views out along the river.

Head on from the Château de Chenonceau for a guided visit of the magnificent 17th-century Château de Cheverny, first opened to the public in 1914. Cheverny is renowned for its ornate interiors, and its impressive collection of antique furniture, paintings, sculptures and tapestries is a joy to behold.

Depart Cheverny and head to the nearby Hotel Saint-Hubert for a farewell lunch, then conclude your tour through the Loire Valley with a visit to the imposing Château de Chambord. Constructed by King Francis I of France, this French Renaissance castle is widely considered one of the most impressive in the world and blends medieval building styles with classical Renaissance architecture to perfection.

At the end of your guided visit of the Château de Chambord, hop back aboard your coach for the 2.5-hour journey back to central Paris where your castle country tour will come to an end.

October 2015
A bit of confusion at the office in Paris, but this was mainly due to people pushing to get into a line they were not supposed to be in! We joined the main tour group on another bus after lunch then everything went smoothly.
The 2 day tour was fantastic. We originally thought to drive a hire car to see Chateau, but so glad we did this tour as we visited the Chateaus we wanted plus more and drove through many beautiful postcard perfect villages, where we also had time to walk through some, which we probably would have missed if we had to concentrate on driving. We also met some lovely people on the tour, except 1 couple who always strolled in late, no matter what the guide implied at each stop, which really understandably irritated the guide.
On the first day, we were free to wander and lunch after our tour in Amboise which was exquisite. The overnight accommodation at the Mecure Hotel was great, however the evening meal was average, yet breakfast the next morning was excellent. The lunch on the 2nd day on our way to Tours was very average and the waitress was very impatient with us, which was disappointing.
Highly recommend this tour!
May 2014
A GREAT TOUR IF YOU ARE LIMITED FOR TIME ON YOUR TRIP TO FRANCE.....EXCELLENT VISITS TO THE WONDERFUL CHATEAU'S IN THE LOIRE ,GREAT TOUR GUIDE. THE ACCOMMODATION WAS BRILLIANT AT THE MECURE HOTEL..THE EVENING MEAL WAS AVERAGE AND BREAKFAST THE NEXT MORNING WAS EXCELLENT. DEFINATELY WOULD HIGHLY RECOMMEND THIS TOUR.
October 2013
Wonderful country side experience with guide Florence who was full of fun.
Steven L USA
October 2013
Great tour guides and lots of information to make things interesting. Although the tour was in English, Italian, French, Spanish, and Portuguese the guides (3) did a very good job handing things off to one another. The itinerary was perfect and met all expectations. The accommodations was at the Mercure and definitely very good. The Lunch was one of the better meals I had. Met some neat people also. Everything was on time and would definitely do more tours with them if I had more time.

Evangelos P Canada
June 2012
Fantastic!!! Highly recommended. An experience of a lifetime. Good guides, good overnight hotel, beautiful scenery. The food inculded with the tour however was awful. Would recommend that you let people chose and pay for their own meals.

Donald B Australia
October 2011
I was surprised by the number of people enjoying the chateaux. Our guide as passionate about the subject and covered a wide range of detail.

Mike B. Canada
October 2011
My spouse and I took this 2 day tour of the Loire valley and fully enjoyed it. It's simply a wonderful area of France. The guide we had was knowledgeable and provided lots of meaningful information. It's definitely not a case of "seeing one chateau is seeing them all!" This two day tour gives you very full days – on Saturday we only arrived at the hotel at 7:15PM and had dinner around 8PM. The bus takes you through many small villages which are picture postcard perfect. In addition to touring six chateaus you also have time to walk through some of the villages plus a walk-thru through the old part of Tours.
The hotel we stayed in Saturday night was nondescript, but as mentioned, you do get there rather late and are up early the next day to continue touring. The included meals were all delicious. Some people mentioned that the bus seating was rather cramped – but it is a two-door bus which made embarking and disembarking efficient.
I found it initially confusing when leaving Paris early Saturday morning and we only joined the main tour group on another bus after lunch in Amboise – then everything went smoothly. This "main tour" group had already been through the Normandy area on the previous days. The tour was given in three languages – English, Spanish and French. When you tour the Chateau's and villages you are with your own language group.
This two day tour definitely gives a fuller impression of the Loire as the bus goes on tiny roads through the beautiful villages – it only makes you want to spend more time there! The weather we had was perfect – sunny and 25 Celsius.
July 2011
2 days was the perfect amount of time for me. Enough to get to see 2 of the chateaux I really wanted to visit (Chambord and Chenounceaux) with some others added. 1 day would have felt rushed, more days too structured for my tasted. Tour guides were very knowledgeable. Some confusion at the office where is all started but once on the road a great trip.

July 2011
Wonderful trip, I recommend
Jamie T Canada
October 2010
Great tour guides, great hotel, great food, and oh yeah, the chateaux were great too.... :-) I love Viator! Highly recommended.
Advertisement
Advertisement