On this 3-day adventure from Paris, experience two of northwestern France's most beloved locales — the World Heritage–listed island village of Mont St-Michel in Normandy and the 'château country' of the Loire Valley, another UNESCO site. With a guide, learn about the architecture and significance of these historical landmarks, and enjoy spending the night in the towns of Angers and Tours. You'll be awed by castles like Château de Chenonceau, Château de Chambord and Château du Clos Lucé, once home to Leonardo da Vinci.
Highlights
3-day tour of Normandy and the Loire Valley from Paris
Visit Mont St-Michel in Normandy, a UNESCO World Heritage site
Tour the Abbey with your knowledgeable guide and enjoy free time to explore
Visit 6 different historic French châteaux in the beautiful Loire Valley including Château de Chambord and Château de Langeais
Explore the Château du Clos Lucé, where Leonardo da Vinci lived
Includes 2 nights' accommodation in 3-star hotels with breakfast
Travel by luxury air-conditioned coach

What You Can Expect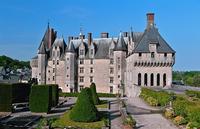 Your 3-day tour from Paris to the popular French regions of Normandy and the Loire Valley includes comfortable coach transportation, accommodation at 3-star hotels in the towns of Angers and Tours, and most meals, including lunch at Relais Saint-Michel, where you can admire views of Mont St-Michel while you eat. You'll have free time to get other meals on your own.

With your informative guide, travel first to Mont St-Michel, a World Heritage site famous for its unique setting on a tiny rocky island. Then on days two and three, visit some of the Loire Valley's many castles, including Château de Langeais, Château du Clos Lucé, Château de Chenonceau and Château de Chambord.
Itinerary
Day 1: Paris – Mont St-Michel – Angers (L, D)

Meet your guide near the Pyramides metro station in Paris in the morning and board your air-conditioned coach for the 4-hour journey west toward Normandy. Arrive for lunch at the restaurant 'Relais Saint-Michel' (see sample menu below) and take in spectacular views over the island of Mont St-Michel as you dine.

One of the most famous places in France, Mont St-Michel has been a site of religious significance and strategic fortification since the 8th century, when the Bishop of Avranches built a small church there. In the course of its long life it has served as a place of pilgrimage for Benedictine monks and a prison during the French Revolution. Today, Mont St-Michel is a UNESCO World Heritage site and people visit from across the world to explore its narrow alleyways and hear of its fascinating past.


Tour the Abbey with your guide to discover the cloister and refectory, see how the ramparts have been strengthened to support the Gothic monastery above and learn of Mont St-Michel's history and heritage. Afterward, enjoy free time (until 4.30pm) to explore at your leisure and see Mont St-Michel's most impressive feature: the extreme tides. At low tide, Mont St-Michel is surrounded by open beach for miles, but at high tide — just six hours later — sea water rises up to fill the streams and eddies before filling the bay and surrounding the entire island!

As afternoon turns to early evening, hop back aboard your coach and head south for the Loire Valley. Many of France's most impressive châteaux can be found here — there are more than 300 in total! Arrive in the city of Angers in the evening for dinner with your group and an overnight stay.

Overnight: 3-star hotel in Angers

Day 2: Angers – Langeais – Amboise – Clos Lucé – Villandry – Tours (B, D)
Depart Angers after a buffet breakfast at your hotel and drive out toward Amboise. Stop first to take in views of the impressive Château d'Angers — a 9th-century château overlooking the Maine River — before continuing on through the historic communes of Chênehutte-Trèves-Cunault and Saumur to the town of Amboise.

Visit the nearby Château de Langeais, originally a medieval castle. Langeais saw violent conflict in the 10th century and, following its destruction during the Hundred Years' War, was rebuilt in the 15th century by King Louis XI. Today this beautiful building serves as one of the finest examples of late-medieval architecture in the world. After your tour, enjoy a little free time for lunch in Amboise (own expense).

In the afternoon, explore the nearby Château du Clos Lucé, where the painter Leonardo da Vinci lived between 1516 and 1519. Clos Lucé, as it's known locally, is now a museum dedicated to da Vinci and houses over 30 models of the various machines he invented. A copy of the Mona Lisa — his best-known painting — also hangs within the château.

Continue onward to stroll around the immaculately-manicured gardens of the Château Villandry. Marvel at the gardens' seasonal colors and symmetry, and enjoy capturing their beauty on camera. Head onward to visit the historic town of Tours for dinner.

Overnight: 3-star hotel in Tours

Day 3: Tours – Chenonceau – Cheverny – Chambord – Paris (B, L)
After breakfast, depart Tours for a guided visit of the Château de Chenonceau, widely considered the most famous in the Loire Valley. The extraordinarily beautiful Château de Chenonceau was built in the early 16th century and its 4 arches span the length of the Cher River. Learn of its impressive history and architecture from your guide and feel free to ask any questions you may have.
Continue onward to the Château de Cheverny and lunch. The Château de Cheverny has been in the same family for six centuries and boasts elegant interior, grand salons and a fine antique collection. It underwent major renovations in 1768 and the results can still be enjoyed today.
Your final visit is to the opulent Château de Chambord, the very largest in the Loire Valley. With its ornate French Renaissance architecture and imposing stature, the Château de Chambord impresses throughout. It was built in the early 16th century to serve as a hunting lodge for King Francis I of France, and to show off his considerable wealth. Take a tour of the château and learn of its amazing history from your guide.
Depart Chambord at 4.30pm for the 2.5-hour journey back to Paris, where your 3-day Mont St-Michel and châteaux tour will come to an end.
Sample Menu:
Main course:

Salmon accompanied by rice and vegetables



Dessert:
Drinks:
1 bottle of cider or mineral water for 6 people



May 2015
Our guide .on the first day, I had forgotten his name, but was great and ensured we were well informed of the monastery. On the last 2 days Elina was amazing. She was made me feel as if we were a family of closely related people and not strangers. She gave me so much insight of a caring person who really enjoyed our company as well. She was most informative, knowledgable and had appropriate answers to any questions. At concluding I felt that she was sad to see our trip end even though the traffic back to Paris was horrendous. 4 hours for 150ks. Thank you for a great trip.
NURY J USA
September 2013
This was a very good tour. The hotels were very modern, nice and clean. I highly recommend it.
June 2013
Excellent tour giving a good overview of the Loire Valley region. Our knowledgable guide, Florence, gave just enough information to keep the interest level right. Great places to visit and highly recommend this tour.
November 2012
A boa organização da equipe garante aproveitar os muitos lugares visitados em 3 dias. Só tenho elogios principalmente a guia Marisa que fala espanhol e português do Brasil e esbanja conhecimento e paixão pelo trabalho.

October 2012
Well done! ....saw a lot in 3 days...knowledgeable and friendly guides who spoke good English..... hotels were clean with large rooms. Suggestions: include a winery stop.....don't spend so much time on lunch stops as it takes time from what we want to see...give us choices for food. For example my wife does not eat beef or pork
May 2012
Just great, much enjoyed countryside, chateaux and commentary information.

December 2013
Local tpur operator, Cityrama, was a little ovetrwhelmed with all the morning tours departing at the same time and did little to inform or assure passengers thougj they did manage to sort it all out and depart only 10 minutes late. Mont St Michel was a wonderful venue, despite the long drive from Paris. Lunch was disappointing though. Might be a good idea to let people know the level of physical agility required. Guide (Pascale) really brought a lot of interest to the tour. Following 2 days in the Loire was mixed. Could've done without the entire 1st day itinerary and swapped it for a winery tour and a tour of a Troglodite village. Day 2 with the 3 chateaux however was great. In general, it was a little annoying to have the constant commentary being translated into 4 languages. Smaller groups of same language might help?

July 2013
My partner and I really enjoyed the tour, and it was a nice change of pace from the self-guided sightseeing we usually do. Our guide was Adrien, a historian who was very knowledgeable about the sights we visited. He was also very friendly and pitched information in an accessible way. The tour itself was well-organised and we visited a lot of places. We got free time to wander around every major stop, and while you could always spend more time, it was enough for a taste and didn't feel rushed. The accommodation was comfortable both nights and the food was generally good and generous. Fussy eaters may be frustrated by a fixed menu.
April 2013
We had a great time. The Castle looked just like the pictures! Would have like a tiny bit more time in the village. Lunch was very good, but I don't like Salmon. Is it possible to request certain meals according to your allergies? This was never stated but if it is possible it would have been nice to know ahead of time.
The guide was great! She was funny and knowledgeable. Never caught her name, but really enjoyed the tour.
October 2011
This is a very well planned trip where participants see the maximum number of things in a short time. The guides were competant and well informed. Transportation comfortable as were the hotels. Meals all very good. One criticism was that the coach did not have a first aid kit on board when my husband fell and injured himself.
Advertisement
Advertisement