Take a 3-day getaway from Paris to see more of France's historical highlights on this tour that includes transport and accommodation, making it easy for you to focus on soaking up the sights. With a guide, visit the region of Normandy to see Omaha Beach and learn about the landings here during World War II. Explore the towns of Rouen, Honfleur and St Malo, and marvel at UNESCO World Heritage–listed Mont St-Michel. Then discover the enchanting castles of the Loire Valley's 'chateau country,' including Château de Chambord.
Highlights
3-day Normandy, St Malo, Mont St-Michel and châteaux tour from Paris
Visit three very different regions of France over three days
Explore Rouen's medieval Old Town with your guide
Discover the charming seaside town of Honfleur
See the D-Day landing beaches of Omaha
Visit the American Cemetery of Saint-Laurent and Arromanches
Enjoy a guided visit of St Malo and the UNESCO World Heritage site of Mont Saint-Michel
Visit the famous French châteaux of Langeais and Chambord
Two nights' accommodation and meals included
Recent Photos of This Tour
3-Day Normandy, St Malo, Mont Saint-Michel, Chateaux Country Tour from Paris
What You Can Expect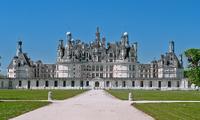 Your 3-day tour from Paris to the much-loved regions of Normandy and the Loire Valley in northwestern France includes comfortable coach transportation, accommodation at 3-star hotels in the towns of Caen and Angers, and dinner and breakfast. You'll have free time to enjoy lunch on your own.

With your informative guide, travel first to the Normandy coast, visiting Rouen, Honfleur and Omaha Beach. On Day 2, head to the walled city of St-Malo and then Mont St-Michel, a World Heritage site known for its unique setting on a small rocky island. Day 3 is reserved for the castles of the Loire Valley, including Château de Langeais and Château de Chambord.
Itinerary
Day One: Paris – Rouen – Honfleur – Caen (D)


Jump aboard your luxury air-conditioned coach in the morning and head out of central Paris and deep into the beautiful Normandy countryside to begin your tour. Stop first in the medieval city of Rouen — Normandy's ancient capital — and take a tour of the Old Town with your informative guide.
Travel onward to the delightful seaside town of Honfleur and take time to appreciate its picturesque port and fresh sea air. Sit down to lunch at your leisure (own expense) and take in beautiful views over the coastal port-town. One of Normandy's prettiest towns, Honfleur is home to many traditional craft shops and charming cafés, with many waterside walks to enjoy.
Continue on to the Normandy beaches, made famous as the landing site of Allied forces during World War II. Gaze out over Omaha Beach, where so many courageous soldiers lay down their lives in battle, and spend time at the American Cemetery of Saint-Laurent and Arromanches.
Overnight: 3-star hotel in Caen
Day Two: Caen – St Malo – Mont Saint-Michel – Angers (B, D)


Following your morning buffet breakfast, leave Caen behind and travel on toward Brittany in the north west of France. Take a tour of the ancient, walled city of St Malo and discover its age-old ramparts and cathedral with your guide.
Pause for lunch and refreshments (own expense) and spend a little free time exploring St Malo at your leisure, then travel onward to the UNESCO World Heritage site of Mont Saint-Michel, an island fortress located on the Normandy coastline. Considered by many to be one of France's best-known landmarks, Mont Saint-Michel has a complex and fascinating history going all the way back to the 8th century.
Explore the ancient abbey with your guide then spend a little free time wandering along Mont Saint-Michel's cobbled streets and alleyways at your leisure.
Overnight: 3-star hotel in Angers
Day Three: Angers – Château de Langeais – Amboise – Château de Chambord – Paris (B)
Depart Angers after breakfast and head into France's château country. Admire the imposing Château d'Angers in the Loire Valley on route and capture its beauty on camera before continuing onward.
Travel through the ancient towns of Cunault and Saumur on your way to the Château de Langeais, a medieval castle nestled in Indre-et-Loire. Destroyed in the Hundred Years' War, Château de Langeais was fully rebuilt in the 15th century by King Louis XI and is today widely considered to be among the finest examples of late-medieval architecture in France. Tour the castle with your guide and gain insight into its centuries of history and heritage.
Travel onward to the town of Amboise, on the banks of the Loire River, and enjoy a pause for lunch (own expense) and a little free time to explore the town at your leisure.
Afterward, take a guided tour of the Château de Chambord — considered by many to be one of the most impressive châteaux in the region. Constructed by King Louis 1 of France, the Château de Chambord blends medieval architecture with distinctive French Renaissance styling and is widely considered to be among the most distinctive and recognizable château in the world.
At the conclusion of your visit to the Château de Chambord, hop back in your coach for the return journey to central Paris where your tour will come to an end.
Sample Menu:
Starter:
Main course:
Roast turkey, green beans and Provençal tomatoes



Dessert:
Iced nougat and berry coulis



May 2016
Our tour guide, Dominique, was exceptional. Her knowledge and English was excellent. She gave us the right amount of information both on the bus while driving through towns and while touring the different sights. She also gave us great tips for our free time. It would have been nice to have a little more time at Omaha Beach and a little less time at the Graves, but that wasn't her choice. We highly recommend this tour.

October 2015
We saw a lot of France during those 3 days. I like the hotels and the food that came with the tour. The bus was comfortable and the people were nice. Thumb up!
September 2015
The whole tour was very well organized ...the hotels were very good ...all the people who worked for this tour were very polite and helpful ....
June 2015
I can't rate this highly enough! The tour was very well organized from the informative guides to the hotel accommodations to the meals. Everything was punctual and professional. The blend of sites was amazing. We felt we had learned and seen so much in those 3 days!
Hisham Khoury Lebanon
August 2014
Travellers ; a family of 5, children aged 11, 15 and 17.
Booking: as usual, booking with Viator is easy as well as the communication with them, when need.
Tour: mainly historical and cultural but also very nice sightseeing for people not into history.
Hotels: 1. Novotel Caen: a tired hotel in a desolate area, good enough for a 1 night stay, just to sleep.Nice staff.I've read good reviews about the food there, but in our case, you could see dinners having nice food while tour groups were all served " something" without beeing given an option (many plates were barely touched). Even airlines in economy seats give you an option !.
2. Mercure Gare...: Nice hotel, the dinner was in a restaurant outside the hotel, also no menu options but this time food was good. PLEASE Viator, negociate dinner options.
Tour guide: Ours was Mr. Carlos Martinez, a knowlegeable and very sympathetic guy who added humour to every visit.
Transport: Very comfortable coach. Some stretches of road could be very long, but one could easily nap (much needed)
The experience: it was a very nice and enjoyable tour for every member of our family.Everything was timely and very well organised.
August 2014
TOTALLY WORTH IT.
One warning: the beaches of Normandy were rather rushed, so make sure you explore that region FAST. Don't spend too much time looking at the grave sites.
June 2014
This is a great way to see many sites without the hassle of arranging travel and hotels. And best of all, Florence, our guide was both knowledgeable and entertaining. Everything was well planned and although we all would have enjoyed more time at each location, that's not possible when you want to see so many places in only 3 days. There wasn't any stop on this tour we didn't love!
December 2013
Definitely recommend this tour. Much easier taking this tour to get to the places you want to see than by driving and stressing about parking, roads, and hotels. The trip will well worth the value and the tour guides were also fantastic, knowledgable and had everything organized flawlessly. The only negative is that you feel like you could spend more time in each place, but really that is probably true of most everywhere you go. It would be great if the tour could work out the 2nd day drop off for those only taking the two day tour a little better - you leave Mont St. Michel, travel to St. Malo, and then return to Mont. St. Michel before going to Angers for the night. Seemed like a lot of extra travel and time lost for those going on the 3 day or 4 day tour. Regardless, the tour is still worth this slight inconvenience.
September 2013
This tour is a wonderful way of seeing the countryside surrounding Paris. I loved each day of this tour. The first day is Normandy- Rouen, Honfleur, and the D-day beaches. The second day is San Mont Michel and San Malo. The third day is the Loire valley. The tour guide was awesome and the towns are so gorgeous. My only warning with this, however, is that it is a pretty hardcore tour- expect to wake up early everyday and go until late. We had wake up calls at 6:15/6:30, and weren't done with dinner until 9/9:30 at night. Dinner isn't served until 8/8:30 in the evening, so buy some snacks in-between lunch and dinner. Also, be sure to bring an umbrella- it rains often in these regions.
August 2013
Tour guides where very imformative
Advertisement
Advertisement