Escape Paris and see the French countryside on a 4-day getaway to Normandy and the Loire Valley. Accompanied by a guide, you'll visit the towns of Rouen, Honfleur and Saint-Malo, explore World Heritage–listed Mont Saint-Michel and learn about the World War II landings at Omaha Beach. Then discover the dreamy castles of the Loire Valley's 'chateau country,' including Château du Clos Lucé and Château de Chambord. Transport and accommodation are included so all you have to worry about is soaking up the sights.
Highlights
4-day tour to Normandy, Saint-Malo, Mont Saint-Michel and France's châteaux country
Discover three different regions of France in four days
Tour Rouen's medieval Old Town with your guide
Relax in the delightful seaside town of Honfleur
Visit Omaha Beach on the Normandy coast, site of the World War II Normandy landings
Discover Saint-Malo and the UNESCO World Heritage site of Mont Saint-Michel
3-star accommodation and most meals included
Visit famous French châteaux such as Cheverny, Chambord and the Château du Clos Lucé, official residence of Leonardo da Vinci in the world renowned Loire Valley

Recent Photos of This Tour
4-Day Normandy, Saint-Malo, Mont Saint-Michel and Chateaux Country Tour
What You Can Expect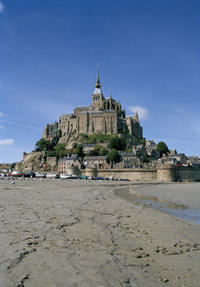 Your 4-day French adventure from Paris to the popular regions of Normandy and the Loire Valley includes comfortable transportation by coach, accommodation at 3-star hotels in the towns of Caen, Angers and Tours, and most meals, including a farewell lunch in Cheverny at Hotel Saint-Hubert. You'll have free time to enjoy other meals on your own.

With your knowledgeable guide, spend Day 1 along the Normandy coast, visiting Rouen, Honfleur and Omaha Beach. Day 2 takes you to the walled city of St-Malo and then Mont St-Michel, a UNESCO-listed site famous for its unique perch on a small rocky island. Days 3 and 4 are reserved for the dreamy castles of the Loire Valley, including Château de Langeais, Château du Clos Lucé, Château de Chambord and Château de Chenonceau.
Itinerary
Day One: Paris – Rouen – Honfleur – Caen (D)


Hop aboard your luxury air-conditioned coach in the morning and travel out from central Paris toward the Normandy countryside to begin your tour. Stop off in the medieval city of Rouen — the historic capital city of Normandy — and explore the charming Old Town with your guide.
Continue on to the pretty seaside town of Honfleur — widely known for its picturesque port and fresh sea air. Enjoy free time for lunch at your leisure (own expense) and soak up the relaxing, coastal atmosphere. Honfleur is a real gem of a town, with many traditional craft shops, welcoming cafés and waterside walks to explore.
Head onward to the beaches of Normandy, where Allied forces attacked the advancing German forces during the World War II Normandy landings. Pass the beach of Omaha — where many thousands of brave soldiers lost their lives in battle — and visit the American Cemetery of Saint-Laurent and Arromanches.
Overnight: 3-star hotel in Caen
Day Two: Caen – St Malo – Mont Saint-Michel – Angers (B, D)


After a buffet breakfast in the morning, depart Caen and head onward toward Brittany, a coastal region in the north west of France. Alight at St Malo — an ancient, walled city — and take a tour of the age-old ramparts and cathedral with your guide.
Stop for lunch (own expense) and enjoy a little free time to yourself in St Malo before heading onward to the UNESCO World Heritage site of Mont Saint-Michel, an island fortress sitting off the Normandy coast. Widely considered among France's most famous landmarks, Mont Saint-Michel has a rich history stretching back to the 8th century. Tour the ancient abbey with your guide then enjoy free time to explore Mont Saint-Michel's cobbled streets and alleyways at your leisure.
Overnight: 3-star hotel in Angers
Day Three: Angers – Château de Langeais – Amboise – Château du Clos Lucé – Château de Villandry – Tours (B, D)


Leaving Angers behind you after breakfast in the morning, head deep into France's famous château country. Pause on route at Château d'Angers — an imposing castle in the Loire Valley — and capture the beautiful building on camera before continuing onward. Pass through the historic towns of Cunault and Saumur on your way to the Château de Langeais, a medieval castle nestled in Indre-et-Loire. Château de Langeais was destroyed in the Hundred Years' War and rebuilt in the 15th century by King Louis XI. It stands today as one of the finest examples of late-medieval architecture in France. Tour the castle with your guide and gain insight into its centuries of history and heritage.
Continue on to the town of Amboise on the banks of the Loire River for lunch (own expense) and a little free time to explore independently. In the afternoon, visit the Château du Clos Lucé, famous as the last official residence of Leonardo da Vinci in the 16th century. Afterward, head onward to explore the beautifully manicured gardens of the Château de Villandry.
Finish your day with a visit to the historic town of Tours, nicknamed 'le jardin de la France' (the garden of France) for its many parks and green spaces. Tours is one of the largest cities in central France, and famous for its medieval Old Town and its many bridges crossing the Loire River.
Overnight: 3-star hotel in Tours
Day Four: Tours – Château de Chenonceau – Château de Cheverny – Château de Chambord – Paris (B, L)


After breakfast, begin your final day in the Loire Valley with guided visits to Chenonceau, Cheverny and Chambord — three of the most impressive châteaux in the region. The four arches of the Château de Chenonceau span the Cher River and put Chenonceau firmly among France's finest châteaux.
Enjoy a farewell lunch at the Hotel Saint-Hubert in Cheverny before returning to central Paris in your luxury coach to conclude your tour.
Sample Menu:
Main course:

Roast

turkey

, green beans and

tomato

Provencal



Dessert:

Iced

Nougat

and

berry coulis



May 2016
Our guide and driver were marvelous. I saw and learned so much. Very pleasant hotels. With the walking and stairs I didn't have to worry about calories.

August 2015
I really enjoyed my time on this tour. We did so much that the 4 days felt like two weeks! The highlight for me was Mt. Saint Michel, a must go place in France.
June 2015
Veronique did a great job guiding this tour in several languages, the cities were beautiful and the experience was unforgettable
July 2013
Very comprehensive tour, like it except one of English and Italian tour guide is very rude. She screamed to the other visitors who were bit loud at the site, and if you were bit late for bus, she blamed and pointed finger to you.
July 2013
Janet D Australia
November 2012
Excellent tour. Efficiently covers a lot of countryside and you are escorted by very knowledgeable and professional guides. Great accommodation. Loved Normandy, Brittany and the Loire Valley. We had a great group - highly recommended.
September 2012
This trip is an excellent way to see a lot of France in only a few days. The tour is a large group, and covered in multiple languages, but the guides (Adrian and Carlos) did an outstanding job of accommodating everyone. The bus and hotels were comfortable. Plenty of time in most of the sites, but I would have liked more time at Mont St. Michel and Chambord. The tour is a very good value for everything that is included.
Bernard H New Zealand
October 2011
Well worth it. Very much enjoyed. Guides were full of knowledge. Would recommend.
Gai R Australia
July 2010
Fabulous guides, excellent choice of sites to visit but I would have liked a little more time at the high profile chateau and less time in the city of Tours which I found dull.
May 2016
This was my and my husband's first multi-day tour. All in all we had a good time. Our guide, Corinne, was very knowledgeable and gave us information that made the viewing more interesting and added to our general store of knowledge. The bus was very comfortable. My husband has a bad back, and because the bus was never full, he was able to utilize the back row of seats. The windows all over were big and allowed great viewing of the sights. This is especially true on the small country roads in Normandy where we could see the thatched roofs on the cottages up close. Although there were adequate bathroom stops, the bus bathroom did come in handy and was clean and comfortable. We were lucky enough to have good weather for half the trip, so sites like Honfleur and the chateau Chenonceau were particularly beautiful. Sights like Omaha Beach and Mont. St. Michel were almost better in rainy ominous weather. The hotels we stayed in were quite comfortable, modern and clean. The breakfasts were delicious, with a huge array of pastries, cold cuts, eggs, fruits, etc. Lunches were up to us, and since I did research online ahead of time, we found a couple of really good restaurants. My main complaint were the dinners provided by the hotels. With a couple of notable exceptions, the dishes were not very flavorful and were in fact rather odd. When the kitchens fell back on traditional French cooking, it was much better. Frankly, I would rather have the option to pay for dinner myself. One thing we discovered is that the nature of the tour was a little hard-going for us. It would have been easier to be able to return to the bus when we got tired, and the early rising and little time between arriving at the hotels and dinner kept us somewhat tired. It is understandable, though, that a tour has to keep us going to make best use of the time. In retrospect we are glad we saw so much.
Advertisement
Advertisement