Commemorate the sacrifices of Australian and New Zealander soldiers during World War I with the annual ANZAC Day Dawn Service in Villers-Bretonneux. On April 25, Depart Paris in the early morning hours to arrive in time for the dawn vigil. Continue on to the surrounding countryside for a tour of the pivotal Somme battlefields with your historian guide. Visit landmarks and memorials including the massive Lochnagar Crater, the Franco-Australian Museum and the Adelaide Cemetery on this enlightening and emotional full-day tour.
Highlights
ANZAC Day tour from Paris to Villers-Bretonneux
Attend the ANZAC Day Dawn Service to commemorate Australian and New Zealander soldiers during WWI
Explore the major WWI sites of Somme, an area of France that saw many bloody battles
See where the Battle of Pozières took place

Visit the Lochnagar Crater, Adelaide Cemetery, Thiepval Memorial and Franco-Australian Museum
Learn about Australia's role in WWI from your knowledgeable guide
What You Can Expect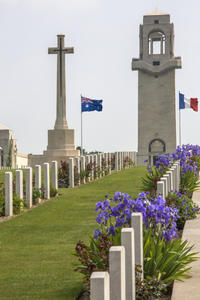 Observed each year on April 25, ANZAC Day commemorates the start of major military action by the Australian and New Zealand Army Corps during World War I. On this day in 1915, ANZAC forces landed at Gallipoli and began a campaign against the Ottoman Turks that resulted in massive casualties on both sides.
Rest up for a very early morning departure from Paris, where you'll meet your guide at the Opera Garnier at 2 am for the approximately 2-hour drive to the town of Villers-Bretonneux. When you arrive, witness the moving annual tribute to ANZAC soldiers with a dawn military service.
Afterward, embark on a tour of WWI sites in the surrounding countryside, including the Somme battlefields where some of the bloodiest campaigns of the war played out. Throughout the day, your expert historian guide will share background on the sites you visit and provide context for the enormous complexity and loss of life during the dark days of the Great War.
Marvel at the gigantic Lochnagar mine crater in La Boisell, and honor fallen Commonwealth soldiers at the Adelaide Cemetery. Pay your respects at the Thiepval Memorial and browse wartime artifacts at the Franco-Australian Museum.
All transport and entrance fees are included, and you'll have a chance to purchase lunch at a local restaurant midday. Sit back and reflect on the return drive to Paris, where you will be dropped off at the original departure point around 3:30 pm.
May 2016
Very moving ceremony. Fantastic knowledgeable guides. Had a great time and highly recommend
May 2016
My husband and I went on this tour to Villers Bretonneux for the dawn service on Anzac Day, 2016. We met up with our tour guides Nicola and Regis at Opera Garnier and left Paris at 2.15am. When we arrived at Villers Bretonneux the tour guides provided us with ponchos, croissants, orange juice and water along with information on the order of service. On arrival the security was understandably strict after which each person was given booklets and 2 pins for the service. The Dawn Service itself was a very moving experience. After the Service there was a wait for each tour bus to be called in turn because there were a lot of people and tour buses! Our tour then continued on to visit a few of the battlefields and memorials with Nicola and Regis who were very friendly, efficient, knowledgeable and informative. This is a must-do tour for Australians and New Zealanders but wear a lot of warm clothes and a waterproof jacket - we were lucky it didn't rain. It was zero degrees Celsius during and after the Service. We returned to Paris at 3.45pm after a very satisfying day.
Peter W Australia
May 2016
We also did the Villers-Bretonneux tour in April 2016 and Lynettes comments earlier are a very good description and sum up our experience exactly.Recommended.
April 2016
This tour was amazing !! Right from the moment we met Nicola on the Opera Garnier Steps at 1.30am to the very end. We travelled in a comfortable coach to Villers Bretonneux. The Entrance to the Dawn Service was well organised and the Ceremony itself was very moving. At the end of the ceremony we travelled through the Battlefields of the Somme. Nicola and Regis had an incredible knowledge of World War 1 and of the individual battles. Both Nicola and Regis were friendly, and helpful and nothing was too much trouble. We enjoyed this tour immensely and would highly recommend it to others even with the 1.30am meeting time Thank you for a great day. Lynne and John S
May 2014
Well worth the early start and a full day worth of activities. The tour guide Bertrand was very knowledgeable and had a fantastic sense of humour. The day itself was quite emotional and filled with fantastic stories, sights and plenty of dr8ving.
May 2015
Great tour, very informative, hosts great, weather let us down, although can appreciate what it was like in 1915. A bit of a wait for buses to pick us up after the ceremony.
Advertisement
Advertisement