Spend some quality time in the kitchens of a famous French bakery to learn the inside secrets of French baking during a boulangerie tour. Join an expert French baker in the back rooms of a well-known bakery in central Paris to hear some of the secrets that make French pastries and breads so special and learn how to make a perfect French baguette.
Highlights
1-hour French bakery tour in Paris

Go behind the scenes of an authentic Parisian boulangerie
Learn how the classic French baguette is made
Discover the secrets of French pastries and hear bread-making tips from your knowledgeable French baker
Take home a freshly baked French baguette and croissant
Recent Photos of This Tour
Behind the Scenes of a Boulangerie : French Bakery Tour in Paris
What You Can Expect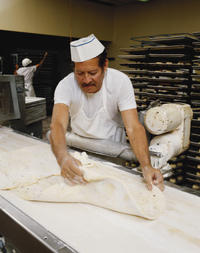 Meet your expert guide, a local baker, and venture into the kitchens and production areas of a famous French bakery to find out how proper French bread (pain), cakes (gateaux) and pastries (patisseries) are made.
This is no bread factory, this is an independent Parisian bakery where the work is still done by knowledgeable bakers on a daily basis. Watch as your guide demonstrates how the machinery works and how famous French baguettes are made. Learn the impressive history of French baking as well as some time-honored baking tips. Your baker and guide's passion for French baking comes through.
Along with all of the newfound knowledge you'll gain during this boulangerie tour, you'll also leave with a freshly-baked baguette and croissant to enjoy later. Children on the tour get a pain au chocolat – a chocolate croissant – instead of a plain one.
June 2016
A fun and interesting bakery experience. The warm baguette at the end of tour was a great bonus!

April 2016
This was super interesting. My 3 boys Ages 7, 8 and 13 were super interested and engaged the entire time. My husband and I also enjoyed as well
January 2016
We loved this tour that got us 'in the back' of the boulangerie! We took this at the beginning of our trip, the knowledge made it fun as we went into a 'few' others during or time in France.
November 2015
It was great. The tour guide was friendly, smiley and warm. We got to the watch the bread be made and take home a baguette. We also got to see the inner workings of pastries - -chocolate croissants! Would recommend this to anyone for a quick peek into the world of bakeries and some history too e.g. bakers cannot go on strike.
September 2015
September 2015
Very informative and enjoyable ! Our children had a go at rolling their own baguettes and found the experience worthwhile and engaging. They had lots of questions for the staff who answered them knowledgeably and with great patience. We all enjoyed sampling the cakes downstairs and our goody bags of baguettes and croissants kept us going for a couple of days.
Would definitely recommend .
August 2015
Super interesting. Spent about an hour in the kitchen watching the bread being made and learning the process. Ended with a yummy tasting! Great tour guide!

August 2015
The guide is very knowledgeable and friendly. She gave us great information and insight into the methods of bread baking as well as the history of bread making in France. Really great experience. They also let you sample different types of breads they make and you leave with a baguette and croissant
July 2015
It was great and I would highly recommend the tour, especially for anyone who likes to cook or loves French bread. Very educational but fun at the same time. We took our loaf of breads and croissants to a park, along with some meat and cheese and wine, and had a picnic!! The bakers at the Boulangerie were very pleasant and fun. It's a 10!!
July 2015
Our guide, Vincent, met us promptly and was very personable. Roman showed us each step of making the delicious breads at the bakery. Then Vincent escorted us down a tight little spiral staircase to show us where the pastries and sandwiches were made. We saw how the dough for the croissants were rolled and how sandwiches from the fresh bread was assembled. While we were watching the croissants being rolled one of the workers handed us a mini cake cut into small pieces to sample...and that cake was to die for!
We all left with a warm, you heard me, warm baguette and a fresh croissant. This tour was informative and well worth the minimal fee we paid.
Advertisement
Advertisement