Take a day trip from Paris to Fontainebleau to visit two castles once home to members of France's extravagant aristocracy. First, explore Château Vaux le Vicomte, said to have inspired the Palace of Versailles. Then head to Château de Fontainebleau, a UNESCO World Heritage site whose history dates back to the 12th century. You'll have free time at each castle to look around on your own via provided audio guides, checking out the ornate architecture and opulent gardens.
Highlights
Visit two French castles in one day on a full-day trip from Paris
Discover the opulence of Vaux le Vicomte Castle, admiring the extravagant interiors that put its creator in prison
Hear tales of French royalty from an audio guide while exploring Château Fontainebleau -- a UNESCO-listed site
Spend free time in the gardens of both castles at leisure
Transport from Paris by luxury, air-conditioned coach
Recent Photos of This Tour
Chateaux de Fontainebleau and Vaux le Vicomte Day Trip from Paris
What You Can Expect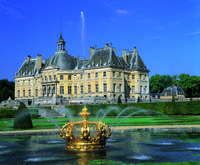 Your day trip starts as you depart Paris on board a luxury coach for the 35-mile (55-km) drive southeast to Château Vaux le Vicomte, a baroque castle that is said to have been the inspiration for France's most famous royal residence, the Palace of Versailles.

When you arrive, you are free to explore independently using your provided audio guide. See elaborate interiors and vaulted cellars, and learn about the man behind this massive home, Nicholas Fouquet, who was King Louis XIV's minister of finance. After Fouquet commissioned Vaux le Vicomte to be designed by a top architect, the king felt upstaged and threw the minister in jail. When you're finished inside, walk outside to discover the castle's 99 acres (40 hectares) of grounds made up of fountains, flowerbeds and sprawling lawns. If you're hungry, grab some lunch from the onsite café (own expense) before returning to the coach.

Then make your way south to Château de Fontainebleau, the only royal castle in France to be continuously inhabited for more than 700 years. With its Renaissance architecture, ceiling frescos, 15th-century furniture and detailed wood carvings, this World Heritage site is a great alternative to visiting Versailles. Tour the building independently via the audio guide, listening to tales about the French royalty who once lived here.

Château de Fontainebleau is also home to extensive gardens and lakes, so take time to wander the grounds before hopping back on your coach for the return drive to Paris, where your day trip ends.
June 2016
Just a bus ride. Perfect.

June 2016
Very good and easy. This is exactly what I want, basically includes transportation, tickets and audio guide, then you are on your own. The timing is pretty good too. Recommended!

June 2016
Wonderful trip especially like Vaux le Vicomte. Strongly recommend this tour.
May 2016
The trip was as advertised. The bus was on time and an efficient way to see both sites in one day. Both sites were tours on your own with audio-guides which as perfect. You could proceed or skip areas at your discretion.
May 2016
Both chateaux were quite beautiful and the guide was very informative. The tour is pretty much all-day, which I expected. But was worth it.
May 2016
I really enjoyed the two locations as they both had something interesting to offer. It was good to have the audioguides to help learn about the buildings and former occupants. The charter bus was in perfect condition.
May 2016
These castles are not to be missed! Vaux is not well known, but the chateau is beautiful and the grounds rival Versailles. Fontainebleau is grand and well maintained, but crowd control and signage are disappointing. Both places have informative audio guides that are included in the tour price. Fun!

May 2016
Vaux le Vicomte was my favorite of the two Chateaux. This is a self guided tour. I recommend someone from the local tour operator explain the tour before we leave Paris. We did not realize the bus was for this trip and people taking the Provins trip. I almost did not get off at the right stop and some people got off at the wrong stop and had to take a taxi to Provins.
May 2016
Relaxing and educational trip. Enjoyed it very much and had a very good tour guide. This was our second excursion with Viator and would recommend them to others.
April 2016
Vaux le Vicomte was absoultely amazing!!!!!!! If I lived in France I would become a member.
Advertisement
Advertisement