Discover the story and secrets of chocolate with an entrance ticket to Choco-Story, the Gourmet Chocolate Museum in Paris. A treasure trove of all things chocolate, this fascinating museum charts the history of this delectable treat, from its use in the mystic rituals of the Olmecs, Aztec and Mayan civilisations to the indulgent treats displayed in Paris' luxury chocolatier shops. Treat your tastebuds to different chocolate offerings from the world, watch chocolate-making demonstrations, and upgrade to finish your visit with a delectable cup of rich, frothy hot chocolate.
Highlights
1.5-hour self-guided tour of the Gourmet Chocolate Museum in Paris
Learn about the 4,000-year history of chocolate, from the Aztecs to today
Browse historical exhibits and watch chocolate-making demonstrations
Taste up to 10 chocolate samples, including a cup of hot chocolate at the end (if option selected)

What You Can Expect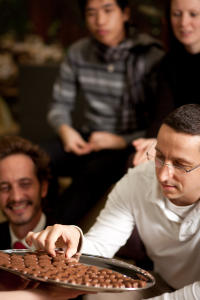 Select your tour option when you make your booking. Then, make your own way to the Choco-Story Gourmet Chocolate Museum (Musée Gourmand du Chocolat) in central Paris.
Show your ticket and head inside to explore the three floors of exhibits, displays and children's activities as you wish. Home to more than 1,000 original artifacts teamed with information panels in English, French and Spanish, the museum offers a captivating window into the evolution of chocolate through the ages.
Stroll around the galleries, and trace the 4,000-year-old story of chocolate, from the discovery of the humble cocoa bean as an ingredient by the ancient Olmec peoples of South America.
Learn how the Olmecs probably consumed chocolate as a drink from around 1,900 BC, and discover how it became a prized beverage of nobles, and part of the ceremonial rituals of the Aztec and Mayan civilizations, before its use spread via trading routes to Europe and beyond.
Enjoy the displays that illustrate the chocolate-making process through the centuries, and watch interactive demonstrations to see how contemporary chocolate is made enticingly shiny and smooth.
Pause to taste different varieties of chocolate from around the world that have been made on site. Delight in the silkiness of Costa Rican chocolate, experience the melt-in-your-mouth fruitiness of Peruvian chocolate, savor the aromas of cocoa beans from Vanuatu and more. As you indulge, ease your calorie-counting conscience by learning about chocolate's proven health-giving benefits!
Then, if you've upgraded, sit down to a deliciously rich cup of hot chocolate, the perfect finale to your visit. And
before leaving, head for the museum shop to browse the array of books, souvenirs and chocolate treats, and perhaps buy some goodies — edible or non-edible — as reminders of your time here.
Your experience then finishes when you exit the museum.
November 2015
THE MUSEUM WAS VERY INTERESTING AND INFORMATIVE.
September 2015
June 2015
November 2015
it was very nice. Great Hot chocolate and tasted many variety of chocolates
pyrana666 New Zealand
September 2014
Interesting if you like chocolate and a real eye opener into the process from start to finish. I recommend a hot chocolate the end
July 2014
The tour was lovely and perfect for my ten year old - any younger may struggle to understand it all. Great little treasure hunt to looking at the Pkay mobile displays kept her going.
July 2015
If you like history and you like chocolate - this is the place for you. We walked from our hotel - about 30 mins and so worth it because we saw another side a Paris. The tour is self guiding so you can take as long or short as you would like. There is a chocolate demonstration and at the end if you purchase - a cup of hot chocolate. You choose the flavor and then a chocolate pop to put in it!! I DIED AND WENT TO HEAVEN.
July 2015
Good educational stuff for kids
December 2014
The museum is very nice. Everything is in English as well as French. As for the actual chocolate tasting, I found it was lacking slightly as the tour states up to 10 tastings and we only had 3. The chef doing the chocolate demonstration also had a very hard accent to understand when speaking in English.
July 2014
It was interesting to learn the history of chocolate and the demonstration was pretty good :)
Advertisement
Advertisement