15 Reviews
Location:

Paris, France

Duration:

90 minutes

(approx.)
It's one of the world's most beloved sweets, but few know much about it. At the Gourmet Chocolate Museum (Musée Gourmand du Chocolat) in Paris, taste your way through the evolution of chocolate as you trace its 4,000-year past, from mystical cocoa rituals in ancient Aztec tribes to the shiny chocolate treats you see gleaming in the store windows of posh Parisian chocolatiers. Sample a variety of chocolate products while witnessing how they're made, and enjoy a cup of hot chocolate at the end (if option selected).
Highlights
1.5-hour self-guided tour of the Gourmet Chocolate Museum in Paris
Learn about the 4,000-year history of chocolate, from the Aztecs to today
Browse historical exhibits and watch chocolate-making demonstrations
Taste up to 10 chocolate samples, including a cup of hot chocolate at the end (if option selected)

What You Can Expect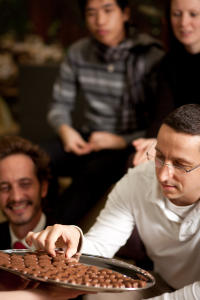 Paris' Gourmet Chocolate Museum (Musée Gourmand du Chocolat) is the Van Belle family's third Choco-Story museum, after Bruges and Prague. Located in central Paris, this chocolate museum gives a rich glimpse at the evolution of chocolate. All the descriptive panels are in English, French and Spanish, and there are children's activities for your little ones, including a treasure hunt.
On your self-guided tour of the 2,789-square-foot (850-square-meter) museum, browse more than 1,000 original artifacts across numerous exhibits and demonstrations that recount the 4,000-year history of the cocoa bean in all its forms. Starting with the Olmecs, Mayas and Aztecs, learn about the important role cocoa played in ancient cultures.
Jump forward to 1502, when Christopher Columbus and his crew robbed a Mayan trader, and in the process, nabbed some cocoa beans. Unimpressed with the goods, he nonetheless brought the cocoa beans back to King Ferdinand and Queen Isabella as a curiosity. By the end of the 16th century, the use of cocoa spread across Europe.
You'll also see how the chocolate-making process has streamlined over the centuries. Watch demonstrations to discover the secret behind the shiny outer coat that makes chocolate treats so appealing, and taste some of the chocolate products made on-site. Enjoy the milky smoothness of Costa Rican chocolate, the superb melt-in-your-mouth fruitiness of Peruvian chocolate, the sweet aromas of cocoa beans from Vanuatu and more. And don't feel too guilty about indulging today — as you'll learn, chocolate has many health benefits!
At the end of your visit, enjoy a cup of hot chocolate (if option selected) and browse the museum shop to purchase any books, souvenirs or chocolate products you like.
November 2015
THE MUSEUM WAS VERY INTERESTING AND INFORMATIVE.
September 2015
June 2015
November 2015
it was very nice. Great Hot chocolate and tasted many variety of chocolates
September 2014
Interesting if you like chocolate and a real eye opener into the process from start to finish. I recommend a hot chocolate the end
July 2014
The tour was lovely and perfect for my ten year old - any younger may struggle to understand it all. Great little treasure hunt to looking at the Pkay mobile displays kept her going.
July 2015
If you like history and you like chocolate - this is the place for you. We walked from our hotel - about 30 mins and so worth it because we saw another side a Paris. The tour is self guiding so you can take as long or short as you would like. There is a chocolate demonstration and at the end if you purchase - a cup of hot chocolate. You choose the flavor and then a chocolate pop to put in it!! I DIED AND WENT TO HEAVEN.
July 2015
Good educational stuff for kids
December 2014
The museum is very nice. Everything is in English as well as French. As for the actual chocolate tasting, I found it was lacking slightly as the tour states up to 10 tastings and we only had 3. The chef doing the chocolate demonstration also had a very hard accent to understand when speaking in English.
July 2014
It was interesting to learn the history of chocolate and the demonstration was pretty good :)
Advertisement
Advertisement