Get into the Christmas spirit at Château de Vaux-le-Vicomte on this 4.5-hour day trip from Paris. Travel from Paris by coach to the 17th-century Château de Vaux-le-Vicomte, a masterpiece of baroque beauty. Tour the castle with your audio guide and marvel at the luxury furnishings and fittings you find. Head outside to explore the beautiful gardens, decked out with twinkling Christmas lights. Let the kids play at Kings and Queens with a range of period costumes to choose from. Let the magic of Vaux-le-Vicomte make your Christmas one to remember!
Highlights
4.5-hour day trip to Château de Vaux-le-Vicomte from Paris
Visit one of France's most delightful castles in a festive Christmas atmosphere
Tour the castle and gardens with your audio guide and learn of their rich history and heritage
Marvel at the beautiful, twinkling Christmas lights adorning the castle and gardens
Children can dress up in period costumes and play as Kings and Queens for the day!
Round-trip coach travel from central Paris included
Recent Photos of This Tour
Christmas Day Trip to Vaux le Vicomte from Paris
What You Can Expect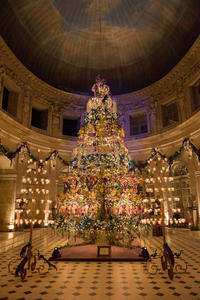 Hop aboard your air-conditioned coach in central Paris and travel out of the city to the spectacular Château de Vaux-le-Vicomte, a baroque French castle constructed in the late 17th century. Widely considered to be one of France's finest castles, Vaux-le-Vicomte is nestled in beautiful grounds just 55 kilometers (35 miles) from Paris and makes a wonderful day trip from the French capital.
Vaux-le-Vicomte takes on a fantastically festive atmosphere over the Christmas period, celebrating in style with fun for families and visitors of all ages. Children can dress up in 17th-century costumes to play at being princes, princesses, musketeers, dukes and duchesses, and enjoy the festive decorations and illuminations to the full.
Take in beautiful views of the magnificent castle and gardens adorned in twinkling Christmas lights, then step inside to take a tour with your audio guide. Marvel at Vaux-le-Vicomte's sumptuous surroundings — including antique furnishings, ornate tapestries, lavishly gilded walls and beautiful stone statues — and explore the perfectly manicured gardens at your leisure.
If you fancy a bite to eat, head to the castle's restaurant where a selection of light meals can be purchased (own expense). When your time at the castle is up, jump back in your coach for the return journey to central Paris where your Christmas day trip will come to an end.
February 2015
January 2015
Wonderful trip, an amazing Chateau and the Christmas decorations were incredible. Garden spectacular. Bus driver was good and excellent driving skills given the amount of traffic to get out of Paris. We would recommend this trip to one of the best Chateaus in France.
January 2013
Good value and excellent. only marred by the fact the coach driver was not at the agreed place at the agreed time to meet .
would recommend
January 2012
I was very disappointed that we had to leave before it was dark outside and that we did not get a chance to see the outside lights as advertised. This was the reason we went on the tour. The ad is misleading!!
January 2012
It's a decent half day trip if you have already visited Versailles or it is closed.
January 2014
A lovely afternoon but is was a shame to leave before it turned dark as we were unable to see the lights.
The return journey took 2 hours due to heavy traffic.
January 2012
Booked this tour to view the Christmas lights. However, when we arrived, it was still bright and the sun was shining. Did not get to see the lights as shown in the pictures provided. In fact, we were wearing sunglassess on the tour because the sunlight was so bright. Gave it two stars because of the wonderful drive through the country side.
January 2012
The bus left late, we thought we would have a tour guide with commentary but we only had a bus driver who didn't do commentary. We were left to make our own way to the chateau. We had to leave at 5pm which was just when all the lights started to show up and so it was too early to leave. We got stuck in peak hour traffic on return trip as well so were late getting back.
January 2012
Was disappointed with this one as we left before the night illumination of the garden even started which was a huge part of going there(see picture of tour) in the future you should either start this one an hour or two later or take out the twinkling garden lights and picture as highlights of the tour. bus ride was great and castle was great just was really hoping to see the place lit up.
Advertisement
Advertisement