Combine a guided tour with an opportunity to improve your French language skills with a 1.5-hour conversational class at Paris' famous Café de Flore. It's an excellent way to take your language learning to the next level, speaking with a Parisian. Choose from either a beginner or intermediate level class of no more than five people, ensuring the best possible learning experience for all students. After your lesson and discussion time at the cafe, take a guided tour of the colorful Saint-Germain-des-Prés neighborhood.
Highlights
1.5-hour conversational French language class in Paris

Choose either a beginner or intermediate class
Small-group class with maximum five people ensures a personalized experience
Class taught by a qualified English-speaking teacher
Soak up the atmosphere of the historic Café de Flore

Discover St-Germain-des-Prés on a 45-minute walking tour

What You Can Expect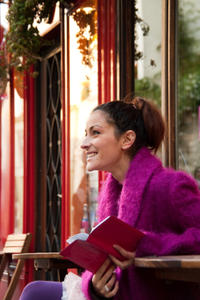 Take a break from simple sightseeing in Paris to expand your mind with a French language class at the famous Café de Flore in Paris' Saint-Germain-des-Prés neighborhood. This area has been known for its cafes since the 17th century, and the Café de Flore itself has hosted the likes of Picasso, Sartre and Simone de Beauvoir as well as current celebrities.
This famous cafe is the perfect setting for a French language class with a qualified English-speaking instructor. Choose either a beginner or intermediate level, with classes limited to no more than five people for the best learning experience. The beginner level is meant for those who are newcomers to French, or who need a refresher course after a long time away from the classroom. The intermediate level is ideal for those who already have a good grasp on the basics of French and want to work on improving things like grammar or pronunciation.
Both levels include a coffee at the cafe and 45 minutes of French instruction and discussion, after which there's a 45-minute walking tour of the Saint-Germain-des-Prés with your teacher. The neighborhood, also known as the Latin Quarter, has long been a haunt of writers, artists and philosophers.
During the tour is a great chance to try out your new French language skills and ask for other language tips to serve you through the rest of your stay in Paris.
December 2015
knowledgable, helpful, good start to the Paris visit
Bill USA
July 2015
Delightful, interesting, fun and helpful. This was a wonderful way to start our stay in Paris. Our host teacher, Elisabeth, was excellent.
March 2015
I highly recommend this activity for all interested in practising their French in a relaxed, low pressured way. We met with Caroline at a cafe and chatted for an hour and a half. She was brilliant! I was a bit nervous before going, but she was friendly and ran the lesson based on our needs. Loved it!
January 2014
This was a great experience and a wonderful way to really practice your French conversational skills. Our guide was friendly and really fun to meet! I would definitely recommend this to someone who wants a low-pressure way to work on their French!
February 2013
This was excellent! My teacher was Maite. Since I was the only student, she conducted the entire session in French. She corrected my grammar and usages when necessary, and answered my questions when I got stuck on how to say something in French. A very good beginning to my 10 days in Paris!
June 2012
October 2015
So much fun and a great way to meet another local. Elisabeth was wonderful.
May 2015
Steffan was very helpful. He gave us several pointers on French pronunciation that have made us more comfortable with the few tourist phrases we now now. He also gave us some wonderful history and cultural information. I would highly recommend this course to anyone visiting France or trying to improve their French.
April 2012
As there were no other people in the class I had a private lesson so we taylored it to my wishes. Was a nice thing to do, very basic but fun
Advertisement
Advertisement