Improve your French in Paris with a 1.5-hour conversational French language class at the famous Café de Flore. In a small group of five people maximum, you'll have a great opportunity to learn the basics or enrich your current skills – choose either a beginner or intermediate class. You'll have instruction and discussion at the café and then enjoy a guided tour of Paris' beautiful of Saint-Germain-des-Prés area.
Highlights
1.5-hour conversational French language class in Paris

Choose either a beginner or intermediate class
Small-group class with maximum five people ensures a personalized experience
Class taught by a qualified English-speaking teacher
Soak up the atmosphere of the historic Café de Flore

Discover St-Germain-des-Prés on a 45-minute walking tour

What You Can Expect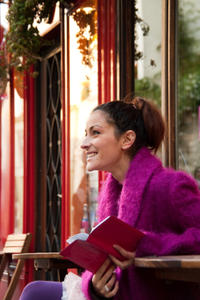 Parlez-vous français? Take a beginner or intermediate French language class at Paris' famous Café de Flore, frequented throughout the ages by several famous writers, actors and artists. Café de Flore has always been a good spot to see artists and celebrities, from André Malraux in the 1930s to Brigitte Bardot in the 1960s to Johnny Depp today.

With a maximum of five people, your French language class allows you to grip the basics of conversational French in a small-group environment. If you're totally new to the language or wish to refresh your knowledge from your school days, the Beginner Class is the ideal introduction. Alternatively, if you already have a good grasp of the basics and would like to improve your grammar and pronunciation, the Intermediate Class is the one for you.

Both classes are taught by qualified English-speaking teachers who will deliver enough tips to get you by on the rest of your Paris vacation! Classes include a 45-minute discussion with a complimentary coffee (included in the class price), followed by a 45-minute walking tour of Saint-Germain-des-Prés with your instructor. The walking tour is a great chance to practice your newly acquired French-speaking skills while enjoying the history of this fascinating Parisian neighborhood. Saint-Germain-des-Prés, also known as the Latin Quarter, is a past hangout of many French writers and philosophers.
July 2015
Delightful, interesting, fun and helpful. This was a wonderful way to start our stay in Paris. Our host teacher, Elisabeth, was excellent.
March 2015
I highly recommend this activity for all interested in practising their French in a relaxed, low pressured way. We met with Caroline at a cafe and chatted for an hour and a half. She was brilliant! I was a bit nervous before going, but she was friendly and ran the lesson based on our needs. Loved it!
January 2014
This was a great experience and a wonderful way to really practice your French conversational skills. Our guide was friendly and really fun to meet! I would definitely recommend this to someone who wants a low-pressure way to work on their French!
February 2013
This was excellent! My teacher was Maite. Since I was the only student, she conducted the entire session in French. She corrected my grammar and usages when necessary, and answered my questions when I got stuck on how to say something in French. A very good beginning to my 10 days in Paris!
June 2012
October 2015
So much fun and a great way to meet another local. Elisabeth was wonderful.
May 2015
Steffan was very helpful. He gave us several pointers on French pronunciation that have made us more comfortable with the few tourist phrases we now now. He also gave us some wonderful history and cultural information. I would highly recommend this course to anyone visiting France or trying to improve their French.
April 2012
As there were no other people in the class I had a private lesson so we taylored it to my wishes. Was a nice thing to do, very basic but fun
Advertisement
Advertisement