535 Reviews
Location:

Paris, France

Duration:

1 day

(approx.)
Treat yourself to a magical time at Disneyland® Paris. With two different theme parks, Disneyland® Paris will make your dreams come true twice! Your Disneyland® Paris Celebration Ticket – a 1 Day 2 Park Hopper – is superb value, allowing one day's admission to both Disneyland® Park and Walt Disney Studios® Park with the freedom to hop between both Disney® Parks as often as you like.

Disneyland® Park has big thrills and kid-friendly adventures for the whole family. Enjoy an adrenaline-pumping ride on Space Mountain: Mission 2 and a nail-biting experience with Indiana Jones and the Temple of Peril.

Feel like a film star when you enter the exciting world of movie magic at Walt Disney Studios® Park! See behind the scenes at four studio lots; meet your favourite Disney Characters; experience thrilling rides like The Twilight Zone Tower of Terror™; and see how stunts are performed.
Highlights
Family fun on thrilling rides and kid-friendly attractions
Meet your favourite Disney characters!
Great value for money

Visit both Disneyland® Park and Walt Disney Studios® Park
Hop between both theme parks as often as you like
Experience the breathtaking Disney Dreams®! show

Buy your ticket online to save up to 10% compared to the price at the gate

Recent Photos of This Tour
Disneyland Paris Ticket: 1 Day 2 Park
What You Can Expect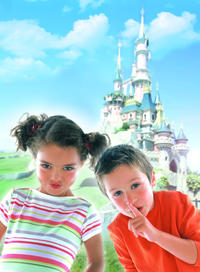 This ticket provides admission to both Disneyland® Park and Walt Disney Studios® Park for one day at a discounted price.
Disneyland® Park: Experience the storybook world of Disney® as you discover the five magical themed lands where enchantment lives: Main Street USA, Frontierland, Adventureland, Fantasyland and Discoveryland.
Walt Disney Studios® Park: Step through the Studio Gates and let your imagination soar. Time to immerse yourself in the never-ending, always-fascinating world of movies, animation and television.
Disneyland Paris FASTPASS®

Why wait in line? Make even more out of your day at Disneyland® Park and Walt Disney Studios® Park with FASTPASS®, a free, time-saving service that shortens your wait at the following attractions:

Disneyland®Park: Peter Pan's Flight, Space Mountain: Mission 2, Star Tours, Buzz Lightyear Laser Blast, Big Thunder Mountain and Indiana Jones and the Temple of Peril
Walt Disney Studios® Park: Rock 'n' Roller Coaster Starring Aerosmith, Flying Carpets Over Agrabah and The Twilight Zone Tower of Terror™

At the entrance to each attraction (above) you will see a FASTPASS® entrance. Simply insert your Park ticket into the FASTPASS® machine and it will automatically issue a FASTPASS® ticket. The free reservation service will indicate the time slot and you simply need to return at the indicated time and board via the FASTPASS® entrance. FASTPASS® tickets will only be issued for one attraction at a time.


See the Itinerary section below for more details on each theme park.
Itinerary
Quick, wish upon a star, magic is in the air - the 20th Anniversary celebration was so big, so amazing… so what happened? Disney extended it for another 6 more months of extra magical times! So pack your camera, it's time to make your most precious memories ever with your family, friends or loved ones at the extended 20th Anniversary party, but only until November 2013.
Gaze in awe at the breathtaking night-time Disney Dreams®! show - an enormous extravaganza of lights and colours with lasers, fountains, the best Disney stories and Peter Pan's escaped shadow!
Discover a spectacular visual feast, magical realms beyond your wildest dreams, and rides to make you laugh, scream and fly! Discover Disneyland® Park and Walt Disney Studios® Park.
Disneyland® Park:
In a Magical Kingdom not so far away - somewhere between a place where you wish upon a star and dreams come true - Disney heroes and heroines live in fairytales that are, happily, never-ending.
Endless fun in five magical lands
Experience your favorite Disney Lands just as you remember them from the classic Disney stories where fairytales really do come true.
Main Street USA
Fantasyland
Frontierland
Adventureland
Discoveryland
Meet Disney Characters
Don't miss the main attraction – meeting beloved Disney characters! Cameras at the ready! Check the meeting locations and times in each theme park.


Amazing Attractions

Thrills that come in all shapes and sizes will delight your family
.
Big Thunder Mountain and Space Mountain: Mission 2 offer big thrills for the grown-ups, while little ones can sail around the world at It's a Small World. Of course, family fun can be found in every corner of the park, from Pirates of the Caribbean to the Mad Hatter's Tea Cups.
It's Party Time
There's nothing quite like a Disney show or parade! Be a part of the magic as you watch your beloved characters take to the stage or parade on past. On top of all the wonderful attractions and characters, there are lots of spectacular family parades and shows to enjoy all year round.
Walt Disney Studios® Park:

You can discover the magical world of cinema and television at Walt Disney Studios® Park. Explore four cinemagical studio lots featuring thrilling attractions and spectacular shows. Put your dreams center-stage, just footsteps away from Disneyland® Park.
Explore the studio lots
It's showbiz, folks! Make your big screen debut at Production Courtyard, Toon Studio, Backlot and Front Lot. It's a star-studded itinerary, and you never know which star you might meet! Each has its own surprises and attractions, so where to shoot first? Art of Disney Animation®, Armageddon Special Effects, Studio Tram Tour: Behind the Magic through Catastrophe Canyon? All shows start at scheduled times, so make sure you plan your day to make the most of all that's on offer!
Blockbuster preview attractions

Darling, you ought to be in pictures! It's your day to be discovered while exploring all there is to see at Walt Disney Studios® Park. Enjoy our top five attractions and more.
Meet Disney Characters

Meet with beloved Disney characters –a unique moment to share with your family.
Walt Disney Studios® Park, where movie magic abounds

Go behind the scenes with our magical parade and tours! Try the Studio Tram Tour: Behind the Magic, Animagique and CinéMagique or our Moteurs...Action! Stunt Show Spectacular, then you'll know exactly what it's like to be a star!
July 2015
July 2015
Disneyland was everything we thought it would be - magic!
July 2015
July 2015
Never been to Disneyland before and will certainly want to go again. The small kids rides were brilliant and our 22 months old could go on all the rides without any problems. Food is expensive at the International Food place, so look around before deciding. We had trouble fitting everything in.
July 2015
Great time - glad to have purchased tickets ahead of time to avoid long line ups. park very clean and well signed making getting around easy. Disney studios was amazing especially the stunt show. getting there with public transit was easy. Highly recommend.
July 2015
It's cheaper here in viator than in the booths in Disneyland I love it !!
July 2015
July 2015
Absolutly stunning enjoyed every moment of it, was so easy with coupon. Van Biljon's South Africa
June 2015
Visited here for the first time as a 25 year old with my 23 year old sister and we both had a blast. It is certainly not just for kids. Unfortunately space mountain was closed as were a few other rides and the Rock and roll rollercoaster broke down at 2pm and did not reopen. But it is to be expected not every ride will be working all day everyday. As the studios closes at 6pm I would recommend heading over here however as it was our first time here we wanted the 'castle' moment so went to the main park until midday and still managed to do most things we wanted. Crushes coaster in the studios park has huge queues and no fastrack therefore if you do want to go on that expect a decent wait time of around 1 hour. We went on a Friday which seemed less busy than we expected however we were told the park is swamped at weekends. There are plenty of characters for you to have your pics with if you are willing to wait. As big kids we waited around 10 minutes to see rafiki and timon, others were as long as an hour or two. Food was as expected fast and not that cheap but equally was not a fortune. The parade was great even for us older children and the fireworks at 11pm were mesmerising.
Unfortunately you are waiting around 2 hours for the fireworks go start however my legs were grateful for the sit down as it is such a long day. Whilst leaving the park during the firework I unfortunately fell over injuring my ankle. I could not thank or praise the staff at Disney for their help enough. They organised a wheelchair to the first aid centre and packed us off in a taxi to the local hospital who again were fantastic.
June 2015
The tickets worked like a charm. I was a little nervous, but no issues whatsoever. Travel to disney by train is an absolute breeze. The park is very clean and english is readily available. If you go plan on staying for the laser show at the castle when the park closes. It is like nothing I have ever seen. The last train leaves at 1220 so you have plenty of time to catch the train back. Utilize the single person lines at rides even with a family assuming they are decent aged children. It saves a ton of time and allows for more rides.
Advertisement
Advertisement