Learn the secrets to making traditional French baguettes and croissants during a 2-hour baking workshop with a local expert. Get time-tested recipes handed down over generations, and bread-making techniques that will help you make perfect baked goods. This is a hands-on baking lesson in the back rooms of a French bakery in Paris' city center, with group size limited to eight people for maximum personal attention from the instructor for each student. Leave the class with your own freshly-baked baguettes and croissants to snack on later.
Highlights
Go behind the scenes of a French bakery during a 2-hour baking workshop
Learn how to make classic French baguettes and croissants
Discover French baking secrets from your expert baker/instructor

Savor freshly baked goods right out of the oven
Take home two baguettes and some croissants to enjoy later
Small-group class with a maximum of eight people ensures a personalized experience

Recent Photos of This Tour
What You Can Expect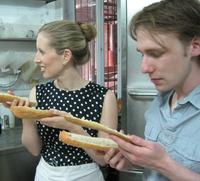 Make your way to your traditional French bakery in the heart of Paris, where you'll go behind the scenes into the kitchens for a morning lesson to learn the secrets of French bread.
A Parisian baking expert guides you through the lesson, during which you'll learn about and make two different kinds of baguettes as well as buttery, flaky croissants. Watch as your instructor demonstrates the proper techniques for preparing and handling dough, and then try your hand at recreating what you've just seen – with help as you need it. As you watch and work, listen to your instructor's tips to glean the secrets of French baking.
The pay-off for all your hard work is in taking your own freshly-baked baguette out of the oven and tasting it while it's still warm. When the workshop is finished, you'll have two baguettes and two croissants to take with you for a later picnic, as well as the recipes and know-how to recreate the experience in your own kitchen at home.
April 2016
This was a highlight of our Paris trip. Baker Didier is full of personality and charm and our translator was great. Didn't receive the recipes as promised, however.
March 2016
Very good day - Didier the Baker was great and so was the translator. I will now be looking for some more European food tours. We learnt a huge amount about baking. On a separate issue can you give me some idea as to when I will receive the recipes for the Baguettes/Croissants.
Thanks
ian
November 2015
Very interesting and enjoyable morning. Can't wait to try the recipes.
November 2015
Excellent! Well organized, instructive, and you walk away with easy to understand recipes.
November 2015
This was an excellent experience! The chef was incredibly personable and the translator was fantastic. We felt we really learned the traditional methods involved in making croissants and baguettes. It was very hands on and we had a great time! I highly recommend!!!
September 2015
My husband and I loved being in the heart of a working bakery. Not just any bakery but one making bread and croissants at the highest level. The Baker was very welcoming and gave us great information about the process, French baking, and many tips to help us recreate baked breads at home. The Intrepeter was delightful as well. We enjoyed our small group and will be using the information and experience gained for our family and friends' benefit.
We loved eating our own products and several other delights we purchased.
This is the real deal and for me a dream come true!
September 2015
Espectacular, una atención única y la interprete maravilloso. Mil felicidades por tan buen tour.
July 2015
This was great. The baker was helpful, cheerful and made for a very pleasant experience, not only for me but also for my 2 children. It was a nice to see someone who thoroughly enjoyed his craft and wanted to share his knowledge with others. If you are interested in baking, this is a must do. I would very much recommend.

July 2015
Loved this! Arrive at the bakery and not only was the baker extremely nice, so was the translated. Learning to make baguette and croissants in Paris! Downstairs by the oven is warm obviously, but so worth it. Don't wear uncomfortable shoes, standing the entire time.
May 2015
Great to be able to do both baguettes and croissants in the same class. Charming baker with cute smile and lots of tips for trying it on your own. French to English interpeter was a wonderful woman.
Advertisement
Advertisement