Pleasure you palate with samples of fine French wine during a wine-tasting session in an impeccably chic wine bar in central Paris. From a professional sommelier, receive an insightful overview of winemaking regions in France and educate your palate to recognize the subtle nuances in each wine varietal. Select from four meticulously designed sessions to suit your preferences and enjoy a delectable platter of French specialties, including freshly baked bread and creamy cheese, depending on the option you select.
Highlights
French wine-tasting session in Paris
Sample a selection of French wines with a professional sommelier in an elegant wine bar in Paris
Enjoy a platter of artisanal French bread, cheese and charcuterie (depending on option selected)
Expand your knowledge of and appreciation for French wine and learn expert wine-tasting techniques
Choose one of four specially designed sessions to suit your preferences
Recent Photos of This Tour
French Wine Tasting in Paris
What You Can Expect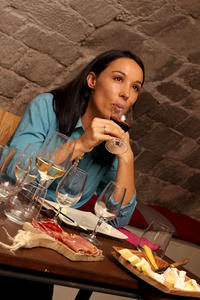 Delight your senses with an enriching epicurean experience in a sophisticated wine bar in central Paris. Make your own way to the fashionable establishment and greet your expert sommelier on arrival. Taste a sublime selection of award-winning wines from different regions and learn to identify the subtle differences between each varietal. Delve into the intriguing history of French wine and discover why the decadent beverage is such an important cultural institution in France.
Select from four thoughtfully designed options to ensure you enjoy a session tailored to your preferences. Please see the Itinerary section below for details of each option.
Itinerary
1-hour wine tasting: During this simple introduction to French wine, learn expert wine-tasting techniques while sampling three carefully selected French wines.
1.5-hour wine tasting with cheese and charcuterie lunch: This more in-depth session includes a tasting of five French wines accompanied by artisanal bread, cheese and charcuterie (cured meats), such as smoked ham from southwestern France and saucisson (dried sausage) from Corsica. Your sommelier will take you through the different wine regions including Rhone, Bordeaux and Champagne. Learn the art of food and wine pairing and discover expert wine-tasting techniques.

2-hour wine and Champagne tasting: Join this wine tasting and enjoy six French wines from regions including Champagne, Sancerre and Rhône, accompanied by fresh bread. Explore the art of food and wine pairing; learn how to read a French wine label and navigate a wine list; and uncover the meanings of commonly used terms like 'terroir' and 'appellation.' Your sommelier will provide great tips and plenty of fun anecdotes, too!
2-hour grand cru wine tasting: During this ultimate wine-tasting experience, try six of France's greatest wines accompanied by a platter of delectable cheese and charcuterie. The six different wines, selected from some of the country's best wineries, include grands crus (a classification of French wine denoting exceptionally high quality), premiers crus (the second-highest classification level) and older vintage wines, all boasting rich, complex flavors. Your sommelier will be on-hand to answer all your questions, and the content of the class will be tailored to meet your needs and preferences.
January 2016
November 2015
This was the one of the greatest things we did on our visit to Paris. Our Sommelier Richard was so much fun and hilarious! We learnt so much while we were there, even my husband who didn't really care for wine now enjoys it more since we did our tasting. You can be sure that when we return to visit Paris in the future we will be doing this again!
November 2015
Even tough we did not know anything about wines before we had a very enjoyable and funny time and can tell now that we actually remember some facts about French wines.
November 2015
As has been said before, this is such a great lunch, and Richard the host is superb. Knowledgeable - humorous and all-round top guy.
November 2015
The wine and cheese pairing was delicious. The wine cellar was also lovely. This event was my favorite afternoon in Paris. It's a must do .
November 2015
We did the wine/champagne and lunch option. Everything was quite delicious and the atmosphere was great! Our sommelier walked through several different wines as well what cheeses and other foods in general to pair with each. Would definitely recommend this!
October 2015
A great experience and we learned so much about French wine. Definitely recommend having the cheese platter too. After the tasting, we had dinner in the restaurant which was excellent.
October 2015
This was a very fun and informative French Wine Tasting. Our host was not only knowledgeable but hilarious and kept us all entertained while teaching us about the different French wines and regions. Along with the wines were delicious cheese and meats. Very well worth our money and time!
October 2015
Louis was so knowledgeable and the wines and cheeses wonderful! Thanks so much for a wonderful lunch at O Chateau. We would do this tour again!
September 2015
EXCELLENT! Highly recommend this!
Advertisement
Advertisement