153 Reviews
Location:

Paris, France

Duration:

2 hours

(approx.)
For many, Paris by night is a place of romance and moonlit walks along the Seine. For others, it's a place of mystery and the ghosts of the past that haunt city streets. This walking tour of Paris' ghosts, mysteries and legends takes you on a journey through the hidden Paris – when the City of Light is finally dark. As you visit tucked-away streets off the beaten path, you'll hear intriguing ghost stories and legends that will bring a chill to the night's air, as well as little-known facts about Paris and its history.
Highlights
Night walking tour of Paris' ghosts, mysteries and legends

Discover the dark and violent history that lurks beneath the city's sparkling facade

Hear fascinating ghost stories

See the Hotel de Concierge, where Marie Antoinette was once imprisoned

See the old Place du Greve, where many were tortured and killed
Recent Photos of This Tour
Ghosts, Mysteries and Legends Night Walking Tour of Paris
What You Can Expect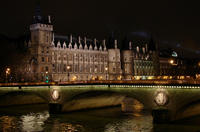 Today, Paris is the City of Light – the home of fashion and the center of art and culture in France. But it wasn't always that way. Paris has a long, tragic history of murder and execution, of rampant disease among the lower classes and of bitter wars fought against a corrupt monarchy.
This nighttime walking tour of Paris' ghosts, mysteries and legends takes place under a cloak of darkness, winding down alleyways and cutting through the hushed silence of the night. You will go to the sites of some of Paris' darkest hours – the Place de la Vert Gallant, St Germain de Auxerrois (where some say 30,000 were killed in the St Bartholomew's Day massacre in 1572) and the Palais du Justice (where those found guilty by the court were routinely tortured and executed before live audiences).
You will travel through areas wracked by the plague, the French Revolution, the Paris Commune and Nazi rule. You will learn about the characters that molded the city, from Napoleon and Marie Antoinette to Henry IV and the serial killers that once stalked these very streets.
The Ghosts, Mysteries and Legends Night Walking Tour of Paris offers a rare opportunity to glimpse a side of Paris you won't see advertised on postcards. It's a chance to learn a little more about the City of Light and those who loved, hated, died and killed there.
Sites visited on the walking tour:
Place de la Vert Gallant
St Germain de Auxerrois
La Fontaine de la Croix du Trahoir
Rue de la Ferronnerie
Square of the Innocents
The Rat Trap Shop (as seen in the movie Ratatouille)
Tour St Jacques
La Fontaine du Palmier
The River Seine
The Conciergerie
Ile de la Cité
Palais du Justice
Hotel Dieu
Hotel de ville
October 2015
Awesome guide, learned lots of history that otherwise wouldn't. Great to see some parts of Paris that again, we probably wouldn't have wandered through.
September 2015
This was a great experience learning about the history of the dark side of Paris. Our tour guide, Alberto, was very knowledgeable.
September 2015
Ben was a really great tourguide. Friendly, really well informed, and funny! The time flew by. Even after a day where we walked 8 hours, 2 hours with Ben went by a breeze!!
July 2015
Our guide was very informative. Loved learning all the history.
June 2015
Good Leader. I enjoyed the history and background info. There did seem to be a gratuitous use of violence in the story telling. Perhaps a little less gore and more supporting history would make the event perfect.
June 2015
This was our first tour of Paris and we learned a lot of history. The guide was very knowledgeable and shared many stories. We would recommend this tour to everyone to learn a little about Paris before seeing the major sites.
March 2015
The tour was very fun and the guide was full of knowledge. Unfortunately it was super cold but that didnt seem to affect the tour or tour guide.
February 2015
Interesting tour, more of a history tour than a ghost tour
December 2014
The guide was amazing, knew every date and was amazingly knowledgeable throughout the whole walk. I would (and have!) recommended this walk to everyone
December 2014
This was a great night time walk through Paris. Our tour guide Ben was amazing. He had a thorough knowledge of history and made it interesting and fun. He was able to answer any question we asked. He took us to scenes of executions and also famous murders. We also had a wonderful visit to Notre Dame with him and learned so much.
Advertisement
Advertisement