Challenge your romantic illusions of gay Paris on a terrifying 2-hour tour of the city's most sinister spots. Delve into the eerie mysteries of the City of Light, strolling the serpentine streets in search of spectres and spooks; stray from the beaten path with a masterful story teller, discovering unfamiliar facts about the captivating capital as you venture to sites of reputed haunting. Gain fascinating insight into the horrible history of the city when you visit mystery-shrouded sites like the Place de la Vert Gallant and the Palais du Justice.
Highlights
Night walking tour of Paris' ghosts, mysteries and legends

Discover the dark and violent history that lurks beneath the city's sparkling facade

Hear fascinating ghost stories

See the Hotel de Concierge, where Marie Antoinette was once imprisoned

See the old Place du Greve, where many were tortured and killed
Recent Photos of This Tour
Ghosts, Mysteries and Legends Night Walking Tour of Paris
What You Can Expect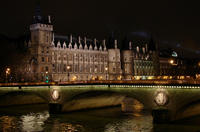 Greet your guide at a central Parisian location and set out to explore the spooky, serpentine streets of the city. See Paris' sinister side on this spine-tingling tour, dispelling your romantic and elegant image of the capital; delve into its dark past, gaining gory insight into murders, executions, rampant plagues and bitter wars against the corrupt monarchy.
Venture down winding alleyways under the cloak of darkness and visit significant sites such as the Place de la Vert Gallant, where the last of the courageous Knight's Templar was burnt at the stake; scour St. Germain de Auxerrois for restless souls killed in the St. Bartholomew's massacre in 1572; and listen out for the haunting cries of those executed and tortured before live audiences at the Palais du Justice.
Stroll through atmospheric enclaves steeped in legend and history, listening to tales about the French Revolution, the Paris Commune and the Nazi rule. Learn about the serial killers who stalked the streets, and about significant historical figures that contributed to Paris' death toll. Catch a rare a glimpse of those who loved, died and hated in the city before concluding your tour at another central location.
Itinerary
Sites visited on the walking tour:
Place de la Vert Gallant
St Germain de Auxerrois
La Fontaine de la Croix du Trahoir
Rue de la Ferronnerie
Square of the Innocents
The Rat Trap Shop (as seen in the movie Ratatouille)
Tour St Jacques
La Fontaine du Palmier
The River Seine
The Conciergerie
Ile de la Cité
Palais du Justice
Hotel Dieu
Hotel de ville
May 2016
Thank you Daniel! This tour was fascinating and very informative. Loved every minute!
April 2016
Our tour guide Ben was great!
April 2016
Randa was an amazing tour guide- she gave us great insight into the dark history of Paris, made the information really fascinating and relatable. The tour made me and my partner fall further in love with Paris and its amazing history. I would highly recommend this tour!!
April 2016
Highly recommended. Even though it was raining and cold, my family and I thoroughly enjoyed this tour. Benoit was an interesting and informative tour guide.
October 2015
Awesome guide, learned lots of history that otherwise wouldn't. Great to see some parts of Paris that again, we probably wouldn't have wandered through.
September 2015
This was a great experience learning about the history of the dark side of Paris. Our tour guide, Alberto, was very knowledgeable.
September 2015
Ben was a really great tourguide. Friendly, really well informed, and funny! The time flew by. Even after a day where we walked 8 hours, 2 hours with Ben went by a breeze!!
July 2015
Our guide was very informative. Loved learning all the history.
June 2015
Good Leader. I enjoyed the history and background info. There did seem to be a gratuitous use of violence in the story telling. Perhaps a little less gore and more supporting history would make the event perfect.
G5stbass USA
June 2015
This was our first tour of Paris and we learned a lot of history. The guide was very knowledgeable and shared many stories. We would recommend this tour to everyone to learn a little about Paris before seeing the major sites.
Advertisement
Advertisement