Impressionist art fans don't want to miss this Monet Giverny tour, which takes you to the artist's home in the French countryside. With an informative guide, you'll travel 1.5 hours outside of Paris to Giverny, where Claude Monet lived and painted for many years. See his extensive gardens, tour the house and visit the water lily pond and Japanese bridge you'll recognize from many paintings.
Highlights
Half-day trip to Monet's gardens in Giverny from Paris
Explore the gardens that inspired French Impressionist painter Claude Monet
Admire the real water lily pond and Japanese bridge as seen in Monet's famous masterpieces
Visit Monet's home and studio on your own to discover his collections
Enjoy informative commentary from your guide
Choose a morning or afternoon tour
Recent Photos of This Tour
What You Can Expect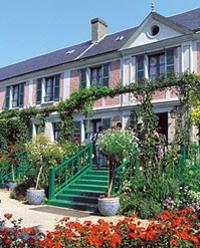 Claude Monet, the father of the Impressionist art movement of the late 1800s, lived and worked just 1.5 hours outside of Paris in Giverny, where he spent his days indulging in his love of botany and gardening. On this half-day tour from Paris, you'll visit his charming home, which sits on a large property made up of colorful gardens and, of course, the legendary lily pond.

Your tour starts with departure by coach in either the morning or afternoon (depending on option selected when booking) from the city center. When you arrive at Giverny, take a walk with your guide through the gardens in front of the house. Depending on the time of year, you'll see an impressive array of vibrant blooms, as well as orchards. Then stroll over to the pond, dotted with the water lilies that so inspired Monet. Walk across the Japanese bridge made famous by his paintings, and enjoy the tranquil environment created by weeping willows and bamboo trees.

Then head to the house, where your guide will leave you to explore on your own. Donated by Monet's son to the French Academy of Fine Arts in the '60s, the home was restored to its interior from the time when Monet lived there. As you walk through the kitchen, bedrooms and other spaces, you'll see some of the art that he collected, including Japanese garden prints. Then head to his studio and check out the large souvenir shop, where you can purchase reproductions of his paintings, pottery, flower seeds and more.

Your tour ends with the drive back to Paris.
November 2015
Great trip. We had a great guide (sorry forgot her name) who provided great insights all the way to Giverney. Giverney itself is beautiful and Monets house and gardens stunning. We were blessed with a warm sunny day. Highly recommend.
November 2015
Our tour left Paris on a drizzly Friday afternoon. Thankfully the weather was perfect when we arrived, we were very lucky.
The grounds were fairly quiet and I was lucky to get lots of photos without people in the background. I wasn't expecting that. what a bonus! It was so peaceful and you could certainly wander through the gardens all day there is so much to see.
The gardens themselves were better and more beautiful than I expected. There were flowers still in bloom, even though it was mid October and the stunning colours of the autumn leaves only added to the beauty.
The house was stunning and fairly easy to move through. Wow the views from the windows, how gorgeous. I recommend taking photos through the windows and use the window as your frame, the photos will be stunning.
The gift shop is worth a visit, I bought some calendars and regret not buying a print or two.
This tour is well organised and the tour director gave us perfect instructions on how to navigate the gardens ourselves or gave us the option of joining her on the tour. I opted to navigate myself and I am glad I chose this option because I could spend as little or as much time as I wanted in each area. She also gave us instructions on how to return to the bus and at what time.
This is a well organised tour. I highly recommend it.
November 2015
Loved this tour. Monets garden and home was gorgeous. Not enough time for me though. Wanted to see Monets grave but not enough time to walk into village.
November 2015
Knowledgable guide informed us about Monet's background and the history of his art and home on the 1 1/2 hour bus ride to Giverny. She showed us around Monet's gardens, then gave us plenty of time to roam and enjoy the gardens - still lovely in the Fall. Enjoyed the trip and tour.
November 2015
Spectacular tour Monet's garden is a must see!
November 2015
Great trip full of information but with time to explore on your own. We went on the last day of the season so we missed all the flowers in full bloom but the autumn colours were lovely and the
Japanese garden was very serene, just the place to sit and contemplate.
October 2015
I enjoyed the commentary by the guide. The earphone and radio worked well. She was very attentive to the needs of the group. The bus was comfortable, and we even arrived back in Paris a bit early. The Monet house and garden were a delight. This was a dream come true for me.
October 2015
A very enjoyable afternoon trip. Easy registration at the office ,although the lines were massive. We liked our guide and were able to tour the grounds on our own.
October 2015
my favorite stop in France!!!!
October 2015
Good tour but the gardens are very crowded. Not the fault of the tour company obviously who provided a clean bus with informative guides. All was forgiven tho when you get that first look at the water lily pond, it's breathtaking.
Advertisement
Advertisement