Special Offer
Book by December 23, 2015 to save 10% off our previously offered price!

A must for fashion lovers, this tour of the Yves Saint Laurent studio in Paris gives you a behind-the-scenes look at one of the greatest names in fashion history. See where the French fashion icon created his renowned collections as you wander the luxurious salons, browse original sketches, and learn about the designer's life and inspirations from your expert guide.
Highlights
Tour of the Yves Saint Laurent studio in Paris
See first-hand where Yves Saint Laurent's collections were born
Get a rare glimpse at original annotated sketches and prototypes
Hear about the life and times of the French fashion genius from your fashion-lover guide
Visit the reception rooms and enjoy access to current temporary exhibitions
What You Can Expect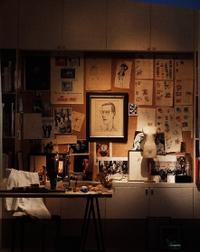 Head to the Pierre Bergé-Yves Saint Laurent Foundation in central Paris, just north of the Eiffel Tower, for your morning tour of the designer's studio.
Your guide will welcome you and give you some history on the Yves Saint Laurent studio. In 1974, the French fashion mogul moved from his former building on Rue Spontini into a mansion on Avenue Marceau, where he and his partner Pierre Bergé worked to create some of the most renowned collections in fashion history. Yves Saint Laurent is perhaps most famous for his creation of the tuxedo suit for women.
Now called the Pierre Bergé-Yves Saint Laurent Foundation, this temple of 20th-century haute couture is now a curated exhibition space where visitors can witness the development of the fashions created by the great French designer and his team over the course of nearly three decades.
Start on the first-floor lounge to see where clients would come to view and buy the clothes for their fashion shows. You'll notice monographs of artists Picasso, Van Gogh and Matisse, who inspired Yves Saint Laurent's designs. At the end of the room, you'll see a reconstruction of his desk topped with Christian Dior's walking stick, which was given to Yves Saint Laurent at the beginning of his career.
Your guide will take you through the luxurious salons of the studio to see where the fashion collections were born. Hear anecdotes about Yves Saint Laurent's life and successes as you discover several original, annotated sketches and emblematic haute couture prototypes.
This experience will give you a rare glimpse into the bold creativity that this fashion house was known for. You also have access to any temporary exhibitions currently running, which you can visit after your guided tour.
June 2015
This was a great tour if you are interested in fashion. Lots of great information and beautiful clothing! Loved it!
July 2014
Good tour led by guide at YSL Foundation. Great value and learned quite a bit about YSL and was fun seeing his studio. Good "off the beaten path" tour for Paris travelers.
July 2014
The tour is informative and Yves Saint Laurent studio is really interesting to see. Nevertheless, when you hear how many units of sketches, clothes and etc. the Foundation has (literally, thousands), it is a pity that you get to see just one studio room with a few pieces of clothes. Maybe because I had a chance previously to visit other fashion houses, I expected to see more. You also get to see the temporary exhibition, yet at that time, it was about Morocco. Unless you are into that culture/topic, it is not exactly what you would expect as part of the tour.
Special Offer
$17.22 Save $1.72
Advertisement
Advertisement