Explore the historic highlights and hidden backstreets of Paris on a 3-hour bike tour in the heart of the city. Follow your local guide on a route through either in the fashionable Marais district or the culturally rich Left Bank neighborhoods of St-Germain and the Latin Quarter. Learn about the city's medieval and modern attractions as you pedal through the storied streets, and enjoy the leisurely pace and flexibility of a two-wheeled tour.
Highlights
Central Paris cycling tour

Choice of Marais and Left Bank routes

Cycle past the Centre Pompidou, Palais Royal and Notre Dame on the Marais tour

Cycle through St Germain and Luxembourg on the Latin Quarter tour

Professional local guide

Bike and insurance included

What You Can Expect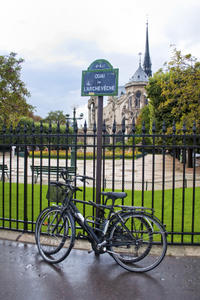 Touring Paris by bike allows you to cover many miles of historic ground with the flexibility to slow down and stop often for breaks and photos. Connect with your guide at the meeting point in central Paris' 11th arrondissement, where you'll be fitted for a bike and helmet. Set off on the route selected by your guide based on group preferences and the days traffic and weather conditions.
Marais TourSpreading across the third and fourth arrondissements, Le Marais was once home to many of Paris' wealthy and aristocratic families. Today, it's one of the city's trendiest neighborhoods with an abundance of art galleries and high-end boutiques. See evidence of Marais's artistic leanings with a stop in front of the ultramodern Centre Pompidou cultural complex. Peddle across the public expanse of Les Halles and past the Palais Royal, and see the iconic glass pyramid and monumental architecture of the Louvre. Get a glimpse of the twin bell towers of Notre Dame Cathedral before returning to the original departure point.
Latin Quarter TourOnce the main haunt of Parisian artists and intellectuals, the Latin Quarter boasts a rich bohemian past. Pedal through the fountains and chestnut groves of Luxembourg Gardens, and explore the artsy streets of St Germain-des-Pres. Learn about the many famous painters and writers who once frequented the area's cafés as you cruise past charming bookstores, fashion outposts, design galleries and antique shops. Visit the Arenes de Lutece historic site where ancient Roman amphitheater once stood before cycling back to the departure point.
January 2016
An unexpexed change of plan anniversary of Charlie Hebdo resulted in a change of route to the south of the city. Change was handled efficiently by Viator staff and we were happy with the new route. Excellent tour, friendly and informed briefing by guide. Very happy with event.
September 2014
Loved it ! My wife says it was her favorite as we saw Paris in a way we would otherwise not have seen.
December 2013
Really good tour, really good guide. Great way to get a historical overview/perspective and orientated around central Paris early in our stay. Had the confidence to use the Paris Bikes throughout the week following the tour. Highly recommended.
July 2013
Amazing fun bike tour! We biked to central Paris and the bikes were easy to ride. We would stop a few times an hour and the tour guide would give us the history of where we stopped. We also had a bicycle guard (he would ride behind the last person in the tour to make sure they made it) and he would watch the bikes when we took lunch. The 3 hours flew by so fast and we were not the least bit tired, after all we did bike for a few hours. I highly recommend this bike tour to anyone that wants to see the hidden spots of Paris.
July 2013
Wonderfull way to know Paris!!!!
December 2012
This was the highlight of our weekend in Paris. The tour guide had perfect english and brought us through some lovely backstreets that would be impossible to see by car. I would highly recommend this tour to anybody that wants to see Paris in a different way.
July 2012
Great way to discover central paris, the guide was enthusiastic and informative. Would recomment to anybody visiting Paris.
March 2012
Excellent way to see Paris! Our guide was knowledgable and informative. Would book again!
October 2011
Loved experiencing areas of Paris by bike. I highly recommend it. It's a fast and great way to go through neighborhoods and really get a feeling for the areas to want to go back and explore deeper.
October 2011
how awesome was this tour. i recommend this to anyone.
Advertisement
Advertisement