See the sights of Paris while you eat on this Seine River dinner cruise or lunch cruise. Aboard a La Marina de Paris glass-enclosed boat, you'll glide along the river, admiring landmarks like the Eiffel Tower, Louvre and Notre-Dame. Pass under the Pont Neuf and other bridges while you sip French wine and Champagne and enjoy a 3-course meal of fine cuisine.
Highlights
Viator exclusive Seine River cruise aboard a La Marina de Paris glass-enclosed boat
Enjoy a relaxing lunchtime, early evening or nighttime cruise along the Seine
Admire the Eiffel Tower, Notre Dame, the Louvre and more top Paris attractions from the water
Savor a gourmet 3-course lunch or dinner served with French wine and Champagne in this exclusive tour to Viator
Recent Photos of This Tour
La Marina de Paris Seine River Cruise Including 3-Course Lunch or Dinner
What You Can Expect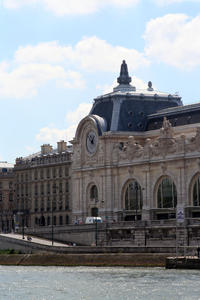 At a location on the river near the Musée d'Orsay, your Seine dinner cruise or lunch cruise begins as you board your La Marina de Paris boat that features a glass roof and windows so you can enjoy unobstructed views of Paris' waterfront sights at any time of day.

When booking, you have three cruise options, all of which include a 3-course meal of starters, your choice of main dish and dessert: 2-hour lunch cruise with a glass of Champagne and glass of wine; 75-minute early-evening dinner cruise with a glass of Champagne and glass of wine; or 2-hour nighttime dinner cruise with a half bottle of Champagne and half bottle of wine (beverages indicated are per-person; see the Itinerary section below for sample menus). The nighttime dinner cruise also includes music and a chance to see the Eiffel Tower light show.

As you glide leisurely along the Seine, you'll capture views of famous Parisian landmarks like the Louvre, Notre-Dame and the Eiffel Tower. Float underneath bridges like Pont Neuf, and admire the beauty of the city in the daylight, twilight or all lit up after dark, depending on the option you select.
Itinerary
Sample Lunch/Early-Evening Dinner Menu
Starters (to share between two people)
Assortment of vegetables

Mini savarins (type of cake) with lemon and dill

Tapenade with vegetables and croutons
Main course (choose one)
Steamed chicken with crispy fresh vegetables
Coley steak with risotto and green asparagus
Dessert (served with gourmet coffee)
Minestrone of fruits with slivers of nougat and a praliné crisp
Drinks
Glass of Champagne
Glass of white wine, red wine or rosé (from the Touraine region of the Loire Valley)
OR
Orange juice

Coca-Cola

Water

Sample Nighttime Dinner Menu
Assortment of starters
Wild mushrooms with smoked fillet of duck breast
Duck foie gras with a green apple coulis and spiced bread
Crème brûlée with preserved tomatoes and parmesan cheese
Shell-cooked scallop with a red sweet pepper tartare
Main course (choose one)
Duck parmentier (potato pie) and Jerusalem artichoke with a mixed green salad
Zander pavé steak with risotto and green asparagus

Beef pavé steak with truffles and Roseval potatoes (additional cost of 7 euros)
Assortment of desserts
Chestnut cream with caramelized meringue pears

Praliné crisp with dark chocolate and a raspberry crisp

Brochette of seasonal fruits and mango coulis

Pistachio macaroon with lychee cream
Drinks
Half bottle of Champagne
Half bottle of white wine, red wine or rosé (from the Touraine region of the Loire Valley)
Water
January 2016
Was wonderful. Would recommend to everyone.
January 2016
Lovely way to sightsee and see some of the key attractions. The people were very friendly and helpful. Great atmosphere was great food and service superb. We had a great table at the front of the boat which we really like.

January 2016
Excellent tour - thoroughly enjoyed the whole experience. Dinner and service was great. The only recommendation would be to have a hotel pickup.
December 2015
The food was great, the staff wonderful. I really recommend it.
December 2015
Absolutely beautiful. A great way to start our trip. As we were still a bit jet-lagged, a cruise around Paris was the most perfect and relaxing way to get a head start on seeing all the wonderful sights Paris has to offer. Would highly recommend for anyone's first day in the city. The staff was also wonderful.
December 2015
Awesome ... Lovely food... Best part was passing the Eiffel Tower at the correct timing to see it light up with sparkling fairy lights .... Oh what a night to remember. Would recommend
December 2015
Great way to see the city. Excellent food and wine. Great service. Would recommend.
December 2015
Was one of the highlights of our trip, food was devine and service wonderful. Will reconmend it to friends and anyony reading reviews.
November 2015
This was one of my most anticipated tours. It was really cool. It's definitely not a tour but more a nice dinner and look out the window at all the cool buildings : Nothing wrong with that. I think it was definitely worth it. Very romantic but also chill. I think I had only packed jeans and was a little worried if I was dressed well enough. It was fine. Everyone on the boat is a tourist and dressed exactly as such. So it's my kind of romantic dinner. Nothing high brow about it, just very enjoyable and nice to feel treated while admiring all the beautiful architecture of the buildings lining the Seine.
November 2015
Enjoyed this immensely. The day we were to go on this tour, it was cancelled due to the terrorists attacks, but they very willingly booked us for the next day when they were operational. A great way to see the sites and loved that we had a whole bottle of wine.
Advertisement
Advertisement