Spend an indulgent evening immersed in a Paris cabaret with a 3-course dinner show at the new Lido de Paris "Paris Merveilles"® show. Make your way to the club on Paris' grand boulevard, the Champs-Elysées, and settle in for a delicious menu of French specialties while you watch the famous Bluebell girls kick up their heels onstage. Enjoy the spectacle of outrageous costumes and sumptuous sets at one of the city's newest cabaret productions, complete with excellent music and a dazzling light show. It's an evening of Parisian theater you won't soon forget.
Highlights
Spectacular cabaret show at the Paris Lido on the Champs-Elysées
Choice of Champagne and show, or dinner, champagne and show
Choose between an early or late show with Champagne

Enjoy one of three delicious 3-course gourmet meals in the dinner and show options

Admire fabulous dancers, glittering costumes, and dazzling theatrical effects
Why Our Insiders Chose This Tour
The Champagne and elaborately costumed Bluebell Girls will make your head spin at this highly desirable show. Spring for the scrumptious three-course dinner to make the night a true feast for the senses.
Recent Photos of This Tour
Lido de Paris "Paris Merveilles"® Dinner and Show
What You Can Expect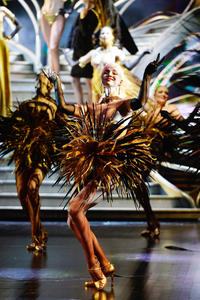 The "Paris Merveilles"® show at the city's famous Lido de Paris cabaret club made its debut in April 2015 as one of the most impressive new cabaret shows in a city that's known for them. Enjoy a performance of the show that's still drawing crowds, and complete the evening with a delicious 3-course dinner.
The Lido de Paris sits on Paris' grand Champs-Elysées, and has been entertaining and titillating audiences since it opened in 1946. Director Franco Dragone's work has been seen around the world with Cirque du Soleil, and he's brought his unique vision to Parisian cabaret. Using the city of Paris as his inspiration, Dragone has created a show in which fantasy and fiction blend marvelously. Audiences are transported from reality through the ornate costumes, beautiful sets, and uplifting music. The dancing Bluebell girls are the icing on the cake.
Choose either a 9pm or 11pm show and enjoy a half-bottle of Champagne while you watch the show. For an even more comprehensive experience, upgrade to a gourmet 3-course dinner plus Champagne before the show begins. Savor a meal put together by the club's talented team of 35 cooks. Select one of the following options:
Lido show and a half-bottle of Champagne
Settle into your seats at the club and sip on French bubble while you take in the dazzling 1.5-hour show, complete with water features and special effects. It's an experience you'll never forget.
3-course meal, half-bottle of Champagne, followed by Lido show
Arrive at the club in time to dine in style on a 3-course menu of French specialties, prepared by Chef Philippe Lacroix and the Lido's wonderful kitchen. The chef has created a menu that honors French culinary traditions while bringing them firmly into the present. Choose from three dinner menus, which range from standard to deluxe (sample menus listed below), and after you've finished dinner and your Champagne you'll have a chance to dance until the theater lights dim at 8:30pm for the 9pm show.
Itinerary
Sample Menu Spring/Summer 2016:
Etoile Menu
First Course:
Norwegian smoked salmon served with dill-infused courgette marmalade OR Marinated soft boiled egg served on a green apple-cucumber relish with fresh herbs
Second Course:
Fillet of pollock, sautéed courgettes and pearl onions with an iodised broth OR Supreme of farmhouse chicken served with a tomato and tarragon marmalade and polentaDessert
Half-sphere of white chocolate-raspberry with a lemon croustillant OR Apricot and pistachio pudding served on an almond biscuit
Drinks:
A glass of Champagne and a half-bottle of wine per person
Champs Elysees Menu
First Course:
Crab pressé with vegetable shavings and crispy baguette OR Fromage frais and king prawns, served with chilled cream of petits pois OR Duck foie gras with a confit of shallots and apricots, served with toasted brioche
Main Course:
Cod served with fondant fennel and bouillabaisse juices OR Crispy fillet of duckling, spiced carrots and confit tomatoes with a pearlescent duck gravy OR Pan-fried veal, fresh sautéed spinach and potatoes au gratin
Dessert:
Red berry Schuss OR Pink sugared almond and Morello cherry vacherin OR Chocolateamacaron and vanilla apricot marmalade
Drinks:
A half-bottle of Champagne Brut 1er cru
Triomphe Menu
Appetizer :
Royale of green asparagus topped with a summer truffle cappuccino OR Small spelt with duck foie grasand artichokes OR Primavera lobster salad with a shellfish-ginger vinaigrette
Main Course:
Fillet of bass served with fondant glazed baby vegetables and thyme and lemon sauce OR Sautéed tournedoof beef, baby broad beans and chanterelle mushrooms with a herb viennoise
Dessert:
Sunshine lemon shortbread OR Two-strawberry iced soufflé
Drinks:
A half-bottle of Champagne Ruinart or Taittinger
Mineral water
Coffee and petits fours

June 2016
Fabulous show. One of the highlights of the trip. Would love to see this on Broadway in New York, it would be a hit.
June 2016
We went to Paris to celebrate my daughter's 17th bday. She wanted to see her first cabaret and this show did NOT disappoint! Easy to find right on the Champs Elysee. They were very friendly and what a wonderful show! Lots of surprises!!!
June 2016
This was fantastic. Loved every minute. Very funny in parts and very entertaining. We arrived a little late but it was not a problem. Food was fabulous. Table a little cramped but you have to expect that. Location is great as it was close to our hotel.

June 2016
One of the most enjoyable and professional shows I have ever seen. It was a great way to finish my 6 week European holiday.
June 2016
Great show. Perfect balance of beauty and talent. Great dinner and great seats, too.
June 2016
GREAT show and so tastefully done.

Sasha Heseltine United Kingdom
May 2016
Brilliant fun and a real Parisian experience! Fantastic food and slick service, cabaret pretty good too. A night not to be missed.
May 2016
We had a great time! Thank you Viator for making this outing so easy to go out and enjoy!
May 2016
Show was excellent, very friendly staff,
April 2016
Another spectacular cabaret show, very similar to 'the Moulin Rouge' offering similar attractions. I thought it was slightly better than the Moulin Rouge and we seemed less crammed in and photos were allowed and cloakroom was free! Also the staff were more attentive. Still as pricey as the other show.
Advertisement
Advertisement