604 Reviews
Location:

Paris, France

Duration:

12 hours 30 minutes

(approx.)
Take a day tour from Paris to visit the three most famous chateaux of the Loire Valley: beautiful Chenonceau Castle, privately owned Chateau de Cheverny and, perhaps most magnificent of them all, the Chateau de Chambord. You'll witness the glamour and grandeur of French royalty and aristocracy, and gain insights into "castle life" in these Renaissance riverside castles.
Highlights
Combined day trip to three of the Loire Valley's most important chateaux
The famous staircase, chambers and grounds of magnificent Chateau de Chambord
The fine furnishings of Chateau de Cheverny
Chenonceau Chateau, the Ladies' Castle
Illuminating commentary from your expert English-speaking guide-interpreter
Why Our Insiders Chose This Tour
Get off the beaten path with this long but well-organized trip to three stunning and historic royal castles. The personable guides, beautiful scenery and tasty lunch make it a splendid day.
Recent Photos of This Tour
Loire Valley Castles Day Trip: Chambord, Cheverny and Chenonceau
What You Can Expect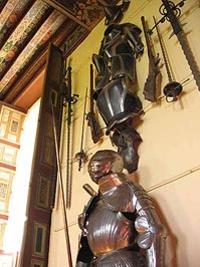 The largest of the Loire castles, the turreted Chambord Castle was built for King Francois 1st as a hunting lodge. The intricate stone "double helix" staircase leading up to the spires and turrets of the rooftop terrace is thought to have been designed by Leonardo da Vinci.
Cheverny Castle is the most beautifully furnished of the Loire Valley castles, with a fine collection of 17th-century furniture. Herge, the Belgian creator of Tintin, based his Marlinspike Hall (Moulinsart) on Cheverny Castle.
Chenonceau Chateau was built over the River Cher in traditional Renaissance style, and is known as the Chateau des Dames (the Ladies' Castle) because of the influence of the famous women who lived there. The chateau was built in 1513 by Catherine Briconnet, embellished by Diance de Poitiers and Catherine de Medicis, and saved from destruction during the Revolution by Madame Dupin.
Guests traveling in Winter (November 1-March 31) also receive a typical lunch and drink. During the summer (April 1 - October 31) lunch is not included but the guide will advise on places to eat.

Please note:
On Saturdays and Mondays from April to October (inclusive) visits change to Amboise, Chenonceau and Chambord castles except on October 3 and 12 when Cheverny will replace Chambord Castle and other two visits will be to Amboise and Chenonceau.

On October 5 and October 10 Amboise is visited in place of Chambord Castle.
August 2015
It was an absolutely fabulous day!!! The castles are amazing. The bus ride was clean and comfortable. Our guides were very informative and energetic. They seemed to really enjoy their jobs. I wish we had a little more time to explore/shop after the tour at Chambord. I felt a little bit rushed to get back to the bus on time. This day trip is a must see experience.
August 2015
Well organized, comfortable travel, interesting guides.
We have taken a number of trips with Viator in several counties and have never been disappointed. This trip was no exception - the guides were very good and the entire day ran smoothly.
There were several people in our group who had booked the trip through another tour operator and their cost was significantly higher - so Viator is the best for both quality and value!
August 2015
Great way to ease into our visit to PARIS after a long flight. Beautiful countryside views on the bus trip and lunch in Cheverny was awesome. Great and cheap local wines can be purchased in a cave under the Chateau, lots of time to explore and sample during your lunch break.
August 2015
The bus trip was very convenient and comfortable. It took a bit to figure out we had to take our coupon into the tour office in Paris before we knew which bus we were to travel on and where to get it. The tours of the three chateaus was very thorough and gave us plenty of time to look around in spite of the crowd at each location.
August 2015
Muy buen tour, las explicaciones completas y tiempo suficiente en cada castillo después de las explicaciones para fotos y explorar. Bus cómodo, al tiempo se realiza el tour en ingles y en español, es mas completo en ingles, por lo que decidimos cambiarnos de grupo en la mitad de las primeras explicaciones.
July 2015
Excellent tour of the three castles. Amboise was not on the original itinerary, but it turned out to be my favorite castle and the most interesting little town. I would highly recommend this tour for anyone who is interested in medieval castles and European French history. It was a very long day, but definitely a worthwhile trip. Next time in France I will do more castles!
July 2015
Lovely day out with the history and background of each of the chateaus. Very informative
July 2015
Most do it if you are in Paris!
Great guide and a very informative tour! We had a great experience
July 2015
this was a great tour with a great tour guide who was very sensitive to my wife using a cane.
July 2015
It was a very long day but worth it. The trip took a total of 14 hours from beginning to end but it was the drive that took most of it. Each chateau had its own specific character and was remarkable to see. Each small village also had its own character. Our tour guide, Stephanie was excellent both for her english and her her knowledge and patience. I would strongly recommend it but recommend taking a few bottles of water and a few snacks. I would also think this tour would be very taxing for young ones to have the stamina to make it through all of it.
Advertisement
Advertisement