Make Paris to London a quick day trip with a ride on the high-speed Eurostar train. After just 2 hours 15 minutes you'll be in London, with a full day to explore the sights of the English capital – Big Ben, the Tower of London, Buckingham Palace, Westminster Abbey and more – via a hop-on hop-off bus tour and sightseeing cruise on the Thames River. With informative commentary and the ability to get off the bus to explore at your leisure, it's the ideal way to see London. At the conclusion of your day trip, the Eurostar whisks you back to Paris with ease.
Highlights
Day trip from Paris to London on the Eurostar
Take the high-speed train to London for an easy day trip
See top London attractions on a narrated hop-on hop-off sightseeing tour
Visit Buckingham Palace, Big Ben, Westminster Abbey, the Tower of London and more
Enjoy a relaxing Thames River cruise
Spend up to eight hours in London before the train ride back to Paris
Why Our Insiders Chose This Tour
A great way to see London independently! Once you have boarded the Eurostar in the morning, you are completely free to explore London however you wish. Just make sure you check the timings of the buses in London to catch the train home on time!
Recent Photos of This Tour
London Day Trip from Paris by Eurostar
What You Can Expect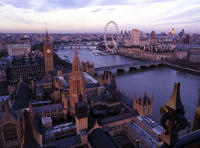 Begin your Paris to London day trip in the center of the French capital, where you'll meet your host and get your round-trip Eurostar ticket. Board the 8:13am train, which deposits you in London at about 9:30am after a 2 hour 15 minute trip.
Arrive at London's St Pancras station to meet your London host and receive your ticket for the hop-on hop-off bus tour of the city. Your host escorts you to the St Pancras station bus stop and leaves you to see the English capital independently. To get right to your hop-on hop-off tour, take the Station Connector black line to whichever sightseeing bus stop you wish (you can change to the red line at Baker Street if needed). Climb aboard the next double-decker bus to start your introduction to the city. Click on 'View additional info' below to see a map of the bus routes.
The sightseeing bus tour offers an ideal overview of London's centuries of history, with an informative audio commentary available in multiple languages to explain the sights around you. Hop off the bus at any point that you want to explore on foot, including sights such as Big Ben, the Tower of London, Westminster Abbey, Buckingham Palace, Piccadilly Circus, Trafalgar Square and the Houses of Parliament.
Your hop-on hop-off sightseeing ticket includes a cruise on the River Thames, too. To take advantage of this, disembark from the bus tour at the Westminster stop and board the nearby boat to see the city from a different vantage point.
The day is yours to construct as you like, and in London your options are plentiful. Visit a world-famous museum. Stroll through a picturesque park. Enjoy lunch and a pint in a traditional English pub.
After roughly eight hours in London, make your way back to St Pancras station (be sure to leave enough time after sightseeing to return to the station on time) to climb back on the London-to-Paris Eurostar for the return trip to the French capital. You'll arrive at Gare du Nord station in the evening.

May 2016
great trip...little pricy for what you get. Could of booked the train trip on my own at a way less price. Yes
they met us. But a hop on hop off buss pass and a river cruise took the whole time seeing nothing. So we hired a cab for the day and never used the hop on hop off. We seen all of London this way not just bus stops waiting for people to get on and off.
March 2016
Had a great day! We ended up going off on our own and riding the subway to Abby Road, but the option for hop on hop off was great, the boat tour was awesome, and am glad I we did this tour. Great memories.
December 2015
Loved the fast train ride and did get to see some of London for the day. Might recommend people take a cab to Piccadilly Circus to get out of the traffic instead of getting on the local tour bus, on, off. No time to waste. We loved the wheel ride sponsored by Coke!
M. Poole United States of ...
November 2015
We loved our London day trip! While riding the hop-off, hop-on tour bus we had time to ride the London Eye, take a river cruise, eat fish and chips for lunch and shop at Selfridges! We will definitely be back to spend a week!
October 2015
A great way to see London in a day! Great experience.
October 2015
Unique experience. Enjoyed and would do it again.
October 2015
loved day trip to london.want to go again.
October 2015
Highly recommended. It would be great though to had have a more organized way to get us back to the train station for departure.
September 2015
A bit pricey but none the less a great one day get away. The day is long 6 am start to 11 pm by the time you get back to hotel. The trip will include bus ride to train station...but not from train station to home. Watch out for Paris cab and Uber drivers....who wanted to charge us 150 Euros for a 15 minute ride to our hotel. We decided to take the Metro which is great way to get around and inexpensive. The day trip included Hop On/Hop Off one day pass in London and Tower of London tour. Lots of time to be on your own as well. We dropped in at the Marriott Hotel and had tea in their parlour. Train ride is comfortable and quick and you can grab beverage/food on train. HIghly recommend this trip.
September 2015
Great tour! The guides gave very clear directions. Like everyone else has said you just dont have enough time to see everything. Tips: keep in mind you must meet at the ParisVision office to get train tickets. You can not just meet them at Gare du Nore!
Advertisement
Advertisement