Feast your senses on a 2-hour walking and tasting tour of Paris' fashionable Le Marais district. Stroll through the charming streets with a guide while learning about the aristocratic history of this neighborhood filled with medieval architecture and high-end galleries. Take in the sights and smells of the Le Marché des Enfants Rouges market, and then head to a local bistro to taste a variety of artisanal cheeses paired with French wine. Group size is limited to eight people for a more intimate experience.
Highlights
Walking tour of Paris' Le Marais district with cheese and wine tastings

Wander around Le Marais, one of the city's most historic and hip districts

Visit Le Marché des Enfants Rouges, a hidden covered market with an abundance of food shops and stalls

Visit a French bistro and taste five cheeses and four wines

Learn about Le Marais and France's most famous cheeses and wines from your local guide

Small-group tour limited to eight people to ensure more personalized attention from your guide

Why Our Insiders Chose This Tour
This tour is a wonderful opportunity to sample some of the fantastic wine and cheese France has to offer. Plus, you get to know one of Paris' most fascinating areas!
Recent Photos of This Tour
Marais Walking Tour with Cheese and Wine Tasting in Paris
What You Can Expect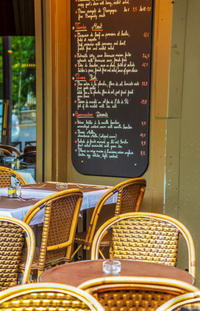 Meet your guide in the heart of Le Marais, an old district of Paris with plenty of medieval architecture. As you stroll around this fashionable area, once favored by the aristocracy and today filled with trendy art galleries and restaurants, listen to commentary from your expert local guide.

Work up an appetite as you make your way to Le Marché des Enfants Rouges, a small, centuries-old covered food market. Take in the sights and smells in this enclave of food stalls offering fresh produce and a variety of cuisines.

Your guide will lead you to an authentic French bistro where you will sit down with your small group for your tasting session. As you discover some of France's most famous cheese and wines, your guide will help you distinguish among different flavors and provide tips on selecting ideal wine and cheese pairings. Sample five cheeses including blue cheese, comté and goat's cheese and four different wines.

After your tastings, feel free to ask your guide for restaurant recommendations. Your leisurely walking tour of Le Marais and wine and cheese tasting session conclude at 6pm, leaving you the rest of the evening to discover more gastronomic delights!
April 2016
Very insightful tour of Le Marais. Very knowledgeable guide David, gave us a great deal of information and historical context to the area. Excellent selection of cheeses and wine well paired to cap a lovely stroll through one of the oldest and nicest areas in Paris.
July 2015
The guide showed up a bit late but gave a terrific tour of the the Marais followed by a wine and cheese tasting at a local cafe.
He I'm sorry but I do not recall his name made the buildings, monuments and statues much more that static structures giving reasons why each was done.
All in akll, a very good tour.

June 2015
Our guide David was excellent, knowledgeable and personable. We loved his anecdotes about the places we saw and the glimpses of what it is like for residents of Le Marais. He shared his love of the community and his favourite spots to escape the bustle of the city and unwind. The cheeses and wine were really great and we enjoyed the opportunity to spend some time with the other guests on the tour.

October 2014
This tour was awesome! David was our guide and we could not have asked for a better person. He was so knowledgable about the history of the area and most importantly the cheese and wine! David made it really fun and easy to walk around Le Marais. He even showed me a really fancy little Macaroon shop that wasn't too far out of the way! We walked for about an hour and then stopped at a little local cafe. I would call it the French Cheers, because it is where all the locals hang out! The service was attentive and kind. The cheeses to die for, and the wine just as good! We enjoyed this tour so much that we signed up for another tour with David the next day! Le Marais is a smaller must see district if you are really wanting to experience the life of the local Parisians. Excellent Tour!
September 2014
This tour was amazing. Because we were the only two on the tour, we were nervous it would be awkward. But our guide David was great!! He made us very comfortable, and was very informative and personal. We loved spending the time touring, getting to know him and all the Marais had to offer!
May 2014
Lovely tour guide with a nice blend of history and shops and food...
September 2014
We had an excellent time on this walking tour in the heart of the Marais. Our local guide was Sara Shroukh who was the perfect guide since she took us to some of her favorite places, including many "secret" gardens that only a local could show you. And after our informative tour of the area, Sara then took us to a quaint neighborhood bar to sample a huge variety of French cheese and generous tastings of French wine. The cheese platter was so generous that we could have made it our lunch. Another great aspect was that the staff chose wines that would complement each cheese, and they even helped us to figure out which wine is best with each cheese, taking the out the mystery for us. And Sara was especially helpful by showing us the order in which one should eat the cheese! Who knew? This tour is a must for those who want to be immersed in a given neighborhood so that they feel as if they have walked away from Paris with a better sense of place--and not that they have just seen the famous sights.
prynearson USA
February 2015
This "tour" was the WORST experience. It was a waste of money because there was no tour. We waited (a total of 7 people) for 30 minutes at the designated meeting place. When the guide finally arrived, she was visibly annoyed. It became evident that she had no plan. She began by walking us to the Place des Vosges. She told us that many famous people ( she did not tell us who) had lived there and we could walk around if we wanted. It was already dark at this point so no one wanted to do that. She then walked us to a museum that we could go into if we wanted. Again, no one wanted to do that. So she walked us to a Jewish area where we could walk around if we wanted to. During this time, she gave no information to the group. She did speak, in a very low tone, to one man in the group but no to the group. At this point, the family group of 5 told her that she was wasting their time and they left the group. She asked me if I was disappointed. So I told her what they website had described the tour to be. She then told me that was not the tour she was prepared to give. My husband and I decided to leave. When the guide joined the group, it was 5:00. When the group dissolved, it was 5:25. Before booking this tour, I had read previous reviews and was anxious to do this. What I got was a big disappointment, a waste of my time and a waste of money.
September 2014
In June, we went on the "Small Group Food and Market Tour of the Bastille District in Paris", and couldn't have been more pleased. We found our guide informative, the tastings were delicious and educational. The Marais Walking Tour with Wine and Cheese tasting in Paris" was extremely disappointing. First we were stood up by Natalie on the appointed day, Tuesday, September 16. We waited 45 minutes in the heat. When we called the emergency number, we were told that Natalie had a family emergency and couldn't make it. We were rescheduled for Thursday. When Natalie arrived, she said that her failure to show up was the result on a mix up in the dates, and didn't mention any family emergency. She was totally unapologetic, and in fact, made light of our having to wait in vain for her earlier in the week. She was very uninformative about the history of the area, and wasn't able to answer any questions we asked. Then we were taken to a cafe. There was no "wine and cheese tasting", but rather a glass of wine and a platter of cheese with little description of the cheese and no description of the wine was given (much less getting to taste different wines). The whole thing was a joke (in fact, the word "sucks" comes to mind. I have been on several food tours in other cities, and have never been more disappointed.
January 2014
We had booked the tour for 4 for my 30th birthday and were really looking forward to it. We show up ahead of time and wait around in the rain outside the museum we'd been instructed to meet at. The guide shows up to tell us that the place they were going to take us is closed for the holidays (you'd think they would know this and plan accordingly ahead of time with their partners). The guide had only been sent to tell us this so they had known before the guide came to meet us. We did not receive an email stating anything, so we wasted our time making sure we were at the meeting spot. The guide tells us to come back several days later. At the second meeting we find out that it turns out our guide is not too familiar with the area and we hardly cover any ground. I specifically booked a walking tour to actually learn about the area we were in. We walk for a little and come to a place for the wine tasting. The whole thing was very disorganized, the place was not ready for us and had to go out to buy cheese for our tasting. Not only were we inconvenienced by having to go to one part of town the first day (missing out on other things we could have been doing on our limited stay) but the tasting itself was just so so, I would say worth maybe 1/4 of what we paid for it. I would not recommend this tour and am a little soured on Viator in general now.
Advertisement
Advertisement