Treat yourself to an exclusive Parisian event with a VIP seat at the world-famous Moulin Rouge Show. Breeze past the queue with your skip-the-line ticket and take a seat in a private balcony reserved for up to 24 special guests. From your table, enjoy great views of the stage and indulge in Champagne and Dalloyau macaroons or chocolates as you watch the dazzling 2-hour cabaret show.
Highlights
Experience the incredible Moulin Rouge from your VIP seat on a private balcony
Enjoy skip-the-line access into the unbeatable Moulin Rouge cabaret show
Sip Champagne during the performance and savor macaroons or chocolates from the famous French patisserie, Dalloyau
See the show from a private balcony area with only 24 VIP seats
Delight in unobstructed views of this famous cabaret, enjoying expertly choreographed dancing
Recent Photos of This Tour
Moulin Rouge Show: VIP Seating with Champagne
What You Can Expect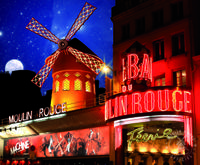 Add some spectacle and glitter to your Paris trip with skip-the-line access to the one-of-a-kind Moulin Rouge show. Upon arrival, a host will greet you and show your to exclusive VIP table. A coat check is available if needed. Take a seat in the private balcony – reserved for only 24 guests – and take in the fabulous venue, one of Paris' most popular and historic sites.

Brought into the global spotlight by patrons like the 19th-century painter Henri de Toulouse-Lautrec, Moulin Rouge has enjoyed lasting and unrivaled popularity. With elaborate staging, expert choreography, vibrant lights and large troupes of dance artists and 'Doriss Girls' adorned in dazzling accoutrement, Moulin Rouge shows – like the current Féerie – are nothing short of hypnotic.
From the balcony, you'll have first-class views of the performance. Sit back and lose yourself in the magic of cabaret as you sip on a half-bottle of Billecart-Salmon Champagne and sample delectable macaroons or chocolates from Dalloyau. In the sweets business since 1682, Dalloyau's secret macaroon recipe has wowed elite patrons like Louis XIV for centuries.
After the show, take home a special Moulin Rouge souvenir to commemorate your exceptional night out.
**Viator is an authorized seller of Moulin Rouge tickets.

May 2016
Absolutely the best way to see this show as it was truly 'Spectacular, spectacular!' This VIP treatment was great and we cut the line, were escorted to our seats on the center balcony, enjoyed champagne and snacked on macarons which were absolutely delicious. The best possible way to see this show. The Viator video was spot on and it was a night well spent.
May 2016
Moulin Rouge was amazing! The service was excellent and the show wonderful. The only downside was that a photographer took photos but didn and #39;t ask me if I wanted one, no doubt because I was alone.
March 2016
We were truly treated VIP. Upon arrival, we were immediately pulled to the side in order to cut the line. Our coats were taken and gifts were given to us. We were then escorted to our seats, where a bottle of champagne and macaroons were offered. The show was amazing, and our seats were perfect. We have a private table on a balcony. We saw the entire show perfectly. Our coats were brought to our seats right before the show ended. Worth paying for this experience.
February 2016
Fantastic - the service was superb, well worth the extra money for the VIP
January 2016
The service is excellent. The show is very fantastic and very beautyful.
January 2016
Fantastic experience. Amazing show and talent.
Worth buying VIP tickets in Melbourne beforehand. Jumped the que.
Treated like royalty with great table,champagne and macarons.
Didn't bother with dinner as advised very cramped .
December 2015
Loved it ... Felt a bit embarrassed by the service we received on our arrival .. Very attentive and took us straight through to our VIP seats. Very worthwhile.

November 2015
What a fantastic experience worth every penny and more! I wished I had booked the dinner as well as it was a fabulous night. Visually it was wonderful and the customer service was exceptional. Cant wait till I go again. Only advise don't get there too early as they would not let me in till 8.15 when the show starts at 9pm.
November 2015
Great seats! And very good service!
November 2015
We had the most wonderful evening, and so pleased that we had booked the VIP option. When we arrived, we were lead to the front of a very long queue and treated exceptionally well throughout the entire evening. Our private table rather than shared was on a mezzanine floor that looked directly over the stage, for our unobstructed view of the show. We were served wonderful champagne and received a 'goodie bag' with a souvenir booklet, amongst other things. The show itself was fantastic if not slightly cheesy! with lots of glitter and feathers ... I was in my element! We would highly recommend this experience!
Advertisement
Advertisement