Let the dancers of the famous Le Moulin Rouge entertain you for an evening in Paris with the latest show, 'Feerie.' This experience includes round-trip transport between your hotel and the club, as well as a half-bottle of champagne to make the night even more celebratory.
Highlights
Admission to the Moulin Rouge cabaret show in Paris

Cancan dancers, costumes and music at the legendary Moulin Rouge cabaret show

Costumed Doriss girls perform the latest show, Feerie

Half-bottle of champagne included

Hotel pickup and drop-off by minivan

Recent Photos of This Tour
What You Can Expect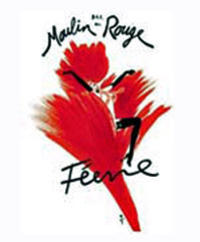 Dive into a quintessential evening of Parisian entertainment at the famous Le Moulin Rouge cabaret for a performance of the latest show, 'Feerie.'
Enjoy the spectacle of a cabaret show in Paris, when the excitement starts as soon as you enter the theater. By the time the lights go down and the curtain goes up you're ready to be swept away by the performance.
Watch as the famed Doriss Girls and Doriss Dancers grace the stage with their incredibly ornate feather-and-rhinestone costumes. Colorful sets designed by Italian artists glitter under the stage lights, and 'Feerie' marks the much-anticipated return of the giant aquarium.
This experience includes round-trip transport between your central Paris hotel and the cabaret, making the evening hassle-free, and a half-bottle of champagne per person. There's no reason not to celebrate.
Likely to sell out!
Note that shows at Le Moulin Rouge sell out regularly, sometimes weeks in advance. Don't miss an opportunity to see a show at this famous club — book ahead of time.
June 2016
Starting with our driver he was prompt with both pick up and return to our hotel. Very friendly. The show was wonderful and recommend it to all.
April 2016
This show was very enjoyable, I had my doubts at first but after watching it I had a total change of mind. The dancer's could really sing and besides its' Moulin Rouge! Everyone should go see this show at least once while they're visiting Paris.
November 2015
We were picked up at the hotel and taken to the Moulin Rouge by a friendly and helpful driver. He escorted us to the entry and once inside everything went very well. We had the best seats, a table for just the three of us with clear view of the stage. It was a really enjoyable evening and we all loved the Moulin Rouge. After the show, our driver was right there to take us back to our accommodation. We were very happy with the service.
October 2015
Wonderful and entertaining experience.
September 2015
Beautiful ladies accompanied with talented performers, the show more than met our expectations, lively and well done by all performers. There are so many ways to book this show, we booked the 9:00 PM show with pick-up,and drop off at our hotel, worth the fare....however, next time we would like to spend more time in the area after the show.
September 2015
Great night. Glad we paid the extra for hotel pick up and drop home, it just made it all easier. We did have to wait in line for about an hour and the 11pm show didn't start until 11:40pm. It was loads of fun though and great to experience.
September 2015
We booked this tour a day before its showtime. It was one of the best memorable event for a last minute call. My wife and I had a wonderful time thanks to the driver who not only showed up in time, driving us around the lovely city, showing us the Tango in front of the Opera house, but get the seats for us without waiting in line for hours. He even pointed us to a small nice, quiet bar, which we sit until about the time show was going to start. Of course the show itself was wonderful, but the driver, he was something! Only wished that we take his name and phone number. Enjoyed. Ah, after the show, there is more romantic thing... you know!! :
August 2015
Great to be picked up at our hotel and be delivered back at the end of the show. No muss. No fuss. No bother. The show was great fun. Lots of costume changes and Las Vegas style vignettes. Of course, we loved the Can-Can because it's so quintessentially Paris. A great comedian and acrobatic act completed the show. We loved it. A bit pricey but worth it while in Paris.

August 2015
July 2015
At the Moulin Rouge, we had a fabulous experience. Our driver was fabulous and the show was simply sensational. We had a magnificent experience with this tour
Advertisement
Advertisement