1453 Reviews
Location:

Paris, France

Duration:

14 hours

(approx.)
Take a poignant, memorable day trip from Paris to visit the Normandy battlefields and landing beaches of World War II. You'll visit famous wartime sites and the American cemetery, spend time on the historic beaches and gain invaluable insights into the wartime experience of the Allied soldiers and the French citizens they liberated.
Highlights
Comprehensive tour of Normandy's D-Day sites from Paris

Visit to Omaha Beach Museum
Drive along Juno and Gold Beaches
Lunch at Caen Memorial

Illuminating commentary from your expert guide-interpreter
All transportation and transfers included
Omaha Beach and Arromanches' artificial harbour

Why Our Insiders Chose This Tour
The tour guide gives so much insight into these historic sites. And the included lunch is tasty and served in a picturesque setting. A full and fascinating day!
Recent Photos of This Tour
Normandy D-Day Battlefields and Beaches Day Trip
What You Can Expect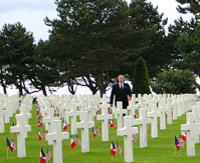 Your drive through the picturesque Normandy countryside takes you to the Caen Memorial, devoted to illustrations and films about the Second World War and the Normandy landings of June 1944.
After lunch at the Memorial, visit the Pointe du Hoc, a German defense position that was heroically taken by US soldiers during World War II. Continue to the American cemetery of Saint-Laurent, the final resting place of almost 10,000 soldiers. You will also have free time at Omaha Beach to reflect on the site's moving history and visit the Omaha Beach Visitor Center, which describes the American soldiers' operations on the famous beach in June 1944.
Before returning to Paris, stop at the Canadian Memorial at Juno beach and Arromanches to see the remains of the artificial landing harbor that was built by the Allies in less than 15 days.
February 2016
The excursion was expensive but very worth it. I took my dad who has read a lot about D-Day and this is great way to see a lot for just a day trip from Paris. If I could do it again, I might consider doing a two or even 3 trip. If you are hesitant to go in the winter time-dont be! Our group of 8 were the only individuals at Point Du Hoc and there were only about 2 dozen folks in the entire American Cemetery. The tour itself makes things very easy for you, with the pickup and drop off. The guide wad knowledgeable and funny and offered to take us to other beaches or a local town after lunch. It was the highlight of our week long trip to Paris and if you are American/English/Canadian or Australian you will feel a deep sense of pride, something I had not intended to feel on a vacation to a foreign country.
January 2016
Ian, our tour guide was wonderful and all that we saw was fantastic. I picked this tour because my husband loves military history. He knows a ton and he was thrilled with all that he saw and Ian's knowledge. Ian confirmed what he already knew but learned new history too. The meal was fabulous too. We would definitely book another tour with you again. Thank you for a memorable day.
January 2016
We enjoyed this tour. A full day but it is really something everyone should see once in their lifetime.
January 2016
It was wonderful. Our tour guide was very knowledgeable and obviously loved her job as historian. I am from the US and I really wanted to see this place that I have heard about my whole life. The whole trip was quite moving.
My one complaint was our visit to the Canadian Museum/beach. I feel if we are not going to spend time at each place that it should not be included. Our visit to the Canadian Museum was basically a bathroom stop. I don't know if there were any Canadians on our bus tour but I felt it was a little insulting.
December 2015
Excellent tour guide! Not nearly enough time at the Caen Museum, but then again it could have taken days. Great overview and the most fantastic lunch served for us at the museum dining room. Pont du Hoc, beaches, and American cemetery were incredibly moving.
December 2015
A great tour of everything we wanted to see in Normandy. Lunch was exquisite and the sites amazing. Thank you.
December 2015
Our guide Christiana and our driver Jac were both above and beyond excellent!!!
Jac took us on a 3 hour drive from Paris to Normandy to our first stop. The Normandy Museum was one of the best museums for history we have ever been to. The amount of information available to the public and on display was astounding. We saw a phenomenal movie showing the beach invasions spliced together with footage taken from the Nazis so that the clocks showed the same time and what each side was doing at the same time.
Next we enjoyed our own time going through the museum, we saw a bunker, and a full time line from WWI through the end of WWII. The lunch was really amazing, we were blown away by the 3 course meal that the museum provided. they were even very considerate about my food allergy.
We then took a 45 min drive to Du Hoc to see the Cliff that the US Rangers had to scale in order to reach the German guns that could take out our guys on the beaches. The craters in the ground are still there from all the bombs that were dropped.
We went over to Omaha Beach where we were allowed to go into the water it was low tide, so it was all sandy beach and walk were our brave men gave their lives for our freedoms it was sad, and yet we were filled with pride over what those men did that day!
Next we went 30 min away to the cemetery. There are over 9,000 soldiers buried in this cemetery. this part of the tour was haughtily beautiful!
We also went to Juno where we saw the tankers that carried soldiers and supplies that sank, but can be seen during low tide on the beaches.
We were taken an hour away to buy some food at a rest stop and to change drivers. Then we had another 2 hours to get back to Paris.
We started our day at 6:30 and were back by 8:30.
Over all: Christiana was a fabulous guide, she gave important and relevant information, she was pleasant at all times, and really enjoyed what she was teaching us about.
The was one of the highlights of our whole trip!
November 2015
very thought provoking. Guide did excellent job
November 2015
An outstanding tour. Our guide, Marie, was wonderful and the tour was very well-designed. It is a long day but deeply moving and highly worthwhile.

November 2015
I was completely satisfied with the tour and all of the extras that I was able to set up from my living room at home. I purchased the extra service of the taxi from my hotel and also the return. The taxi arrived at 6:00 am to pick me up and I arrived in plenty of time at the bus depot to take care of all the ticket and paperwork. The trip was packed with information and our guide, Isabell was very knowledgeable and made history alive. At the end of a very long day we arrived back at the Paris bus depot and I was glad to have a return taxi to drive me back to my hotel. Everything was included and I was enjoyed the ample lunch along with a bottle of wine. Just Great!
Advertisement
Advertisement