Special Offer
Exclusive offer! Free admission at Parc Asterix for children up to 7 years old (6 years old included) for a visit between April 2, 2016 to July 3, 2016 !
Travel through time to Ancient Greece, Rome and Egypt à la Asterix at the 2nd largest theme park in France! Head to Park Asterix – 18 miles (30 kms) from Paris –– and breeze past the queue with your pre-purchased entrance ticket. Spend your day enjoying live interactive shows, taking wild rides and meeting amazing characters like Asterix, Obelix, Dogmatix and more. Gaulish good times for everyone!
Highlights
Admission to Parc Asterix in Paris

Live shows, thrilling rides and over 36 attractions

Ride one of Europe's biggest wooden roller-coasters

Recent Photos of This Tour
What You Can Expect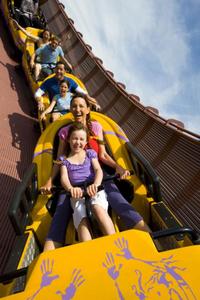 Add extra adventure to your Paris trip with a family-friendly visit to Parc Asterix – a must for fans of the classic Asterix series! Make your own way to the park, located 18 miles (30 kms) north of Paris, and flash your pass for quick access to this vibrant venue. Upon entering, plot your itinerary through the complex. With more than six worlds and 36 attractions to visit as well as a schedule of live shows throughout the day, there's a fun attraction for every visitor!
Just inside the entrance, stop at the Arena Theater for a match between the Roman and Gaulish warriors. Observe a warrior dance battle, extreme acrobatics and various physical tests to determine the strongest fighter! If you love live action shows, don't miss Magique Panoramix or Révérence to see playful dolphins and sea lions.
For some thrills, board Goudurix – the seven-loop rollercoaster with a heart-racing 118-foot (36-meter) drop, or head to the Tonnerre de Zeus, one of Europe's largest wooden roller-coasters. Then wander through ancient Gaul, where you can explore the Forest of Idefix – great for the little Gauls in your group – and catch a ride on the Trace du Hourra bobsleigh, the Menhir Express or Le Grand Splatch.
Whatever route you take through the many worlds of Asterix, carve out some quality time to relax in the forest and visit lovely sites like L'Hotel des Trois Hiboux.
Please note: Roundtrip shuttle service to the park is available at a cost of 23 euros from Paris Carrousel du Louvre (near the Louvre Museum) to Parc Asterix. Runs from 8:45am to 6:30pm.
Itinerary
New Shows for the whole family!
Dive into the wacky world of the comic strip and experience the final battle between the Roman Legionnaires and the battling Gauls !
Young and old alike will be amazed by the new magic show at the Panoramix theatre!
Singing and dancing await you at the theatre of the Bard Assurancetourix…with his world famous voice!
Watch the magnificently choreographed Révérence show to witness special relationship between the dolphins and their caregivers.

September 2015
very good tour ever and we enjoy the all day with my kids and i like it more more Disney land
May 2015
great day good rides food reasonable shops great lovely parc
stella Australia
November 2014
We enjoyed a trip down our childhood memories. It was great fun
August 2014
Brilliant! Much more fun than Disneyland - edgier, more genuinely French and queues much shorter during peak season. Loads of rides, food options and gift shops - a great day out!
August 2014
Our family of 5 had a ball at the Parc Asterix even though we couldn't speak French. All the staff were friendly and the roller coasters were fun. Only problem was that it was pouring with rain when we left and couldn't locate our bus back to paris but eventually worked it all out. Overall a really fun day that gives a break to historic tours!
June 2014
Very very kid friendly. For europe the prices of food and entrance was good! We loved this place. Only a few rides for super thrill seekers.
June 2014
was a little bit disappointing that we had a parking fee to pay after purchasing park tickets. However, it was really easy to collect our tickets, and gain entry to the Parc. The ques weren't too bad at all. We found the price from Viator was very competitive compared to other ticket companies. However be prepared to be ripped off on food and drink it is scandalous!! take your own if you can!!
that said we had a great day all the kids enjoyed it age range 15 to 5 and the weather was ideal. check our viator for competitive pricing. This was a good day out.
July 2013
we loved it ,it was amazing
June 2013
It was the BEST day of your ONE week in Paris. Both my children enjoyed to the hilt. My Son was overjoyed to see the Rides and Shows. My three year old daughter had more than her share of fun. This Park is very very exciting and filled with adventure. We purchased a lot of souvenir. The park staff is friendly. The roller-coasters are awesome and the Demon Ride is an experience to remember. The Water rides are equally good. For a person who loves Asterix, the different sections are a real treat.
Evelyn C United Kingdom
August 2008
What a great day out! It was packed with lots of rides and shows, something for everyone. The dolphin show was my favorite, I went to the show twice.
Advertisement
Advertisement