Taste your way through Paris' vibrant Bastille and St-Germain-des-Prés districts on this full-day gourmet walking tour. Eat like a true Parisian as you explore the vendor stalls of the Aligre Market, indulge your sweet tooth at the city's best chocolatiers and sip French wines with a sommelier-led tasting. Rest your feet during lunch at a typical Parisian café and refresh with an afternoon tea-and-pastry break. Group size is limited to 8 for a personalized small-group experience. The tour includes lunch and all tastings.
Highlights
Full-day gourmet walking tour of Paris
Taste local cheese and wine at the Marché d'Aligre
Enjoy lunch at a typical Parisian café
Indulge your sweet tooth at Paris' most famous chocolatiers
Sip afternoon tea or coffee paired with a French pastry
Try four different French wines during an informative tasting session
What You Can Expect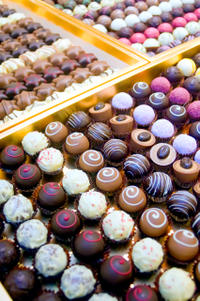 Indulge your taste buds with a delectable day exploring the very best bites in Paris. Come prepared with your appetite and your walking shoes, and make your way to the Ledru-Rollin metro station in the 12th arrondissement to meet your guide, a local foodie.
Begin in the city's Bastille district, where you'll wander through the Marché d'Aligre — an authentic neighborhood market where many locals come to shop. Stroll among vendor stalls piled high with fresh produce, and taste local wine and cheese while chatting with merchants. Next, take a break for lunch at a typical Parisian café, and savor seasonal French cuisine served with wine.
Continue on to the artistic enclave of St-Germain-des-Prés for sweet and satisfying stops at three of the city best confectionaries, which may include Chocolats Richart, Pierre Marcolini, Debauve et Gallais and Patrick Roger.
After indulging in tastings of chocolates and macarons, rest your feet at a traditional salon de thé (tea room). Rejuvenate with your choice of tea, coffee or hot chocolate paired with a fresh-baked pastry.
For a fantastically French finish, visit the renowned wine cellars of Paris Cave to taste four different wines under the expert guidance of a sommelier. Learn what makes French wines so exquisite, and learn tips for pairing while you snack on a shared charcuterie platter.
After a full-day of feasting, your 7-hour tour concludes at Paris Cave in the evening.
July 2014
An absolute must! If you want to immerse yourself and really experience delicious food and Parisian culture, let yourself be guided through this amazing experience.
Edward C G USA
June 2014
the best. Our guide was fantastic. Loved every minute!
Headwaysalon Australia
January 2015
August 2014
Really fun, our guide David was awesome. The only down side was that we only had red wines throughout the day and out of our group of four I was the only one that really enjoyed red, so that was a disappointment.
June 2015
Another bad experience on this trip. We followed the instructions exactly to get the meeting place at the appointed time. We were told to meet at the news stand next to Café du Faubourg. Found the café, but no news stand nor guide waiting for us. Inquired inside the café and they had no knowledge of a news stand anywhere nearby. Wandered around for 15 minutes and finally gave up and did our own food and wine tour.
August 2014
This was the worst of all the Viator tours my husband and I participated in Paris and London. We Paid a lot of money for what promised to be a 7-hour, walking Gourmet food and wine tasting tour. It turned out to be a waste of both time and money. Viator's only motive appeared to be a high (extremely so) profit margin on this tour. Everything was done on the cheap. We were met by a 20-year old student outside the Metro station and led first to a farmer's market where we spent a fair amount of time tasting a
few free samples, selected merchants offered. Then we were led to some small back alley stores where the guide purchased small amounts of a few different cheeses and meats that the guide spread on the top of a wine barrel and tasted them along with a single red wine from a half bottle. After that the guide took us to a cheap eatery where we had lunch. After asking us to choose what we wanted to eat from the menu where no entré was more than 15 Euros, the guide came up with the worst (and the most insulting) surprise that the tour only allowed 15 E per person and anything over that we had to pay. The bill came to 58 Euros for three, including the guide and we were asked to pay an additional 15 Euros to cover our allowance of 30.
This was not only not mentioned in the Ticket/Voucher, but entirely uncouth and uncalled for after being charged a hefty sum. The guide then led us back to the same small back alley wine shop and had us taste one more wine, and ended the tour at a small chocolate shop where we tasted a few wafer-thin chocolates. I would strongly recommend against this tour and suggest anyone considering it
would be better off spending the time and money elsewhere in Paris.
Advertisement
Advertisement