Discover the iconic attractions of Paris at your own pace on a 1- or 2-day hop-on hop-off bus tour of the captivating French capital. Aboard a distinctive double-decker bus, admire the quaint cobbled streets of the Left Bank and the military splendor of Ecole Militaire and enjoy excellent views of landmarks like the Eiffel Tower, Notre Dame and the Louvre from the open-top upper deck. Whenever an attraction captures your attention, disembark to explore further and then simply rejoin the tour at a time and bus stop convenient to you.
Highlights
1-day or 2-day hop-on hop-off Paris tour
Four interconnecting routes show you the best of Paris
Hop on or off wherever you choose from one route to another
Choose from one-day or two-day unlimited-use pass
Onboard commentary
Why Our Insiders Chose This Tour
Flexible and economical! Four interconnected routes give you access to all the main sights. You can chill out on the bus for an entire loop or hop off at every attraction that catches your eye.
Recent Photos of This Tour
Paris L'Open Hop-On-Hop-Off Tour
What You Can Expect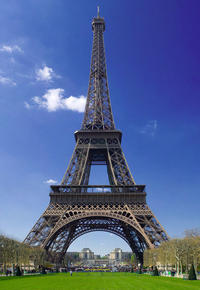 Begin your tour at a conveniently located bus stop near to your hotel and set out to explore the spectacular sights of Paris. Select between four interconnected tour routes and use your 1- or 2-day ticket on any of them.
Choose the Paris Grand Tour route to see iconic attractions like the Notre-Dame Cathedral, the Louvre Museum, the Arc de Triumph and the Eiffel Tower. Opt for an alternative experience with the Montmarte – Grands Boulevards route and see elaborate structures like the Gare du Nord, Gare de l'Est and Grands Boulevards.
Take the Montparnasse – Saint-German route and disembark at mysterious spots like the Catacombes and Invalides to discover the dark side of the City of Light. Enrich your historical knowledge on the Bastille-Bercy route and see ancient highlights like the Gare de Lyon, the Parc de Bercy and the Bastille.
Each route lasts between 1 and 2 hours and buses depart every 10, 15, 20 or 30 minutes depending on the route selected. Please see the Itinerary section below for a detailed list of stops serviced on each route.
Itinerary
Paris Grand Tour Stops:
1. Auber ("La Boutique", Printemps Haussmann, Grands Magasins)
2. Opera (Place Vendome, Cafe de la Paix)
3. Palais Royal (Jardins du Palais Royal)
4. Musee du Louvre (Jardin des Tuileries)
5. Pont-Neuf (Conciergerie, Square du Vert Galant)
6. Notre-Dame (Cathedrale, Saint-Louis, Marche aux fleurs)
7. Saint-Michel (Place Saint-Michel, Sainte-Chapelle)
8. Musee d'Orsay (Quais de Seine, Pont des Arts)
9. Concorde (Obelisque de la Concorde, Musee de l'Orangerie)
10. Champs-Elysees Clemenceau (Grand-Palais, Petit Palais, Marche aux Timbres)
11. La Boetie - Champs-Elysees (Avenue Montaigne)
12. George V (Arc de Triomphe)
13. Charles de Gaulle-Etoile (Arc de Triomphe)
14. Trocadero (Musee dArt Moderne, Musee de la Marine, Musee Guimet)
15. Tour Eiffel (Champs de Mars)
16. Vauban-H'tel des Invalides (Tombeau de Napoleon, Ecole Militaire)
17. Esplanade des Invalides (Musee Rodin, Musee de l'Armee)
18. Concorde-Royale (Boutiques de la rue Saint-Honore et de la rue Royale, Maxim's)
19. Madeleine (Eglise de la Madeleine)

Bastille - Bercy:
6. Notre-Dame (Cathedrale Notre-Dame de Paris, Marche aux Fleurs, Ile Saint-Louis)
30. Petit-Pont (Quartier Latin, Eglise Saint-Severin, Musee de Cluny)
70. Maubert-Mutualite (Musee de la Prefecture de Police, Pantheon, Sorbonne)
71. Pont de Sully - Ile Saint-Louis (Institut du Monde Arabe, Jardin desPlantes)
72. Bastille-Opera (Opera Bastille, Port de plaisance de l'Arsenal)
73. Gare de Lyon (Viaduc des Arts et Coulee Verte)
74. Gare d'Austerlitz - Jardin des Plantes (Museum National d'Histoire Naturelle)
75. Bibliotheque Nationale de France (devant l'entree Est)
76. Parc de Bercy (Palais Omnisports de Paris Bercy et Jardins, Cour Saint-Emilion)
77. Bastille - Rue Saint-Antoine (Colonne de la Bastille, Port de plaisance de l'Arsenal)
78. Le Marais - Place des Vosges (Musee Carnavalet, Musee Picasso, Hotel de Sully)
79. Hotel de Ville (Centre Georges Pompidou (Beaubourg), Les Halles)

Montmartre - Grands Boulevards:
1. Auber ("La Boutique", Printemps Haussmann, Grands Magasins, Galeries Lafayette)
50. Trinite (Gare Saint-Lazare)
51. Blanche (Pigalle, Moulin Rouge)
52. Montmartre-Anvers (Funiculaire, Basilique du Sacre-Coeur, Place du Tertre)
53. * Gare du Nord - Eurostar Terminal (Saint-Vincent de Paul, Terminaux Eurostar et Thalys)
(The bus stop is in the street directly outside the station forecourt. Look for the L'Open tour sign on the bus stop sign.)
54. Gare de l'Est (Mus'e du Cristal)
55. Republique (boulevard Saint-Martin, Canal Saint-Martin)
56. Bonne-Nouvelle (Theatre du Gymnase, Grand Rex)
57. Grands Boulevards (Musee Grevin, Theatre des Varieties)
58. Italiens (Grands Magasins, Opera Garnier)
59. Capucines-Scribe (Place Vendome, Cafe de la Paix, Opera Garnier)
19. Madeleine (Eglise de la Madeleine)

(* For Eurostar passengers - Join the tour at Gare du Nord station which is part of the Montmartre - Grands Boulevard route)

Montparnasse - Saint-Germain Stops:
30. Petit Pont (Quartier Latin, Eglise Saint-Severin)
31. Luxembourg (Palais et Jardin du Luxembourg, Pantheon, Sorbonne)
32. Observatoire (Val-de-Grace, Jardins de l'Observatoire, Musee Zadkine)
33. Place Denfert-Rochereau (Catacombes, rue Daguerre)
34. Raspail - Cimetiere du Montparnasse (Fondation Cartier, Ateliers d'Artistes)
35. Montparnasse - Place du 18 juin 1940 (Tour Montparnasse, Musee Bourdelle)
17. Esplanade des Invalides (Musee Rodin, Musee de L'Armee)
36. Rue du Bac (Hotel Matignon, Maison de l'Amerique Latine, Musee Maillol)
37. SaInt-Germain-des-Pres (Eglise SaInt-Germain-des-Pres, le quartier et ses terasses)
38. Cluny-Quartier Latin (Musee national du Moyen-age, Thermes et Hotel de Cluny)
39. Tours de Notre-Dame (Squares Viviani et Jean XXIII, Memorial de la Deportation)
* Nearest places of interest are noted in brackets
June 2016
June 2016
June 2016
We had no problems once we showed our voucher.
June 2016
Best way to cover the entire city! Very friendly and polite drivers and tour staff. We had initially booked for 2 days but they happily extended it for the 3rd day for a nominal difference.
June 2016
Extremely easy to locate the bus stop, which is right outside gard du nord's main entrance. Great way to tour around Paris with lots of destination, easy to switch between lines. Will definitely get this tour again for future longer stay in Paris.
June 2016
An interesting tour of Parisian sights with commentary along the way.
June 2016
Great way to see the highlights of Paris. Well-planned bus routes. Through no fault of this company, some routes were interrupted due to demonstrations and riots. Unfortunately our children witnessed police in riot gear using tear gas and water hoses on demonstrators near the Tour Eiffel. We had to walk a few miles out of our way to get around this mess and continue on a route that directed us away from this horrible event. Check current events before traveling here.
June 2016
A great service which enabled us to move around Paris easily.
June 2016
Excellent tour with good prerecorded information available at every seat. There is no live narration by the driver not even in French. A set of earbuds is provided along with your ticket. The many different routes allow you to get to all the most popular sites. There are also stops shared by the different routes so you can easily change buses to use all four tours.
June 2016
Advertisement
Advertisement