Discover the history and highlights of Paris' Montmartre or Left Bank district with a wine and walking tour! Choose the neighborhood that most interests you, and spend 3 hours exploring with your knowledgeable, wine-loving guide. Pass by the famous monuments of Paris, such as Notre Dame, the Panthéon and the Sacré Coeur Basilica, and stop in at three charming Parisian wine bars along the way. Get professional tasting tips and learn about the famed winemaking regions of France as you sip and savor a selection of excellent wines.
Highlights
3 hour wine and walking tour of Paris' Left Bank or Montmartre district with a wine-expert guide
Absorb the highlights and hidden corners of your chosen district, with wine tastings on route
See Notre Dame Cathedral and the Panthéon on the Left Bank tour
Admire the Sacré Coeur Basilica and Paris' last working vineyard on the Montmartre tour
Visit a selection of wine bars, cafés or gourmet wine shops favored by the locals
Enjoy three wine tastings as you learn about French winemaking from your guide
Immerse yourself in the authentic wine and bar culture of your district
Recent Photos of This Tour
What You Can Expect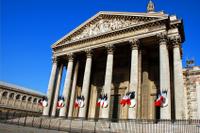 Delve into the fascinating history of Paris while tasting your way through one of the city's captivating districts. Select from a tour of the Left Bank or Montmartre, and make your way to a convenient central location to meet your wine-enthusiast guide.
With either choice, spend approximately 3 hours exploring famous monuments and charming backstreets by foot as your guide illuminates the history of the neighborhood and shares tales about famous former residents. Along the way, stop in at three different wine bars for a guided tasting of fantastic French wines.
See Itinerary below for complete tour details.
Itinerary
Left Bank Wine and Walking Tour
Meet your guide in the vibrant Left Bank area of Paris near the Seine River, and set out down the cobbled Rue Mouffetard, known for its food shops and markets.

Hear about the street's history and links to late author Ernest Hemingway, before visiting a wine bar and enjoying your first wine tasting. After, resume your travels, passing Saint-Medard Church and a bar made famous by the movie Amélie, on route to the Panthéon, a temple commissioned by French king Louis XV in 1744.
After admiring the Panthéon, stop for a second wine tasting and then continue past the Sorbonne University to the Seine River before heading inside a wine shop offering local favorites and seasonal choices.

Settle into the traditional interior for your third wine tasting, and then finish your tour at a neighborhood bistro.
Montmartre Wine and Walking Tour
Make your own way to the Montmartre district, meet your knowledgeable guide, and head for your first stop, Paris' last working vineyard.
Take in the sight of the leafy vines flanked by houses and hear about its history and wine production. Then, stroll into picturesque Montmartre to the tree-lined Place du Tertre, filled with outdoor art stalls. Learn how the area inspired artists such as Renoir and Picasso, and delve into the cobbled streets to seek out the best wine bars.
Stop at three traditional bars and sample a delicious wine in each as you learn how it's made by some of France's smaller producers. As you sip, chat over the wine's characteristics with your guide and the rest of your group.
Lastly, walk up to the hilltop Sacré Coeur Basilica and absorb the sweeping views over Paris. Then, finish your tour with a third wine tasting before saying goodbye to your guide.
October 2015
Suzanne was awesome! We learned a ton about the Montmartre area and about French wines. We have a new appreciation for both.
September 2015
While it was a rainy day, it was a great walking tour. Toured the Left Bank and Jean-Claude was an excellent guide AND an excellent wine master. Very informative about the area, history, the wine regions of France and educating us on how to better understand the wine regions and also how to get the most of our tasting experience. Made three stops at local wine bars and tasted three different wines. Great experience.

September 2015
This was a fantastic experience and a highlight of our fabulous but short stay in Paris.
Our guide Elizabeth was not only delightful but she was incredibly informative. We learnt so much. She took us on a journey of understanding and appreciating French Wine. We visited 3 wine bars and the journey unfolded over that time. She tailored the wines to our tastes.
We loved the setting in the Left Bank. Neither of us had been there before which made it even more special. We particularly loved that my sister and I had Elizabeth all to ourselves!
It was a fabulous experience and I would recommend it highly to anyone with a keen interest in wine!
July 2015
This was really fun. Our guide, Jean, was knowledgeable and interesting. The wines we tasted were good. I recommend this tour!
July 2015
Jean was very knowledgable about both the history of wine, and the Montmortre area. It's a beautiful part of Paris that we never would have explored had it not been for this tour.
June 2015
The guide or better the expertize was perfect.
December 2014
A delicious and superb afternoon with Charlotte! It was just my wife and I...Charlotte took us to some great local spot, we sampled some great wines and took in some great scenery and enjoyable shop along the way. What a wonderful way to be introduced to some of Paris's local/off the touristy routes. Merci Beaucoup Charlotte! à bientôt !
March 2014
Most fun part of our trip. Met Elizabeth our guide in a great neighborhood outside the tourist zone of Paris. Elizabeth was highly knowledgable and a great guide. Money well spent.

January 2014
There were only 2 of us on the tour. Charlotte was an excellent guide. She was knowledgeable about wines from France and also knew about the area. We felt that we learnt not only about wine and the Left Bank but about life as a Parisian.
September 2013
Another of our favorite tours on our trip. We had booked this tour assuming there would be 6-10 people on the tour, but we got very lucky and it was just the two of us and our guide. Since it was just the 3 of us, we were able to take our time and enjoy our guide's extensive wine knowledge and knowledge of the history of the area. We drank glasses of wine and walked and talked and had a terrific day. We know the tour ran longer then its scheduled time, but that's because we were enjoying each other's company so much that we ended up just sitting at cafes and chatting while drinking (and learning) about wine. A great great great tour!
Advertisement
Advertisement