See in the New Year in style on this New Year's Eve illuminations and dinner experience in Paris. Explore Paris by air-conditioned coach as the festive lights shimmer and twinkle. Gain insight into the French capital's history via the on-board commentary, and discover top attractions including the Eiffel Tower, Place de la Concorde and the Arc de Triomphe. Enjoy a romantic 3-course dinner with Champagne, music and dancing at a local restaurant or on a river cruise. Then, raise a glass to the New Year with old friends and new!
Highlights
Welcome Paris New Year in style with an Illuminations tour and dinner

Night tour through Paris' illuminated squares and monuments. See the maginificent lights at the Eiffel Tower and Avenue Champs-Elysées

Enjoy a three-course New Year's Eve meal in a quality French restaurant

Dance your way to the end of the year with a live DJ

Celebrate the arrival of the New Year in style
What You Can Expect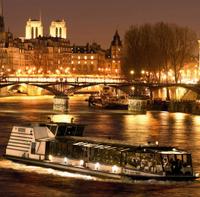 There's nothing quite like Paris at night- especially on New Year's Eve. Board your coach, sit back and watch Paris transform into the "City of Light" after dark. You'll learn about Paris' history through your on-board commentary as you tour the city's tree-lined boulevards with their animated cafes and brilliantly illuminated monuments and squares. The sights you'll see include the Eiffel Tower, Place de la Concorde, Avenue Champs-Elysées, Arc de Triomphe, Trocadero and Notre Dame Cathedral.
After your Paris illuminations evening tour, you'll be dropped off at an exclusive Parisian restaurant or by the banks of the Seine to enjoy a river cruise and dinner. New Year's Eve bookings fill up fast in Paris, but the illuminations tour ensures a spot at one of Paris' local restaurants.
Choose to dine in one of the following Parisian restaurants. Enjoy a 3-course meal followed by dancing to see in the New Year!
Chez Clément: Chic and cosy restaurant located in the Montparnasse district, ideal to celebrate New Year
La Marina de Paris with Hotel Pickup and Drop Off: River cruise, dinner and DJ with the benefit of hotel pickup and drop off (there is no illuminations tour with this option)


La Marina de Paris:

Enjoy a 4-course dinner and river cruise to see in the New Year in style
Itinerary
Sample Menus:

Chez Clément
Aperitif
Champagne
Lobster and Celery

Starter
Lobster, chocolate flavors

Main course
Beef tenderloin in pastry, served with mixed fried mushrooms and duck fois gras sauce

Dessert
Chocolate Surprise
Coffee and sweet delights

Drinks
Unlimited Champagne
Mineral Water


La Marina de Paris:

Aperitif
Champagne and Three Toasts

Starter
Duck foie gras with apple chutney, raisin and hazelnut bread OR Scallop brochett with lobster juice, fondant leeks

Main Course
Tournedos fillet of beef, white truffle flavored potato rosette
Cheese
Dessert
Drinks
1/2 bottle per person: White Chablis le Finage a Chablisienne or Red Saint Emilion Chateau Barbe Blanche
Mineral water
Coffee
Menus are subject to change without notice
January 2013
The illuminations tour was nice and the lights were beautiful at night. Our food at the restaurant was ok. The restaurant upkeep was not overly impressive and I was cautious of the hole in the wall with the electrical wires/box/outlet hanging out below our table next to our legs.
Peter M Australia
January 2011
Unfortunately we had taken a day tour of Paris the previous day which covered all the highlights of this tour. However, it was well organised and we enjoyed it.
The New Year's Eve Dinner was superb and good value. The restaurant staff were very attentive and spoke good English.We had a great time.
Keith S USA
July 2010
The Paris tour was fantastic. The guides spoke five languages and took time to detail the sights. The tour showed you multiple views of main sights and the audio on the bus did not fail like most tours or be out of sync by an uncaring driver. The meal was served outside and that it was very cold took away a lot from the night. I had the impression I would SEE fireworks in Paris. I did not. The location made that not possible but the crazy people on the streets made up for that. I felt safer than in New York despite the crowds. Learn the French rail system before negotiating the rails. They are safe but there are some quirks. Everything is expensive but you have to do what works for you.
February 2011
iLLUMINATIONS tOUR GOOD, DINNER WAS O.K.
January 2011
Dinner was average and service was poor. More description should have been given about restaurant.

Della Australia
January 2013
This being a tour I thought we would of all been together as a group, me being a one, was sitted right in the middle of the restaurant on a little table all by myself. Maybe it should be mentioned on the sitting configuration, I would not have booked it, was stared at all night very uncomfortable.
January 2012
The night tour was great but the restaurant selected was not ready for us and made us wait in the rain. There was no dancing and I was sat in the smoking section. This was a terrible dinner selection. Me and My son left before dessert because it was sooo bad and we did not want to ruin our new years eve.
January 2012
Restaurant only so-so :-(
And 300 Euros for a bottle of champagne is overcharging !
January 2011
The tour through central Paris celebrating New Years eve was magnificent showing an illuminated and sparkling Paris. The following dinner was a set back though: the restaurant was much to small, the food was not particular good and it took forever to serve it. We did not finish eating until 1 o'clock, obviously the entry into 2011 did not take place in the streets of Paris as I expected. A better restaurant would have made all the difference.
January 2014
Tour was awful and food was horrible.
Advertisement
Advertisement