Pedal through the City of Light on a Paris night bike tour to see the city illuminated and at its most dazzling. Ride past famous Parisian landmarks and attractions. First-time visitors to Paris get a great overview of the city from this tour, while veterans will undoubtedly learn new things about Paris and gain a newfound appreciation for the city.
Highlights
Paris night tour by bike

See Notre Dame, the Louvre Museum and other illuminated monuments of Paris

Watch Paris light up while cycling through parks, bike lanes and sidewalks

One-hour Seine boat cruise with wine

Recent Photos of This Tour
What You Can Expect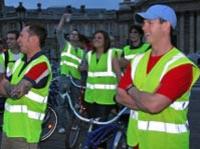 Paris at night is illuminated and alive, so it's a great time to explore the city. Hop on a bike to cover more ground. The ride is relaxing, not strenuous, and is designed to be fun for all fitness levels. There are regular stops along the way for photo-ops, though the night bike tour involves a bit more riding and a little less information than the day tours.
Enjoy a relaxed side of Paris during a night bike tour that includes a 1-hour cruise on the Seine – including free wine during the cruise.
Some of the highlights of this Paris night bike tour are:
Notre Dame: One of the world's most famous cathedrals. Learn about centuries of history, the purpose of the flying buttresses and how the city of Paris began on this little island.




Louvre Museum: The massive museum contains some of the best-known art in the world. Ride into the back courtyard of the museum for a different viewpoint.




Seine River Cruise: Paris from the river is magical. Pass famous attractions like Notre Dame, the Louvre, the Hotel de Ville, the Musee d'Orsay and the iconic Eiffel Tower among others.




Berthillon: Stop for ice cream at this famous shop, choosing from more than 20 flavors, and pause to eat on the bridge between the Ile St. Louis and Ile de la Cite as you listen to stories about Paris' early history.



Other landmarks you'll see during the bike tour include the beautiful St. Chapelle church, the Latin Quarter, the Pont des Arts, the Academie Francaise, Princess Di's flame and much more.

April 2016
Great way to see various parts of the city with the incredibly knowledgeable guide Malcolm! Especially enjoyed the hour-long boat tour portion of the tour!
March 2016
This Paris night bike ride was fantastic, Malcolm our tour guide was enthusiastic and passionate about sharing his knowledge of the places we visited.
All going well I looking to book the Monet Garden trip in June with the same company.
November 2015
Great leader ..... interesting facts and discussion enjoyable ride river trip great
November 2015
Fantastic way of getting an overview of Paris. Well prepared and nice guide, sporty group and new way of seeing Paris.
November 2015
This tour was a great way to see Paris. The tour guide was fun, informative and a great guide - he definitely knew Paris. I would highly recommend this tour - it was great fun to ride around Paris in the evening. Thanks guys
November 2015
Perfect night with good weather, full moon. The tour guide Alan was THE BEST!! He is funny, knowledgeable and was one of the highlights of our time in Paris.
Tim

November 2015
Very fun!! Great tour guide!
October 2015
This was an awesome experience!!! The price was reasonable for what we got. Well worth it and I would suggest it to anyone going to Paris!
October 2015
Elsa was amazing. She has ruined me for other tour guides. Her energy was fantastic and she was knowledgeable. She spoke to everyone in her group and she made sure to guide us around the city safely. This your made me fall even more in love with Paris, because it and #39;s beauty at night is unparallel.

October 2015
Did the Paris by night tour and exceeded all expectations!
Getting to dupleix station to meet the staff and fellow bikers was simple. Upon the exit of the station as you see the info desk, make a quick exit right and across the street you'll see their sign and people there. Simply give your last name and then follow them to their store to get fitted.
After getting fitted, you line up across the street and meet your guide. Our guide Frazer Not Frasier was amazing throughout the whole tour. Always making sure everyone was still alive and giving the best history talk about each stop we had. Right when the sun was setting, we had a quick stop to get some ice cream and to enjoy the scenery at the Island.
It is the luck of the draw as to who will be on your bike team so they can make it fun or terrible as well so good luck! Our team of Bikers included mostly americans and one couple from Australia and made the tour even more fun! All the personalities from everyone was very outgoing and social and we were quick to make new friends. This gets even better as the night goes on because you get to go on a boat and drink some wine while cruising down the river.We then return to our bikes which we parked at the entrance of the boat cruise and start the nostalgic bike ride back to their store. A quick thank you to everyone there and you were gone into the Paris night!
I wouldn't do it again because this was like an introduction tour of Paris so if you've been to Paris before, there are other tours that take you more in-depth with a specific place.
But if you want a quick tutorial of everything in Paris, this tour is the best you can choose and I highly recommend doing it!!!!
Advertisement
Advertisement