404 Reviews
Location:

Paris, France

Duration:

4 hours 30 minutes

(approx.)
Paris Night Bike Tour is perfect for both those new to the city and Parisian veterans. For the beginners, this tour will offer you a fantastic orientation and give you an opportunity to see virtually all of the sites you've read about. For the veterans, you will learn new facts and stories about Paris that you've never heard before. You are sure to agree that riding a bike is the best way to see the "City of Light".
Highlights
Paris night tour by bike

See Notre Dame, the Louvre Museum and other illuminated monuments of Paris

Watch Paris light up while cycling through parks, bike lanes and sidewalks

One-hour Seine boat cruise with wine

Recent Photos of This Tour
What You Can Expect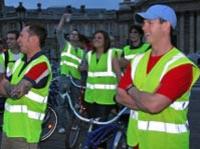 The ride is not the least bit strenuous, rather relaxing, energizing and fun. And of course you will stop regularly for photo opportunities. There is more riding involved and slightly less information than on the day tours, but the city at night is fantastic! You will cruise through Paris as the city lights up and you see Paris from both bike and boat (free wine is included on the boat cruise). It is a more relaxed atmosphere as the wine tends to loosen everyone up a bit.
Highlights of the Paris Night Bike Tour include:
Notre Dame - the most famous cathedral on the planet. Learn about the famous flying buttresses, the history inside the cathedral and how Paris can trace its roots to the Ile de la Cite.
The Boat Cruise - the most popular activity of the Night Tour is a one hour cruise on the Seine through the heart of the illuminated "City of Light". Sail past the Eiffel Tower, Notre Dame, the Louvre, Hotel de Ville and Musee D'Orsay just to name a few.
The Louvre Museum - this is a truly magical place at night. Standing in the back courtyard of the Louvre will make you feel that you've been launched back into medieval times.
Berthillon Ice Cream - by far the most famous ice cream shop in Paris. If you like, buy a scoop of about 20 offered flavors as your guide tells you about the early history of Paris. Eat on the Pont (bridge) St. Louis, connecting the Ile de la Cite and the Ile St. Louis, which provides one of the most beautiful vistas the city has to offer.
You will also see the Eiffel Tower, the Cite and St. Louis islands, St. Chapelle, the Latin Quarter, Academie Francaise, the Pont des Arts, the Champs-Elysees, Princess Di's Flame, the Arc de Triomphe and much more!
November 2015
Great leader ..... interesting facts and discussion enjoyable ride river trip great
November 2015
Fantastic way of getting an overview of Paris. Well prepared and nice guide, sporty group and new way of seeing Paris.
November 2015
This tour was a great way to see Paris. The tour guide was fun, informative and a great guide - he definitely knew Paris. I would highly recommend this tour - it was great fun to ride around Paris in the evening. Thanks guys
November 2015
Perfect night with good weather, full moon. The tour guide Alan was THE BEST!! He is funny, knowledgeable and was one of the highlights of our time in Paris.
Tim
November 2015
Very fun!! Great tour guide!
October 2015
This was an awesome experience!!! The price was reasonable for what we got. Well worth it and I would suggest it to anyone going to Paris!
October 2015
Elsa was amazing. She has ruined me for other tour guides. Her energy was fantastic and she was knowledgeable. She spoke to everyone in her group and she made sure to guide us around the city safely. This your made me fall even more in love with Paris, because it and #39;s beauty at night is unparallel.
October 2015
Did the Paris by night tour and exceeded all expectations!
Getting to dupleix station to meet the staff and fellow bikers was simple. Upon the exit of the station as you see the info desk, make a quick exit right and across the street you'll see their sign and people there. Simply give your last name and then follow them to their store to get fitted.
After getting fitted, you line up across the street and meet your guide. Our guide Frazer Not Frasier was amazing throughout the whole tour. Always making sure everyone was still alive and giving the best history talk about each stop we had. Right when the sun was setting, we had a quick stop to get some ice cream and to enjoy the scenery at the Island.
It is the luck of the draw as to who will be on your bike team so they can make it fun or terrible as well so good luck! Our team of Bikers included mostly americans and one couple from Australia and made the tour even more fun! All the personalities from everyone was very outgoing and social and we were quick to make new friends. This gets even better as the night goes on because you get to go on a boat and drink some wine while cruising down the river.We then return to our bikes which we parked at the entrance of the boat cruise and start the nostalgic bike ride back to their store. A quick thank you to everyone there and you were gone into the Paris night!
I wouldn't do it again because this was like an introduction tour of Paris so if you've been to Paris before, there are other tours that take you more in-depth with a specific place.
But if you want a quick tutorial of everything in Paris, this tour is the best you can choose and I highly recommend doing it!!!!
October 2015
This bike tour was one of the highlights of our time in Paris!!! Seeing Paris by night is a whole new experience. We had a great tour guide who was charming and very informative. I highly recommend this to everyone....don't miss out!
October 2015
This was a fabulous, fun tour! Scary at times weaving through the Paris traffic, but we thoroughly enjoyed it and learnt a lot of interesting and unusual facts about various well known, and not so well known, landmarks.
Advertisement
Advertisement