Absorb the electric atmosphere of a Parisian cabaret during a spellbinding performance at the Paradise Latin in Paris. Head to the French capital's vibrant Latin quarter for an exuberant evening of dinner, champagne and dancing; select from an enticing array of gourmet menus and sip champagne as you watch a talented troupe of showgirls deliver a spellbinding performance at the oldest French cabaret venue in the world. Book early to avoid missing out on this sell-out show.
Highlights
Spectacular cabaret show at the Paris Paradis Latin
Choice of champagne and show only, or dinner, champagne and show
Dinner show includes choice of three French gourmet menus
Fabulous dancers, costumes, music and theatrical effects
Visiting Paradis Latin over the Christmas period? Book our special Christmas Eve or New Years Eve menu options

Why Our Insiders Chose This Tour
Paradis Latin is the most intimate cabaret setting in the city, and this show is the only Paris cabaret to feature live singing throughout -- not to mention incredible tap dancing and the famous cancan.
Recent Photos of This Tour
Paris Paradis Latin Dinner and Show
What You Can Expect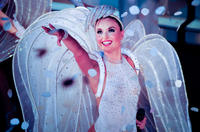 Make your own way to Paradis Latin, a historical establishment declared the most authentic of French cabaret venues, and absorb the vibrant atmosphere as you take a seat before the stage.
If you have opted to enjoy dinner with the show, feast upon a gourmet meal prepared by professionally train chefs. Enjoy French specialties created using the finest ingredients, opting for an indulgent bottle of champagne if you wish, and then feel your excitement heighten as an expectant hush descends over the audience. Gasp as the stage explodes into a kaleidoscope of color and energy, and feel the pulsating rhythm of the music penetrate your body.
After delighting in the dazzling costumes and incredible choreography, applaud raucously as the show reaches its dramatic conclusion.
The Paradis Latin regularly sells out weeks in advance, so book in advance to avoid disappointment. Enjoy the special Christmas, New Year's Eve and Valentine's Day menu on those special days of the year. Please see the Itinerary section for a sample menu.
Itinerary
Paradis Latin Dinner Menu Options:
Subject to change at any time without notice.


FESTIVAL MENU:

Shrimp in puff pastry OR Salad "Perigourdine style"
Fricassee of chicken in zucchini flan OR Fresh salmon with provencale stewed vegetables OR Large vegetarian plate
Panachee of ice cream
Half bottle of Bordeaux wine, quarter bottle of Champagne and half bottle of mineral water
STAR MENU:

Foie gras, toasted brioche OR Smoked salmon OR Escargot
Filet of Bass with lemon confit and braised endive OR Chateaubriant in four pepper sauce with gratin dauphinois, OR Sliced breast of duck in cranberry and honey sauce, rosettes of potatoes
Fine apple tart, sauce caramel OR Symphony of sorbet

Half bottle of Bordeaux wine, quarter bottle of Champagne and half bottle of mineral water
PRESTIGE MENU:
Tartar of sea bream with ginger and lime OR Petals of crab with mango and citrus
Noisette of lamb in herb crust medley from the garden OR Tournedos of beef rossini in gratin dauphinois OR Fresh cod with selection of stir-fried vegetables

Paradis latin OR Nougat glacé

Half bottle of Bordeaux wine, quarter bottle of Champagne and half bottle of mineral water
VALENTINE'S MENU:
Selected dates February 14
Champagne
Foie Gras, four pepper crush, toasted brioche and Champagne gelee
Fillet of bass with fennel, tulip of mushrooms and a delicate ginger sauce OR grilled breast of duck with cranberry honey, seasonal vegetables
Gateau Paradis Latin, with powered cocoa, citrus and red berries
Half bottle of Bordeaux wine and Champagne at your discretion
CHRISTMAS EVE MENU:
December 24
Aperitif Royal du Paradis Latin
Thick sliced center cut smoked salmon, blinis and a Christmas spiced sauce

Stuffed free-range Turkey
Traditional Christmas Yule Log
Coffee
Half bottle of Bordeaux wine, quarter bottle of Champagne, half bottle of mineral water

GALA NEW YEARS EVE MENU:
December 31
Duck foie gras with two aspic jellies and toasted Brioche
Petals of crab, extra virgin olive oil jus, pine nuts and fresh herbs
Tournedos of roasted veal with baby spring vegetables and gratin Dauphinoise
"Paradis Latin", by Carl Marletti
Coffee, tea and croissants at 4am
Bordeaux wine at your discretion during dinner
Brut Champagne at your discretion during the evening
June 2016
A delicious meal, wine and great entertainment. Can't ask for more than that!
April 2016
We could not attend for reasons beyond our control. Cause and effect of Paris Shuttle.
December 2015
Very god food and wonderfull show!
November 2015
We thoroughly enjoyed our evening at the Paris Paradis Latin Dinner show. The show was very well done with a variety of acts. The scenery, costumes and girls were lovely. We were very happy with our meal and the service was very good.. We liked the fact that we ate our dinner before the show began so we could concentrate on enjoying the show. Would recommend this as a lovely way to spend an evening in Paris!
November 2015
My husband and I really enjoyed ourselves.
The meal was very good and the show was excellent.
We would recommend this 100
October 2015
Excellent routines and satisfactory meal. A good night out
October 2015
Excellent dinner and fantastic show! I do reccomend
October 2015
Wait staff was excellent as was show!!! Highly recommend to anyone and well worth the cost!
October 2015
Great show and excellent dinner for a reasonable price!
October 2015
The cabaret was fantastic! Worth the time and money. Using viator for our ticket purchase was extrermly helpful and easy! Definitely recommend this to anyone going to paris!
Advertisement
Advertisement