Granting free entry to the best attractions in the City of Light, the Paris Pass makes sightseeing hassle-free. You'll skip the lines at many key attractions, such as the Louvre and Musée d'Orsay, which means you'll see and do more during your Paris vacation. The Paris Pass also features freebies at some shops and restaurants.

Highlights
Sightseeing with the Paris Pass with free admission to over 60 attractions
Choose from a 2, 4 or 6-day Paris Pass
Free use of public transport
Skip the line entrance to Paris' most famous attractions, including the Louvre Museum, Musée d'Orsay and Arc de Triomphe and Centre Pompidou

FREE entry to Paris' best attractions including, Musée Grévin and Tour Montparnasse Tower
Special offers at restaurants and shops
Free map of Paris
Why Our Insiders Chose This Tour
I think this pass is indispensable for anyone wanting to see as much as possible in Paris. You get subway and bus access, skip-the-line admission to some of the city's best sights and a handy city map. Saves time and money!
Recent Photos of This Tour
What You Can Expect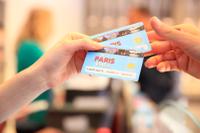 There's no need for cash when you have the Paris Pass. Just show your pass at more than 60 Paris attractions, including some of the city's most beloved museums and churches, and you'll skip the long queues to gain quick and free entry. Purchase passes for two, four or six days.

Your Paris Pass includes:
A detailed Paris map
1-day hop-on hop-off tour
Free entry to more than 60 sights (for a full list, see 'Itinerary' below)
Some special offers at shops and restaurants
Complimentary use of the Metro and public buses in Paris Zones 1-3 while your pass is valid
Bypassing the lines at many major attractions in Paris, including the Louvre, Pantheon, Arc de Triomphe, Musée d'Orsay and Centre Pompidou.
Itinerary
The Paris Pass features FREE ENTRY to more than 60 of the top attractions in Paris, including:

Abbaye Royale de Chaalis- Musée Jacquemart André
Aquarium Tropical de la Porte Dorée
Arc de Triomphe
Basilique royale de Saint-Denis
1-hr Seine River Cruise
Centre Pompidou - Musée national d'Art moderne
Chapelle expiatoire
Chateau de Champs
Chateau de Maison-Laffitte
Chateau de Pierrefonds
Chateau de Rambouillet
Chateau de Vincennes
Cité des Sciences et de l'Industrie - La Villette.
Conciergerie
Crypte archéologique de Notre-Dame
Espace Dali
Maison d'Auguste Rodin Meudon
Musée Condé - Chateau de Chantilly
Musée d'art et d'histoire du Judaïsme
Musée d'Archéologie nationale de Saint-Germain-en-Laye
Musée de la Mode et du Textile
Musée de la Monnaie
Musée de la Musique - La Villette
Musée de la Poste
Musée de la Publicité
Musée de l'Air et de l'Espace
Musée de l'Armee, Tombeau de Napolon 1er
Musée de l'Assistance Publique - Hepitaux de Paris
Musée de l'Institut du Monde arabe
Musée national de l'Orangerie
Musée de l'Ordre de la Liberation
Musée de partemental Maurice Denis
Musée des Arts de coratifs
Musée des Arts et Metiers
Musée des égouts de Paris
Musée des Plans-reliefs
Musée d'Orsay
Musée du Cinema - La Cinematheque Francoise
Musée du Louvre
Musée du quai Branly
Musée et domaine nationaux du Chateau de Compiegne
Musée Grévin
Musée Gustave Moreau
Musée national de Ceramique de Sevres
Musée national de la Marine
Musée national de la Renaissance - Chateau d'Ecouen
Musée national de Port-Royal des Champs
Musée national des Arts asiatiques
Musée national des Chateaux de Malmaison et Bois Preau
Musée national des Chateaux de Versailles et du Trianon
Musée national du Chateau de Fontainebleau
Musée national du Moyen Age - Thermes de Cluny
Musée national Eugene Delacroix
Musée national Picasso
Musée Nissim de Camondo
Musée Rodin
Opéra de Paris - Palais Garnier Guided Tour
Pantheon
Sainte Chapelle
Tour Montparnasse
Tours de Notre-Dame
Villa Savoye
Special benefits include:
FREE perfume gift at Fragonard Parfumeur
FREE aperitif or creme brulee at Chez Clement restaurants
October 2015
Great addition to our trip. Easy to find off a subway stop. Cut the line experience into the Louvre, Musee D Orsay and Rodin home worth the price. Didnt take full advantage of all the benefits but will next time in Paris
October 2015
We used this everyday for museums....metro....etc.. Excellent value.
October 2015
This is a must for at least your first days in Paris. So easy to use and get around Paris.
October 2015
Well worth the cost! Easy to use.
October 2015
This pass was SOOOOO worth the money!!! We didn't even get to take advantage of a quarter of the things that it included, and we STILL got great use out of it! My favorite part was the unlimited use on the Metro!! A MUST BUY for sure!
September 2015
Definitely worth the money for the metro only, if you are going to be in Paris for a week buy the 6 day pass, unlimited use and so so easy to get around without issues
September 2015
September 2015
September 2015
Very Good! The 2 day pass is excellent. Gives you access to the subway, hop on/off bus, river cruise, museums, etc.
September 2015
There is so much to see, don't try and do it in one day. Pass was great and easy to use, but warn to make sure you buy multiple days. Just made life easier...........
Advertisement
Advertisement