Discover the joy of sightseeing with the Paris Pass, which gives you free entry to the best attractions Paris has to offer. Save time as you skip the queues with fast track entry at many attractions, including the Louvre and Musée d'Orsay, and take advantage of special offers at various Paris restaurants and shops.
Highlights
Sightseeing with the Paris Pass with free admission to over 60 attractions
Choose from a 2, 4 or 6-day Paris Pass
Free use of public transport
Skip the line entrance to Paris' most famous attractions, including the Louvre Museum, Musée d'Orsay and Arc de Triomphe and Centre Pompidou

FREE entry to Paris' best attractions including, Musée Grévin and Tour Montparnasse Tower
Special offers at restaurants and shops
Free map of Paris
Why Our Insiders Chose This Tour
I think this pass is indispensable for anyone wanting to see as much as possible in Paris. You get subway and bus access, skip-the-line admission to some of the city's best sights and a handy city map. Saves time and money!
Recent Photos of This Tour
What You Can Expect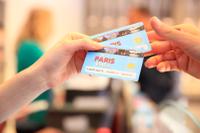 Save time as you skip the long queues, and save money with free entry to over 60 Paris sights and attractions. With your Paris Pass, there is no need to use cash, simply show your pass for fast entry. Choose from a two, four or six day pass.
Paris Pass includes:
A free map of Paris
1-day hop-on hop-off tour

Free entry to over 60 sights and attractions (see 'View Additional Info' below for full list)
Additional special offers and benefits at selected restaurants and shops
Free use of public transport within Paris Zones 1 - 3 (Metro and public buses) for the validity of your pass
Skip the queues with fast-track entry at many of the major sights, including the Louvre, Pantheon, Arc de Triomphe, Musée d'Orsay, Centre Pompidou and many more!
Itinerary
Paris Pass includes FREE ENTRY to over 60 top Paris sights and attractions, including:
Abbaye Royale de Chaalis- Musée Jacquemart André
Aquarium Tropical de la Porte Dorée
Arc de Triomphe
Basilique royale de Saint-Denis
1-hr Seine River Cruise
Centre Pompidou - Musée national d'Art moderne
Chapelle expiatoire
Chateau de Champs
Chateau de Maison-Laffitte
Chateau de Pierrefonds
Chateau de Rambouillet
Chateau de Vincennes
Cité des Sciences et de l'Industrie - La Villette.
Conciergerie
Crypte archéologique de Notre-Dame
Espace Dali
Maison d'Auguste Rodin Meudon
Musée Condé - Chateau de Chantilly
Musée d'art et d'histoire du Judaïsme
Musée d'Archéologie nationale de Saint-Germain-en-Laye
Musée de la Mode et du Textile
Musée de la Monnaie
Musée de la Musique - La Villette
Musée de la Poste
Musée de la Publicité
Musée de l'Air et de l'Espace
Musée de l'Armee, Tombeau de Napolon 1er
Musée de l'Assistance Publique - Hepitaux de Paris
Musée de l'Institut du Monde arabe
Musée national de l'Orangerie

Musée de l'Ordre de la Liberation
Musée de partemental Maurice Denis
Musée des Arts de coratifs
Musée des Arts et Metiers
Musée des égouts de Paris
Musée des Plans-reliefs
Musée d'Orsay
Musée du Cinema - La Cinematheque Francoise
Musée du Louvre
Musée du quai Branly
Musée et domaine nationaux du Chateau de Compiegne
Musée Grévin
Musée Gustave Moreau
Musée national de Ceramique de Sevres
Musée national de la Marine
Musée national de la Renaissance - Chateau d'Ecouen
Musée national de Port-Royal des Champs
Musée national des Arts asiatiques
Musée national des Chateaux de Malmaison et Bois Preau
Musée national des Chateaux de Versailles et du Trianon
Musée national du Chateau de Fontainebleau
Musée national du Moyen Age - Thermes de Cluny
Musée national Eugene Delacroix
Musée national Picasso
Musée Nissim de Camondo
Musée Rodin
Opéra de Paris - Palais Garnier Guided Tour
Pantheon
Sainte Chapelle
Tour Montparnasse
Tours de Notre-Dame
Villa Savoye
Special offers and great benefits include:
Fragonard Parfumeur - FREE perfume gift
Chez Clement restaurants - FREE aperitif or creme brulee
January 2016
One of the best City Passes in Europe. You get unlimited transportation and free admission to all major museums such as the Louvre and d'orsay. The only thing that isn't cover is the Tour Eiffel.
December 2015
Loved the pass and pass. When welcome back will purchase again.
December 2015
Great having transport included, was a bit out of the way to pick up pass, would recommend having it sent so you can start using the transport on arrival. Well worth it though.

November 2015
If you hate standing in line, this is an essential access to all of the great museums and transportation. Well worth the investment.
ELLE Australia
November 2015
This is worth the money. It saved us time and money while we were in Paris in September of this year. We used the pass throughout the metro and to get us into many museums etc for free. You can even get discounts for shopping.
November 2015
We like this pass a lot and the experience in Paris was wonderful.
October 2015
Although we only used the pass for the Louvre and Musee d'Orsay it was worth it to get fast track entry. You don't want to waste 2 hours in a queue, especially if it is raining!

October 2015
Fantastic way to see the all the main attractions, convenience of access to metro and bus tour allowed us to see the city in 2 days. Access to shorter lines for Musee D'Orsay and the Louvre is always a plus.

October 2015
October 2015
With a wife who is a museum freak, this was the best option for us
Too bad we didn't have more time to see all that the pass provided
Advertisement
Advertisement