361 Reviews
Location:

Paris, France

Duration:

2 hours 30 minutes

(approx.)
Special Offer
Save 12% on these popular tours by booking them together in this exclusive combo package!
Enjoy two quintessential Parisian experiences on a Paris Super Saver that combines an Eiffel Tower tour with a Seine River cruise at a discounted price! With an expert local guide, skip the line to enter the famous landmark and explore its second floor viewing gallery. Hear fun facts and little-known Eiffel Tower trivia before continuing up to the summit to ogle the views on your own. At a time that suits you, stroll to the banks of the Seine River to hop aboard a boat for a 1-hour sightseeing cruise, taking in the Louvre, Notre Dame (Cathédrale de Notre Dame de Paris) and more.
Highlights
Half-day Paris Super Saver including Eiffel Tower tour and Seine River cruise
Skip the line at the Eiffel Tower and head straight up to the second floor
Explore the Eiffel Tower viewing gallery with a guide and learn all about the beloved Paris monument
Visit the third floor independently and ogle magnificent city vistas from the tower's summit
Hop aboard a sightseeing boat on a Seine River cruise
Cruise along the UNESCO-listed riverbanks of the Seine and admire the Louvre, Notre Dame and more
Recent Photos of This Tour
Paris Super Saver: Skip-the-Line Eiffel Tower and Seine River Cruise
What You Can Expect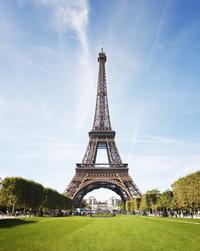 Skip-the-Line Eiffel Tower Tour: (1.5 hours)
Choose from a morning or afternoon start time, and then meet your guide to start your Paris Super Saver with a stroll through the gardens at Trocadéro. Hear tales of the Eiffel Tower as you walk, and learn about its creation for the International Exposition of 1889, a world fair. Detested by Parisians in its early days, the tower eventually won over the hearts of the locals and it became the city's most feted icon.

Skip past the tower's long entrance lines with your fast-access ticket, and head straight up to the second floor by elevator while enjoying anecdotes and tales of history about the Paris landmarks below your feet. Walk around the viewing gallery with your guide and soak up sights of Champs de Mars and Montparnasse Tower. After your tour, continue up to the summit on your own by elevator and explore the third floor while ogling impressive city vistas at your own pace. Your ticket allows you to spend as long as you want on the Eiffel Tower's third floor. When you have enjoyed your fill of the Parisian panoramas, travel down the elevator to ground level.

Your next experience has a flexible start time, meaning you can simply walk to the prearranged meeting point — roughly 656 feet (200 meters) from the tower — at a time that suits your schedule.

Seine River Cruise: (1 hour)
Hop aboard your sightseeing boat at the water's edge, and relax out on deck or in the lower saloon as you cruise along the famous river. Cutting through the city, the Seine takes in some glamorous sights and its Paris riverbanks have been awarded UNESCO World Heritage status.

Listen to entertaining commentary as you cruise and gaze out at sights such as the Louvre, an iconic building that's home to some of the world's most celebrated artwork. Have your camera poised to capture photos of Notre Dame— a UNESCO World Heritage site — and marvel at the attention-grabbing façade of La Conciergerie. The former royal palace and prison once housed some of the country's most important political prisoners such as Marie Antoinette and Napoleon III.

After an hour on the water, cruise back to the start point where your tour finishes.



July 2015
A brochure setting out the history of the Eiffel tower would be useful and also a brochure referring to the key buildings to be viewed from the boat. Otherwise two very enjoyable trips with a very helpful guide.
July 2015
The best way to see Eifeel Tower!
This is an excellet option to enjoy Eifeel Tower and really skip the almost 4 hours line! You go to the top and stay after as much as you want! Do it!!!
July 2015
I would highly recommend this tour with Violet! She was a fantastic guide and you could tell she was extremely passionate about what she does. Her insight and knowledge of the Eiffel Tower, Paris, and the history was fantastic! It was worth it to have a skip the line pass at the tower since it was so crowded! It also helped to have personal audio sets to hear her speak. The pass also included going to the top story the 3rd floor as well as a river cruise. Violet was a great tour guide and she even had pictures to help us understand how the tower came to be! I would recommend her for this tour!
The only confusion I had was the river cruise skip the line wasn't really a skip the line pass. I was told it was for buying tickets which didn't make any sense since we already had the tickets. It was not actually to board the boat first.
July 2015
We had a fabulous time on our tour. Our guide Patrice was fantastic, very informative and humorous as well. Our visit to the Eiffel Tower was during a heat wave and being able to skip the line as we had our children with us was a blessing. We really enjoyed our boat cruise which we did on our last day in Paris which was a nice way to relax at the end of our stay.
July 2015
Lindsay was our guide and she was knowledgeable and really easy to listen to and fun. My 3 kids all enjoyed her tour as well. Worth every cent. Cruise was great too.
July 2015
Our tour guide was awesome and both the Eiffel Tower and Seine River Cruise were great. We left on time and got lots a great information from our tour guide, who also answered questions for us and others on the tour. The electronic earphones and receivers worked great. We could not have had a better tour.
July 2015
Highly recommended tour. Guide was very knowledgeable and friendly and patient for us because we had 4yr old kid with us. She explained everything to best of her knowledge and I would recommend people to do some own research about Eiffel tower before visiting that would help you to put into context when guide is explaining everything. We skipped the line straight to 2nd floor. And then Summit. Stay at top of tower as much time as you want. Cruise can be done anytime after Eiffel tower. We did summit in afternoon and cruise 10 at night to see lights on tower. I would also recommend to walk down stairs to 1st floor on tower to experience glass floor. Glass floor is not crystal clear but good experience first time.
July 2015
We bought this tour as a way to skip the line, but it turned out to be very enjoyable. Our tour guide was very nice and he provided A LOT of background, history and even gossipy information about the tower and Paris in general. They used audio devices so even if you stayed behind or there was noise in the surroundings, you could hear him well. From all four points of the tour, the places of interest were pointed out. They leave you to explore the third floor on your own, which was great too. The Seine River cruise was nice but not excellent. It did provide another view of the city and it was a nice, quite time after the crowd in the tower. The ticket for the cruise was valid for 24 hours, which is a great alternative if you want to wait and do the cruise later on.
July 2015
Great tour guide, lots of interesting information about the Eiffel Tower
July 2015
Our guide was wonderful, full of interesting information and very approachable. My girls 8 and 10 enjoyed the tour as well. I am sorry I cannot recall his name, but I know he is a Englishman.
Special Offer
$82.18 Save $10.13
Advertisement
Advertisement