See Paris through the lens of a film director on this 2-hour walking tour of recognizable movie and TV filming locations throughout the city. See the streets, monuments and shops immortalized in films like 'Midnight in Paris,' 'Before Sunset,' 'The Devil Wears Prada,' and 'Marie Antoinette.' Get the inside scoop from your local film buff guide while strolling between locations in the vibrant Latin Quarter, on the Ile de la Cité and along the riverbanks of the Seine.
Highlights
2-hour walking tour of Paris' movie locations
Stroll through central Paris with a film expert to relive scenes from your favorite movies
Visit filming sites from The Devil Wears Prada, The Three Muskateers, Marie Antoinette, Safehouse and more
Explore Ile de la Cité, stroll the Seine and wander the backstreets of the Latin Quarter
See famous Paris attractions along the way, including Notre Dame Cathedral
Choose from a morning or afternoon tour
Recent Photos of This Tour
Paris Walking Tour: Movie and TV Show Locations
What You Can Expect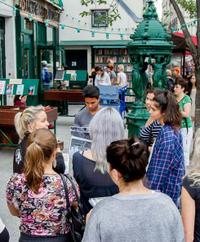 Paris and Hollywood have had a long love affair, captured in countless films and TV shows throughout the decades. To begin your 2-hour walking tour, meet your knowledgeable film buff guide at a box office in central Paris and set off toward Ile St-Louis. As you walk, hear about the history of movie-making in Paris and pass some of the city's most iconic monuments, like Notre-Dame Cathedral.
While wandering Paris' photogenic streets and the famous riverbanks and bridges of the Seine, see filming locations for movies including Woody Allen's Midnight in Paris, the Cary Grant and Audrey Hepburn caper Charade, and thrillers like The Bourne Identity and several James Bond films. Visit the house of a character from The Three Musketeers TV show and stop in front of the Shakespeare and Company bookstore featured in the romantic classic Before Sunset.
Get a glimpse of the restaurant visited by Julia Childs in Julie & Julia and walk down the backstreet set of a romantic moment in The Devil Wears Prada. Get the scoop on a new release at a local cupcake shop, where you can purchase a sweet treat if you like. Your star-struck tour concludes back at the original departure point near Notre Dame.
May 2016
Having been to Paris many times, we decided to try something new. We weren't sure how this tour would be, but we were highly impressed. Antoine, our guide, was excellent. THIS IS One of the most enjoyable experiences we had in Paris this year. As somewhat of a movie buff, I had researched different movie locations on line, and had visited some. We found more on this tour, but more importantly, Antoine gave us background information and little by the way stories to go with the movie scenes. Great guide! Thank you.
Everyone at their office was friendly and hospitable. Would we recommend this tour? Very much so we will probably take it again to learn even more.
March 2016
A great tour. Antoine my guide was excellent and he provided a lot of insightful information about the movies and the locations we toured. Highly recommend the tour and be sure to ask for Antoine.
November 2015
This was such fun! Our guide wish I could remember his name was such a pleasure. He was personable and fun and we are so glad we took the tour. We went back the next day to retrace some of our steps. We would highly recommend this tour.
September 2015
Our guide was very knowledgeable not just about movies, but the history of the city which added so much more depth and comedy to the tour. Very glad I went!!
September 2015
This trip was INCREDIBLE! Loved Antoine... So informative, and FUN! We all learned so much, and the enthusiasm he had for this tour was wonderful! Will schedule this tour again with future guests!
Chris Digby
September 2015
Really enjoyed this tour. Loved hearing the behind the scene stories and would definitely recommend to friends and family travelling to Paris.
September 2015
This was such a fun little tour, we wanted something different and fun and we got just that. The guides we engaging and fun and we even got little keepsakes. You don't even have to be a movie buff or have seen the films on the tour to enjoy it, the stories about what went on behind the scenes are just as engaging. Highly recommend!
June 2015
Terrific tour by guide Antoine Herman. He shared his knowledge through story-telling and antecdotes, and was totally into his subject. Especially liked going inside Hotel Dieu, which we have passed many times and never thought it was open to the public.It was also very interesting to learn about the story behind the making of movies in paris, especially the heavy costs and bureaucracy. Bravo, Antoine.
June 2015
A lovely stroll around a beautiful area of Paris accompanied by a friendly and knowledgeable guide. Perfect. Not only did we see shooting locations for many films but being a history student, our guide gave us a fascinating insight into the history of the area. My personal highlight was a visit to Shakespeare and Company, the famous bookshop featured in 'Before Sunset'. You could get lost for days among all those books. And of course Notre Dame. Hightly recommended.
May 2015
Advertisement
Advertisement