Tour code:
5944BOHEMIANPARIS
Special Offer
Travel by August 31, 2016 and save 20% off our previously offered price!
Stroll through Paris' Bohemian past with this guided walking tour of Saint-Germain-des-Prés and the Latin Quarter. Explore these neighborhoods known as havens for the city's intellectuals and artists, and stop in at a local café to enjoy a savory charcuterie platter. Visit the oldest park in Paris and try your hand at the beloved French ballgame pétanque. See the iconic Notre Dame Cathedral and browse the shelves at the city's first English bookstore. Numbers are limited to 12 for a personalized small-group experience.
Highlights
4-hour walking tour of Paris' bohemian neighborhoods: Saint-Germain and the Latin Quarter
Explore Saint-Germain with a guide, learning about famous ex-residents like Ernest Hemingway
Enjoy a plate of charcuterie at a wine bar on the banks of the Seine River
Play a game of Pétanque (lawn bowling) in Place des Vosges, Paris' oldest square
Visit an English bookstore in the Latin Quarter
Small-group tour with a maximum of 12 people ensures personalized attention

Why Our Insiders Chose This Tour
This tour lets you experience Paris like a local with a game of Pétanque and, of course, cheese and wine! You'll also discover Paris' quirkier side while exploring two of its best bohemian neighborhoods.
Recent Photos of This Tour
Paris Walking Tour: Saint-Germain-des-Prés and Latin Quarter, including Charcuterie Tasting and Pétanque
What You Can Expect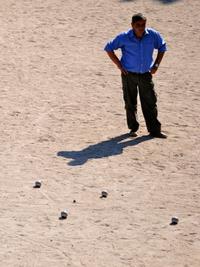 Delve into Paris's famously artistic quarters on a small-group walking tour. Make your way to the Pantheon in the afternoon to meet your knowledgeable guide, and enjoy a short stroll to the charming neighborhood of Saint-Germain-des-Prés in the city's 6th arrondissement. Admire cafés, bookstores and unique storefronts as your guide shares stories of the famous musicians, poets and artists who called the area home throughout the decades.
Stop in at a charming local café and enjoy an assiette de charcuterie — a favorite Parisian lunch featuring an assortment of artisan cheeses, meats and pâtés. Purchase a glass of wine to accompany your meal if you like.
Continue on to the pleasant Place Dauphine — the oldest Square in Paris. Take part in a round of pétanque, a ball game favored throughout France in which opposing teams try to toss metal balls closest to a wooden marker. Think of it as a cross between horseshoe and bocce ball. Enjoy a complimentary glass of wine as you learn the rules and techniques from your guide.
Next, stroll through Paris' Latin Quarter and peruse the titles at the city's first English bookstore. Your 3.5-hour tour concludes at the famed Notre Dame Cathedral, where you can continue exploring on your own.
Jolyn J United States of ...
May 2016
Our tour was changed the day before to a different walking tour, so I was a little concerned. However, the tour was fabulous! Our guide, Alex, was very knowledgeable and lots of fun. I could not imagine a tour being any better in any way. I have already recommended it to anyone who is ever in Paris. Also, the tour staff was very good about contacting me and following up. We were extremely happy with the whole experience. Thanks Alex for a wonderful tour! It was the highlight of our trip.

May 2016
Timothe was an amazing and fun tour guide. We were a group of 3. I had fun learning about the area and got to know the couple I was touring with. The charcuterie tasting was amazing and we had fun learning to play Pantique. The girls beat the guys! I highly recommend this tour.
March 2016
i've been living in paris for a few months now, but never really had the chance to discover and understand the city from the perspective of a real parisian. it was indeed a lovely afternoon exploring the left bank of paris with our guide, alix, who's very knowledgeable about the french history which helps to put her explanations into a more meaningful context about the architecture, culture, etc. during the relaxing tour. definitely a worthwhile short excursion!
October 2015
Loved it. A great way to see Paris like a Parisian. Beautiful. The back streets, the history. The guide, Arthur, was very knowledgeable and nice. Answered all questions and didn't worry about the time as much. Really made us enjoy our tour.
Pétanque was really fun and the 'charcuterie' was really delicious. Arthur took pictures of us playing Pétanque. A must do tour. To go behind the scenes of Paris.
October 2015
Our guide Alix was charming and delightful. She was able to put everything we were seeing around us into the context of the history of Paris, so that we felt we were gaining a much greater understanding of the city. More fun though was the charcuterie tasting with wine! and the extremely competitive petanque. If only the federation rep had been on our team! A very enjoyable afternoon.
Meredith Australia
August 2015
Alix led an informative and enjoyable walk around the Latin quarter and then after our refreshments taught our little group to paly petanque. The girls were victorious! We had a great afternoon.
August 2015
So glad I did this tour. Was great to meander through the backstreets and small lanes of Paris and discover things which I would never have found by myself. Our guide Alix was delightful. Despite there only being two of us in the group, she was still able make it interesting, informative and fun. Thoroughly enjoyed our charcuterie and wine tasting and our exciting game of petanque, which we played in a fantastic location! Would definitely recommend this tour.
Susy C Australia
August 2015
This is a must see tour, our lovely guide Arthur, he was so good, knew his stuff, we thoroughly enjoyed his knowledge and I do not hesitate to recommend anyone to do this especially lucky if you get Arthur. He goes over time....
August 2015
Fabulous - our guide Arthur was fantastic. Took us to parts of Paris I had not seen on previous visits. Don't go to Paris without booking this tour! Thanks Arthur - his knowledge was endless.
July 2015
A great experience strolling through the streets of this historical district with our tour guide Alix, who was fun, engaging, informative and patient with our many questions. Got to see the Sorbonne, a beautiful city garden built by the Marie deMedici, Notre Dame, the old streets where leaders of the revolution lived, the hotel where Jim Morrison died, and sampled good French food and wine. An overall excellent tour experience with a well-trained guide.
Special Offer
$67.11 Save $13.42
Advertisement
Advertisement