Enjoy a family-friendly stomp along Paris' Left Bank and discover top city attractions in an exciting way on this 3-hour Paris walking tour. Sail toy boats on the pond in picturesque Jardin du Luxembourg or take a turn on the traditional merry-go-round. Harness your pedal power at the race-track or gaze in awe at life-size African animals at the Natural History Museum. Enjoy a diverse range of daytime activities ideal for kids ages seven to 12 — with the route decided by the kids themselves, who knows where you'll end up!
Highlights
Paris walking tour for children and families
This tour is activity packed but also offers gentler activities to cool down
Local moms have handpicked fabulous activities do in Paris with your kids
Children will enjoy the thrill of blazing new trails all over town

What You Can Expect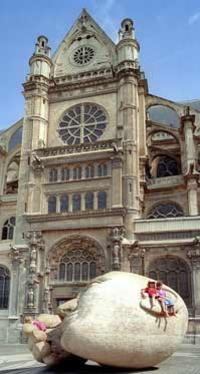 Send your kids on this fun-packed walking tour of Paris' Left Bank, where the itinerary is decided by the children. You are welcome to join the tour, or leave your children in the hands of a capable local mother and guide.

Visit the oh-so-Parisian park, le Jardin du Luxembourg, to sail toy boats or ride the wooden animals of the merry-go-round. See the best puppet show in France or race pedal-powered cars. Visit the natural history museum with a cool parade of life-size African animals. Travel back in time at the Museum of the Middle Ages to see mythical creatures and learn about knights in shining armor. Take a trip to the tropics at the Grande Serre, a giant greenhouse turned urban jungle!

With a varied program of daytime activities for children between the ages of 7 and 12, the walking tour is limited to a maximum of five kids. Every child gets plenty of opportunity to ask questions and get to know their fellow adventure-seekers! Moms and dads are welcome to join the tour.
April 2015
Friendly tour guide. Full of fun information for the kids. She was flexible with our plans as well. Very helpful.
Advertisement
Advertisement