10 Reviews
Location:

Paris, France

Duration:

7 hours

(approx.)
Soak up the Parisian 'joie de vivre' on an unforgettable night out, comprising a 3-course dinner, a Seine River sightseeing cruise and an iconic French cabaret show. After being wined and dined at the fashionable Les Ombres restaurant, cruise along the Seine River, passing elegantly illuminated attractions like Notre Dame Cathedral and the Louvre. End your evening with more glitz and glamor at one of Paris' top cabarets: the Moulin Rouge!
Highlights
Experience the best of Paris at night with dinner, a Seine River boat cruise and a cabaret show
Dine at Les Ombres restaurant -- located on the rooftop terrace of Quai Branly Museum
Admire illuminated Paris attractions that line the UNESCO-listed banks of the Seine River
Sip Champagne while you watch Moulin Rouge's 'Féerie' show

Recent Photos of This Tour
Paris by Night: Dinner at Les Ombres, Seine River Sightseeing Cruise and Cabaret Show
What You Can Expect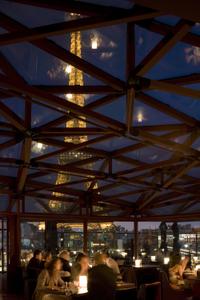 Either start your evening with a hotel pickup by luxury minivan (only if option selected), or make your own way to Les Ombres restaurant; the choice is yours! If you book the option with hotel pickup, your friendly host will explain the logistics of your evening on the short journey, giving you peace of mind for a hassle-free night out in Paris.

Les Ombres is one of Paris' must-visit restaurants; perched on the panoramic rooftop terrace of Quai Branly Museum, the restaurant boasts unsurpassed views of the Eiffel Tower lit up at night. Dine from a 3-course set menu while soaking up the ambience of this stylish restaurant, designed by renowned French architect Jean Nouvel.

After dinner at Les Ombres, your host will collect you for the short journey to the waterfront for your 1-hour Seine River cruise. Take a window-side seat in the boat's lower saloon or walk around on deck, seeing all the illuminated attractions that line the river's UNESCO World Heritage-listed riverbanks. Pass under Pont Neuf, Paris' oldest bridge, and see Notre Dame Cathedral and the Louvre. Listen to the audio commentary as you cruise or simply sit back and take in the sights. After an hour, disembark your boat, meet your guide and then head to the Moulin Rouge.

You'll be entertained by its famous show 'Féerie.' Risqué and raucous yet somehow refined, the performance is skillfully danced by the cabaret's Doriss Girls, adorned in eye-catching costumes of shimmering sequins and bright feathers. Sit at your table, sip Champagne (one half-bottle included) and admire the show's complex choreography, featuring the instantly recognizable French cancan. 'Féerie' finishes in the early hours of the morning, and your host will then drop you back off at your hotel.
Itinerary
Sample Menu for tour OCMC
Appetizer:
Homemade Gougère (choux pastry with cheese)

First Course:
Ravioles from Royan

Main Course:
Cod fillet, crisp green vegetables

Dessert:
Araguani Chocolate Biscuit

Dinner is served with a half-bottle of wine and mineral water, followed by coffee with petit fours (delicate chocolates)

Sample Menu for tour OMM:
First Course (choice of one):
• Prawn and avocado cocktail
• Chakchouka-style egg (baked in a tomato and chilli sauce)

Main Course (choice of one):
• Seared salmon with oven-baked tomatoes and Béarnaise sauce
• Roasted duckling with sautéed vegetables

Dessert (choice of one)
• Macha green tea with lychee and grapefruit segments
• Cheesecake with a berry marmalade

Dinner is served with a half-bottle of wine and mineral water, followed by coffee with petit fours (delicate chocolates).
Menus are subject to change.
August 2014
August 2014
The river cruise was excellent. Paris is so cool -- and this tour gives you an interesting perspective. So many interesting people hanging out by the river and having little picnics and parties. Our tour was upgraded to an Eiffel Tower dinner which was awesome! The food was great. The Moulin Rouge is so much fun and this tour came with champagne!
July 2014
July 2014
Everything was wonderful! The view of the Eiffel Tower at dinner and the lights, great! Food and service at the restaurant, excellent! River cruise at sunset and the Moulin Rouge, all good. Definitely well worth the price. It really was top of the line! !
January 2014
Organization of tour was great. Dinner was delicious and location of restaurant is spectacular. On cruise we were sitting inside of boat cause it was raining, but it was realy nice even then. Moulin Rouge is MUST see show when you are in Paris, we had great seats, and show is amazing! Whole tour was great!
August 2013
the boat ride and Moulin was fantastic . THe dinner at LOs Ombres , although a beatiful settting left a lot to be desired food wise, otherwise it was well worth the money. biggest problem, Viator needs to explain how to get where and what time , not time varies and make sure people know they can be returned and picked up by the co without extra charge. Worth the money
August 2013
Food was good . But our guide was rushing us to get to the boat and them was not there to pick us up on time. Them we had to wait in line for almost an hour for the show . Then we were picked up by a different driver and he had two other people and we had to drive 20 minute to there hotel before he took us to ours . Not as good of an experience as we would have hoped for considering the cost.
July 2013
We were unable to have dinner at Les Ombres so it was substituted for dinner at the Cabaret. The dinner was great and the show was excellent. This meant that we were given tickets for the Seine River cruise to use at another time. We had to make our own way to the cruise and back. It worked out well for us, but might not have worked well for someone else. We took the cruise the following evening and it was amazing.
September 2014
Our night started on a massive high. Easy to find where the tour started and we were driven in a private car by a lovely man to Les Ombres for dinner. The restaurant was nothing short of spectacular. The views were amazing and the food was sensational!!! Service started a little slow but quickly recovered and everyone was lovely. Great choices in the set menu. My only comment was it was a little rushed to then make the river cruise. The venue is highly romantic (which even though I was with my sister I still appreciated it)
The cruise was ok. After such a luxurious dinner it was a little third rate. If I had my time over I'd skip the cruise. Didn't hate it but didn't love it. Highlight was the lady on the cruise who spoke 5 languages. She was funny!
Things deteriorated when we got off the cruise. After being in a lovely private car with another couple we were told to get on a large bus to get us to moulin rouge. No issues with that at all but we we're given instructions to get on a bus with a flashing light. The was none so we got on the bus with our tour company name. The guide on that bus was an absolute jerk. He was so rude, spoke to us poorly when he couldn't find our name on his listthen berated us and the other couple from our original tour as we had not listened and got on the wrong bus. When we tried to explain he kept talking over the top of us. He was truly an awful man and veryvery rude. To have a go at us I front of the rest of the bus was unacceptable. Further to this he then said it didn't matter anyway as we were all going to the Same place. He then proceeded to give the worst guided tour on the way to the moulin rouge. I saw several people on the bus clap when he finally finished talking woeful!!!
I will say it was great skipping the line for the moulin rouge. You cannot prepare yourself for how hectic and busy it all is. Or how long the normal line is. We were pretty tired by then as it was at 11pm show. The show was of course fantastic
August 2013
Dinner at Les Ombres was very disappointing at best. No choices and we could not eat first course because it was liver pate. It they are going to serve something like that, give a choice at least. The poached chicken was not quite done to our liking. They put us out on terrace facing directly into the sun and would not put up umbrellas to shield from light. Person next to us moved to another table and did not eat his entire dinner. The boat was a mad house and they put us under plastic so you did not get feeling of being outside. The show was delightful. The drivers were nice and efficient
Advertisement
Advertisement